Archive: July, 2010
Catherine Lucey
As you may know, Councilman Curtis Jones Jr.'s annual "white linen" birthday party and fundraiser is scheduled for Friday night. PhillyClout yesterday received an invitation to the party from a Jones Council staffer who serves as his communication director. The invite was sent from her city email address and featured the city seal.
We had two questions about the message:
Should this staffer be sending out a political message from her city address, presumably on city time?
While Council staffers are allowed to do political work, unlike other city workers, they are banned from fundraising activities under the City Charter. Does sending out an email to an event which solicits funds for the Councilman's campaign account qualify as fundraising?
Shane Creamer, the executive director of the city Board of Ethics, declined to comment on the situation. We called Jones for comment and received an email which said the situation was an oversight and has been corrected. The email did not clarify what exactly had been done to correct things.
Chris Brennan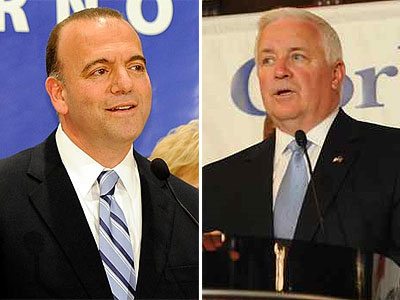 Allegheny County Executive Dan Onorato, the Democratic nominee for governor in the Nov. 2 general election, just stopped by City Hall on his week-long tour to tout controversial comments about unemployment compensation made by state Attorney General Tom Corbett, the Republican nominee. Corbett has been snared in controversy for suggesting Friday, Monday and yesterday that he hears from employers around the state who claim laid-off workers won't return to jobs because they prefer receiving unemployment checks from the state.
Onorato, who trails Corbett in campaign cash and name recognition, calls that bunk. He has capitalized on Corbett's comments to highlight the "philosophical differences" between the candidates. "If you don't understand why there is unemployment, you have no chance to be able to fix it as governor," Onorato told a room packed with union leaders and members. "That's one of the problems with Tom Corbett in this race right now."
Pat Eiding, president of the Philadelphia Council AFL-CIO, said working families are "damn mad" about Corbett's comments. "How dare he do that? This is the guy who wants to represent you in the state house," Eiding said. "Here's my suggestion: Let's put him on the unemployment rolls for six months and see if he wants to get back to work."
Catherine Lucey
Here's the release:
Community Residents Call for full funding of the Community Land Care Program
Demand the Mayor stop trying to balance the budget on the backs of the poor
Chris Brennan
Josh Morrow, the campaign staffer who helped millionaire Tom Knox finish second in the 2007 race for mayor and managed Knox's aborted run for governor earlier this year, has left the employ of a billionaire real estate investor running for the U.S. Senate in Florida, according to this CNN report.
Morrow had been managing Jeff Greene's campaign for two month. Greene's campaign said Morrow "helped put together the plan and we're looking forward to executing it."
Chris Brennan
U.S. Rep. Joe Sestak has narrowed the gap on former U.S. Rep. Pat Toomey, according to a new Quinnipiac University Poll that shows the Democrat and Republican tied 43-43 percent in the race for the U.S. Senate. Toomey held a 8 point lead on Sestak in the University's April 8 poll. But then Sestak went up on television with campaign ads to defeat incumbent U.S. Sen. Arlen Specter in the May 18 Democratic primary election. By May 13, Sestak was in a virtual tie with Toomey, according to the university's poll that day.
The poll shows both candidates with strong backing from their political parties while Toomey has a 44-35 percent lead on Sestak with independent voters, a key group to be courted for the Nov. 2 general election. There's still a lot of room for both to grow, since about half of the voters in the poll said they didn't know enough about the candidates to form an opinion.
On that front, Toomey has the advantage for now. Federal Election Reports due tomorrow will show that he has $4.65 million in the bank while Sestak has $2 million. Toomey is already spending money, introducing himself to voters through campaign ads on television while Sestak is not on the air.
Chris Brennan
The Federal Election Commission July quarterly reports, for the fund-raising period from April 1 to June 30, are not due until Thursday but former U.S. Rep. Pat Toomey, the Republican nominee for the U.S. Senate, is already declaring victory in the money race over U.S. Rep. Joe Sestak, the Democratic nominee.
Toomey this afternoon said he raised $3.1 million in the last quarter and has $4.65 million in the bank as of July 1. A Sestak spokesman told the Associated Press today that he raised $2 million in the quarter and has $2 million in the bank. Toomey started spending some of that money last Wednesday, running a new round of television campaign commercials. Sestak yesterday would not say when he was going to follow suit.
The Quinnipiac University Poll is expected to release a new poll of registered Pennsylvanian voters tomorrow morning, showing how Toomey and Sestak are doing in the run-up to the Nov. 2 general election. The last poll that tested the two candidates in a match-up, conducted by Quinnipiac five days before Sestak defeated U.S. Sen. Arlen Specter in the May 18 Democratic primary election, showed Sestak and Toomey in a virtual tie.
Chris Brennan
Pop political quiz time: What does a candidate do if he's trailing his opponent in the polls and hasn't registered in the minds of many voters despite spending millions on campaign ads in the primary election? Answer: Go on the attack.
Allegheny County Executive Dan Onorato, the Democratic nominee in the Nov. 2 general election for governor, is coming to Philadelphia's City Hall tomorrow at 12:30 pm to "discuss jobs and unemployment" in the city, according to a news release just put out by his campaign. That follows similar stops in Harrisburg Monday and Pittsburgh today.
Onorato is clearly trying to capitalize on what appears to be a gaffe by state Attorney General Tom Corbett, the Republican nominee for governor, who last week told a public radio station in central Pennsylvania that he has heard from employers who can't fill jobs because people prefer to continue collecting unemployment. Corbett's campaign attempted to walk back that line this week as Onorato pounced on it.