Archive: July, 2008
Catherine Lucey
A music video from the Always Sunny in Philadelphia gang. We can't wait for the show to come back. (Hat tip to Philebrity where we saw this first.)
Catherine Lucey
Major contract negotiation news today:

The city and the Fraternal Order of Police have agreed to a new one-year contract proposed by an arbitration panel. It's the first time in recent memory that the city has so quickly struck a deal with police, whose negotiations usually drag on for months.

Mayor Nutter said the city wanted a year-long contract so that they could spend more time analyzing health benefits. This contract will establish a health care committee with representation from the city and the FOP. Nutter said the committee would be "open to rethinking the entire benefit funding and delivery system."
Catherine Lucey
Little late today, but here's what we've got:

Nutter writes to state Rep. Dwight Evans and state Sen. Vince Fumo, listing regulatory issues the casinos face.

Nutter says he'll enforce local "lost and stolen" gun law.
Tax protester who helped feds gets 14 months.
Chris Brennan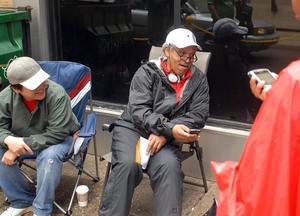 My, how time flies when you're not waiting in a muggy drizzle for the latest hi-tech gadget. Has it really been a year since then-Mayor Street set up his folding chair in an Center City alley near a Dumpster and waited through the rain in a line for 14 hours to buy an iPhone? Street defended his high-profile alley adventure back then by saying he was using his Blackberry -- so 2007 -- to keep in touch with city officials on the issues of the day. And he noted that he left the line for previous commitments, with his place being held by members of his security team. [Wait, is that better?]
So we have a new mayor and here comes the new and improved iPhone, going on on sale Friday evening. Should we look up Center City's alleys as the weekend starts for Nutter, eagerly holding his place in line?
"You know, somehow I missed that," Nutter said today when asked about the new gadget coming out. He has no plans to get an iPhone or wait in line. "I'm not an iPhone guy. I use a Blackberry. I usually go to the store, walk in and get one."
Chris Brennan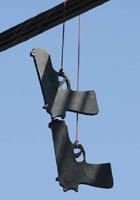 The city will start enforcing at 12:01 a.m. tomorrow a new law requiring residents to report a lost or stolen firearm within 24 hours, Mayor Nutter announced this afternoon. The law, one of five gun control measures passed by City Council in May, was challenged by the National Rifle Association, local gun shops and city firearm owners. A judge last month let three of the laws stand while forbidding the city from enforcing two others. The lost and stolen gun law is the first to be enforced. During the first 30 days of enforcement, gun owners can call 911 to report any lost or stolen gun, no matter when it went missing. After that, firearm owners can be fined $1,900 for a first offense and jailed for up to 90 days for repeat offenses.
Nutter repeatedly said the city is targeting illegal gun transactions by people who buy guns and then resell them to people not allowed to own them. "Good folks who are paying attention actually keep track of their stuff," Nutter said. "Other folks are involved in the game, they're involved in the business. That's who we're actually talking about here. They didn't lose anything. They gave it away. They sold it."
The NRA and the city have appealed parts of the judge's June ruling to the Commonwealth Court. NRA attorney Scott Shields yesterday said he would ask that court to issue an injunction to prevent the city from enforcing the law on lost and stolen guns.
Chris Brennan
Mayor Nutter announced a newly reconstructed city Commission on Human Relations this morning, declaring that it will be "intolerant about intolerance here in Philadelphia." The Commission, which enforces civil rights laws and deals with conflicts in the city, now includes: Rabbi Rebecca Alpert, Regina Austin, Fernando Chang-Muy, Tom Earle, Cynthia Figueroa, Chukri Khorchid, Nicholas Torres and Kay Kyungsun Yu.
That is eight new members for the nine-member commission. Nutter left in place the chairman, the Rev. James Allen, saying he serves as an institutional memory for the new members and the commission's new executive director Rue Landau. "This will be the number one human rights organization in America," Nutter vowed. "That is our commitment."
While replacing nearly the entire commission, Nutter repeatedly declined to judge or grade the work of the outgoing members, who dished up controversy by considering a 2006 discrimination complaint against Geno's Steaks in South Philly, where a sign in the window urged customers to order in English. The complaint was dismissed in March. Nutter did not seem eager to revisit the issue, saying: "That case was decided. That case is over."
Catherine Lucey
Single stream recycling finally goes citywide.

50 wounded Iraq and Afghanistan veterans will get congressional fellowships as part of the Wounded Warrior Program.
Sen. Bob Casey and Rep. Chaka Fattah announce $45 million in funding to enhance Fairmount Park.

U.S. Attorney Pat Meehan quits. Is a run for governor next?