Archive: July, 2008
Catherine Lucey
Philly wants to hold the World Sudoku Championship in 2010.

A state Department of Education audit has found mismanagement of funds at the Berean Institute, a North Philly school that provides vocational and business training.

Developers of the Foxwoods Casino has asked the state Supreme Court for help so they can start construction.
Catherine Lucey
John Baer considers the fallout after the first round of criminal corruption charges in the state legislature last week.

A friend of former congressman Curt Weldon was charged yesterday with trying to destroy evidence in the federal investigation into Weldon's influence peddling.
Carpenters Union insists they are color-blind and gender-blind when it comes to admissions.

A plan to build a massive skyscraper at 18th and Arch draws applause from the young, boos from the old at Planning Commission meeting.
Catherine Lucey
And reveals that there is no traffic around City Hall. For this and other hilarious traffic jokes, check out the clip from Redlasso:
Catherine Lucey
Smokers ignore no-smoking rules at Criminal Justice Center.

Jocelyn Kirsch of the "Bonnie and Clyde" scam duo pleads guilty.

Woman who bought guns for her felon boyfriend is heading to trial.

Ed board weighs in on Mayor Nutter's efforts to enforce a local lost and stolen gun law.
Catherine Lucey
Man those governors know how to party!

Governor Rendell was officially made head of the National Governor's Association this morning, concluding a weekend of events with governors from around the country. During his speech Rendell noted that the real rock star at a Sunday night party at the Convention Center was Alaska Governor Sarah Palin, often listed as a possible VP pick for Republican presidential candidate John McCain.

Governor Palin was the first governor to dance, the only governor to do the electric slide, therefore scratching her from the vice presidency," Rendell teased.
Chris Brennan
Dan Geringer takes Daily News readers under Interstate 95 to see how the "Caveman" lives.
John Baer columnizes on the political hurdles standing in the way of health care reform.
South Park said it best: Blame Canada.
Chris Brennan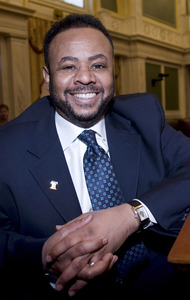 City Councilman Curtis Jones Jr. is having a birthday and he has two wishes: 1. Come to his party on July 19 and 2. Wear white linen. Now its not unusual for Council members to throw themselves parties that double as political fundraisers. But PhillyClout is having trouble remembering when attire was part of the invitation.
The "Friends of Curtis Jones Jr." political action committee is throwing the "White Linen Birthday Celebration" at the Manayunk Brewing Co. A ticket as a "friend" will run you $100 or you can upgrade to "contributor" for $250 or "sponsor" for $500. The invitation doesn't say anything about where you can score a white linen suit. [PhillyClout hint: Try Daffy's on Chestnut Street].
No worries, by the way, for those who just don't feel comfortable in white. It's a suggestion, not a command.