Archive: July, 2008
Chris Brennan
District Council 33, the city's largest municipal union, just struck a one-year contract deal with Mayor Nutter's negotiators. The executive board of the union, which represents 9,400 blue-collar workers, voted 20-10 to endorse the deal, according to PhillyClout's Catherine Lucey, who is now at the scene of the negotiations.
DC33 members will get an $1,100 signing bonus and the city will continue to pay $976 per member each month for health care costs. The one-year deal does not include any raises. That provoked an outcry from Evon Sutton, who challenged DC33 head Pete Matthews for leadership of the union earlier this year. Sutton was seen at the negotiations, yelling "it was a sell-out."
Nutter's negotiators earlier this month inked a one-year deal with the Fraternal Order of Police which included a 3.5 percent raise but a reduction in the amount the city pays for health care costs. Nutter wants all of the city's unions to participate in a health care committee to consider how to improve benefits while reducing costs.
Chris Brennan
Mayor Nutter last month called on Penn Praxis to conduct an "honest, legitimate, third-party analysis" of whether the designs for two proposed riverfront casinos can fit into the city's plan to develop the banks of the Delaware. That work gets started next week. But two seats at the table will be vacant. The casinos -- SugarHouse in Fishtown and Foxwoods in South Philly -- have declined to participate in the process.
Both casino developers on Tuesday sent letters to Penn Praxis, an arm of the School of Design at the University of Pennsylvania, questioning whether it could be fair. Foxwoods, writing that the analysis has a "preordained result," suspects that it is meant to develop ammunition for Nutter's desire to move the casinos to new locations. SugarHouse, noting that it previously met with Penn Praxis, complained that its design has since been intentionally mis-characterized by the group. Both casinos cited a Daily News story where Penn Praxis executive director Harris Steinberg described the casino designs as "large, windowless boxes" that do not fit in the city's plan for the riverfront.
Steinberg today said he will press on with Nutter's request, seeking to find ways that the casinos could contribute to a vibrant riverfront. "I never said casinos can't exist on the waterfront," Steinberg said. "It's just that in their current configuration they're not consistent with the waterfront plan."
Catherine Lucey
We decided to look into Mayor Nutter's security detail this week -- the police officers who travel with him and provide protection. How does it stack up against the detail maintained by his predecessor Mayor Street?

According to the Philadelphia Police Department, Mayor Nutter has maintained a similar size security detail as the former mayor. With 14 officers and one sergeant, Nutter's security force is essentially the same size as Street's, who had 15 officers in his detail in 2007.

And Nutter's daily convoy of three vehicles appears much the same as Street's, who typically traveled with two or three vehicles.
Chris Brennan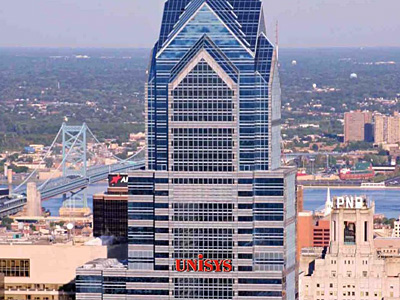 Unisys, the Blue Bell-based tech firm that has signed a 15-year lease to relocate to Center City's Two Liberty Place, spent two hours this afternoon trying to convince the city's Zoning Board of Adjustment to let it hang giant corporate logos on the east and west sides of the building. The company, which needs a zoning variance for the signs, faces opposition from the residents in newly converted condos in the building and an anti-blight group.
Unisys told the ZBA that the logos, 16-feet tall signs in red letters hanging from the bluish gray windows of the building's 38th and 39th floor, would mark Philadelphia as the company's global headquarters. George Thomas of Civic Visions LP testified for Unisys, saying the logos would be an affirmation of Philadelphia's economic health. He urged the ZBA to not give in to the protesters. "Businesses don't go to places that are dying and then put their names on them," Thomas said. "Are we going to allow eight people to kill major progress for the city? I mean, that's nuts."
Attorneys for the opponents didn't get a chance to present their cases today because the ZBA ran out of time in the hearing. Another hearing will be scheduled, likely in September. The Society Created to Reduce Urban Blight [SCRUB] issued a statement today, calling Two Liberty Place "an iconic structure" that should be protected from visual clutter. "Public spaces are critical components of our city's economic vitality and quality of life and should not be squandered to appease private interests in branding," SCRUB said.
Catherine Lucey
Not a great day for the police department. Two people were shot dead last night and the police radio system crashed citywide. Police Commissioner Ramsey also says the department will not be able to add 250 surveillance cameras by the end of the year.

17 alleged mobsters were locked up yesterday as part of "Operation Delco Nostra."

And John Baer writes that news of the corruption in the state legislature has spread to Washington.
Catherine Lucey
It's officially time for some cooler weather. The city suffered its 21st heat-related death on Monday.
Catherine Lucey
Sprint-Nextel is criticized for handing over phone data in the DeNaples case.

Larry Mendte is charged with a felony for hacking into former co-anchor Alycia Lane's email more than 500 times.

The editorial board criticizes our low-tech City Commissioners, who do not make election returns public online.