Archive: June, 2011
Catherine Lucey
Here's the release:
MAYOR NUTTER ELECTED VICE PRESIDENT OF THE U.S. CONFERENCE OF MAYORS
If Re-elected, Mayor Nutter on track to become President of The U.S. Conference of Mayors in 2012.
Catherine Lucey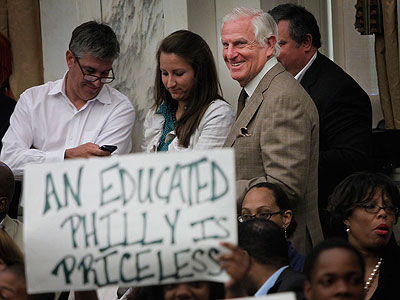 In a major policy reversal, City Council tonight opted to raise property taxes for a second year in a row to help bailout the cash-poor school district, rejecting Mayor Nutter's preferred soda tax proposal.
Voting 11-6 in favor, Council approved a plan that would raise property taxes for one year by 3.5 percent, providing $37 million to the district. They also expect to dip into the city's surplus fund balance and raise parking meter fees, bringing the total aid for schools to $53 million.
The deal marked a major political defeat for Nutter, who put all his chips on the line for a second year in the row to try and pass a sugary drinks tax.
Catherine Lucey
We may be near the finish line here.
Council has been huddling behind closed doors for over an hour. They seem to be closing in on a funding deal for the schools that would include a 3.5 percent property tax hike and no soda tax. The funding package would likely also include some dollars from the city's cash surplus and revenue from increasing parking meter fees, for a total of about $50 million in aid.
But it's still not done yet. Mayor Nutter, who has spent the day lobbying for the soda tax, was in with Council recently. He claimed nothing was a done deal.
Jan Ransom
In the midst of all the hot button issues swirling in City Council today, including funding for the cash-strapped School District, supporters turned out for a controversial bill that would require most Philadelphia employers to provide paid sick leave to workers.
But some folks from Action United, a group that has been vocal in support of the bill, ticked off Councilman Darrell Clarke, a co-sponsor of the bill after they left a mass of fliers at his residence and on his car.
"You bring that to my house. It's personal," Clarke fumed at some Action United members outside of Council chambers. "I sponsored the bill (and) you all are attacking me."
Chris Brennan
Mayor Nutter went on television last night to fight for his proposed tax on sugar sweetened beverages while City Council considered ways to raise cash for the Philadelphia School District that don't involve raising taxes.
School Superintendent Arlene Ackerman, meanwhile, is still fighting to keep her Promise Academy program funded as the district deals with a budget deficit.
Two City Council members -- Bill Green and Jim Kenney -- have very different positions on how the city's Board of Ethics plans to close a loophole in the campaign finance law.
Catherine Lucey and Jan Ransom
2:15 -- Council's still not ready to vote and so they have recessed the hearing while they deal with their normal Thursday session. This is going to take even longer than we thought.
1:20 -- We hear that Council is working on a package of schools aid that could include a 3 to 3.5 percent property tax hike, a temporary 1 cent soda tax and a $10 million reduction from the city fund balance. In all they might be able to get $75 million for schools. But this is all still very fluid.
12:20 -- Ok, Council's hearing is over and they have recessed to talk about what to do behind closed doors. We hear the Mayor is very close to 9 votes for the soda tax, but it's not definite yet.