Archive: June, 2011
Catherine Lucey
Mayor Nutter has been expected to veto the controversial sick leave legislation passed in City Council two weeks ago. Looks like this event is it:
MAYOR NUTTER TO MAKE LEGISLATION ANNOUNCEMENT
WHO: Mayor Michael A Nutter
Chris Brennan

Tom Knox, the millionaire businessman who finished second behind Michael Nutter in the 2007 Democratic primary for mayor, just appeared at a news conference in City Hall to announce...again...that he is supporting his old foe for re-election. Nutter joined Knox at the City Commissioner's office, where Knox switched his voter registration back to Democratic from independent.
"I help voters with their registration all the time," Nutter explained when reporters asked why he was escorting Knox in City Hall. Nutter's campaign sent out a press release 20 minutes beforehand to alert the media.
Knox, who toyed with challenging Nutter this year, endorsed him four months ago in a news conference with former Gov. Ed Rendell. Knox switched his voter registration in April to independent on the last possible day for a candidate hoping to run for mayor as an independent. Former Mayor John Street, a key Nutter critic, also switched to independent that day.
Catherine Lucey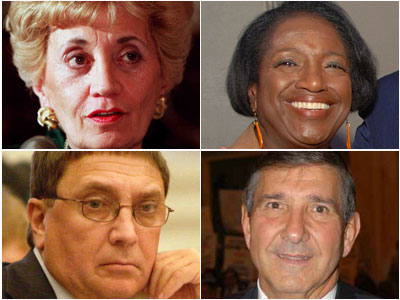 Mayor Nutter, noting that City Council's own consultant says the controversial Deferred Option Retirement Plan will still have a cost to the city after legislative changes were made, just announced that he will veto that legislation. Nutter, speaking in a City Hall news conference, noted that the city's pension fund is currently only funded at 47 percent.
"I think increasingly the public has said they want the program to go away," Nutter said.
The legislation to spare DROP was passed by Council last week, 14-3, meaning that Council would have the 12 votes necessary to override a veto by Nutter. The bill would delay entry into the lump-sum retirement-perk program for nonuniform workers and would lower the interest rate for all future participants. Council said that the move would save money, although Nutter prefers to eliminate it.
Catherine Lucey
As we reported in today's paper, Mayor Nutter is going to make an announcement on DROP at 2:15 today. We hear he's likely to talk about why he won't support Council's legislation that would reform the program.
Here's the release:
MAYOR NUTTER TO MAKE LEGISLATION ANNOUNCEMENT
Catherine Lucey
Don't think that Councilman Jim Kenney is heading on vacation just because City Council starts their legislative summer recess today. Kenney made a speech on the Council floor railing against media reports about how Council doesn't work all summer.
"The media continues to promote this 12 week vacation. They're the very same people I run into Monday through Friday," Kenney said. "It's just not right. I see my colleagues in this building. So we're working. "
Kenney concluded by saying: "I'm going to be here all summer. "