Archive: June, 2008
Chris Brennan
As the famous philosopher Buster Poindexter intoned, Philly's "Feeling hot, hot, hot," as the first major heat wave drapes a thick wet blanket across the City of Brotherly Love. The city's Department of Health has issued an "excessive heat watch" due to the heat and humidity expected through the weekend.
Here's some advice from the department: Those most at risk in extreme heat are older people, those with chronic medical conditions such as heart disease, individuals taking certain regular medications, pregnant women, small children, those who work in a high heat environment, and anyone engaged in strenuous physical activity. The public should insure that fans and air conditioners are in working order; make plans now to check in with older friends, relatives and neighbors over the weekend; and if possible reschedule any plans for strenuous outdoor activity.
In other Friday news:
Chris Brennan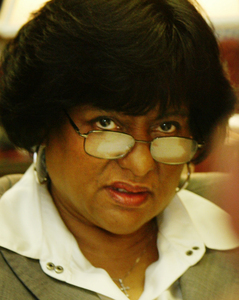 City Councilwoman Jannie Blackwell this morning introduced legislation that would roll back a $35 fee the city started charging in 2004 for filing out job applications for city jobs. Blackwell said she did some research and found that more than 7,500 people applied in April for city laborer jobs, raking in more than $263,000 in application fees for the city. "If you hire 100 people, what about the others," Blackwell asked.
Then-Mayor Street introduced the fee in 2004 as a one part of a larger plan to erase a budget deficit. Blackwell opposed it then and still does. "I don't think it's fair," she said. "It makes the citizens of this city feel like they're being unfairly picked on in this way."
Blackwell's legislation proposes a ballot question, which would ask voters if they want to prohibit the city's Civil Service Commission from imposing the fee. Blackwell said she hasn't spoken with Mayor Nutter about supporting the legislation. The Law Department, she said, recommended that the legislation be drafted as a ballot question.
Chris Brennan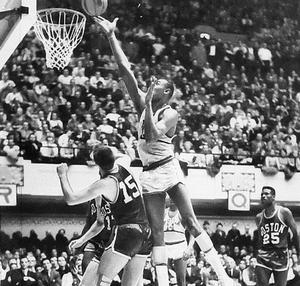 City Council this morning approved a resolution calling on the U.S. Postal Service to honor basketball legend Wilt Chamberlain by creating a stamp with his image. Chamberlain's sister, Selina Gross, and his long-time friend Sonny Hill of the city's famed Sonny Hill League, were there to witness it all. "This is a very honored day," Hill told Council. "We should be doing more things like this. We should be recognizing our past. We should recognize our history." Gross later said she thought an image from Chamberlain's 1962 National Basketball Association record-setting 100-point game would be the best choice for a stamp.
Chris Brennan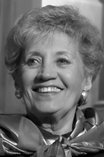 City Council President Anna Verna, speaking in the caucus meeting before this morning's weekly session, paused a moment to savor the soon-to-arrive summer break. "OK, we're in the home stretch," Verna said with a smile, gazing across the round table at her colleagues. "Doesn't it feel good?" Nobody opposed that notion.
Catherine Lucey
Dave Davies notes that a loophole in the city's campaign finance law helps incumbents like Mayor Nutter.

Famed homicide prosecutor Roger King is retiring.

A City Controller study shows that the city is slow to deposit tax dollars and lost out on $1.3 million in interest last year.
Chris Brennan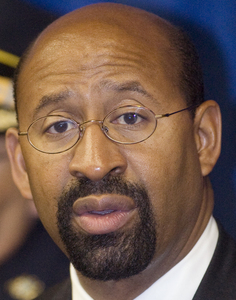 With U.S. Sen. Barack Obama clinching the Democratic nomination, Mayor Nutter vowed yesterday to "be working hard every day to do anything that I can to be supportive of his candidacy to make sure he's the next president of the United States." Nutter, who met with Obama and U.S. Sen. Hillary Clinton last December, came away supporting Clinton. He played a high-profile role for her in their battle for the April primary in Pennsylvania.
Nutter, speaking on MSNBC the day before that primary, said he had spoken with Obama and Clinton about public safety, education, poverty and other issues. "And after going through that process and that analysis, talking with both, listening to their answers, looking at their backgrounds and history, it was very clear, and it was really not a tough choice to support Sen. Clinton," Nutter said then.
Nutter yesterday said he expects to speak with Obama at some point about the general election. But he declined to offer any advice on whether Obama should pick Clinton for his ticket as vice president. And Nutter dismissed a question about whether his support for Clinton means he needs to make amends with Obama. "We'll have a conversation, I'm sure. But it's not like we're at odds," Nutter said, adding that he often speaks with the four Democrats he defeated in last year's mayoral primary. "We're professionals. This is our business. This is what we do."
Catherine Lucey
Mayor Nutter today announced a series of initiatives to help people in danger of mortgage foreclosure, among them a city hotline for financial counseling.

Call 215-334-HOME.

Nutter has recorded a public service announcement to run on radio and television to tell people about the program. He urged people to ask for aid if they are in danger of losing their house.
Catherine Lucey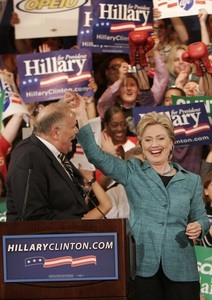 Governor Rendell just can't stop talking about the presidential race. Ben Smith of Politico reports that today he told NY1 News that Clinton -- who he endorsed -- might upstage Obama if she were VP.

Here's the exact quote:

"You know rule one for the vice president is make sure you never upstage the president, right? It's rule one. You know, Hillary Clinton in some ways couldn't help but upstage, even if she was trying not to"