Archive: June, 2008
Catherine Lucey
John Baer reports from Harrisburg that state Sen. Vince Fumo has collapsed on the state Senate floor. Doors to the chamber have been locked. We will update when we get more details on his condition.

Fumo -- who goes to trial for corruption in September -- suffered a heart attack in March. He's also had two back operations in the past year.

UPDATE: Capitolwire.com is reporting that paramedics entered the chamber, but left without Fumo. The report also says Sen. John Wozniak, D-Cambria, came out and said Fumo appeared to be okay.

Catherine Lucey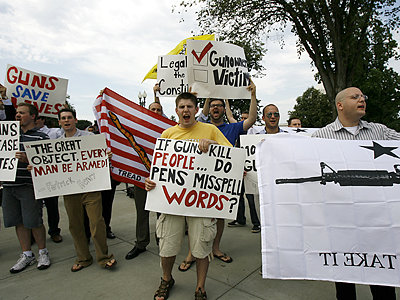 Mayor Nutter today tried to spin the Supreme Court ruling striking down the Washington DC gun ban as good news for Philadelphia's attempts at local gun legislation.

Nutter quoted from the ruling several times. He said that while the Supreme Court upheld the right to have a weapon in the home, it made clear that the government could make restrictions on gun ownership.

"What the Supreme Court decision speaks to is a right to keep a weapon in their home," Nutter said. "What we are dealing with is not lawful ownership, but illegal activity."
Catherine Lucey
City Council is opposed to a school district plan to cut the number of students eligible for free SEPTA TransPasses.
A commission appointed to increase minority participation in the building trades held a public hearing yesterday, listening to complaints of discrimination.

A federal judge says that evidence gained through search warrants is admissible in the upcoming corruption trial of state Sen. Vince Fumo.

A new nationwide poll by Franklin and Marshall college shows Sen. Barack Obama leading Sen. John McCain by 42 percent to 36 percent.
Catherine Lucey
A letter from Councilman Bill Green in today's Daily News about the Rick's Steaks controversy has drawn a harsh response from Councilman Frank DiCicco.

In the Daily News, Green writes that he has been reviewing the ongoing dispute between Rick's Steaks and the Reading Terminal Market -- after a drawn-out legal battle Rick Olivieri has agreed to vacate his longtime cheesesteak stand in the market -- and says more oversight in such situations is needed. He goes on to say that the market fight is an example of "people entrusted with preserving public assets apparently abusing their positions of authority to advantage their friends and associates."

(Green also mentions that he went to grade school with Olivieri.)
Chris Brennan

Kevin Williamson, the founding editor in 2004 of the conservative leaning Philadelphia Evening Bulletin, writes an article in the current National Review entitled "The Sad Philadelphia Story." Williamson, who left the Bulletin in 2006, starts his sad story like this: "Philadelphia is famous for two things: cheesesteaks and murder." [No link is available, NRO requires an online subscription.]
Williamson goes on for three magazine pages listing the problems of "A failed city government" and "a culture of chaos." To make his point, he brings up the May murder of Philadelphia Police Sgt. Stephen Liczbinski, who was gunned down with an SKS semiautomatic rifle while trying to stop a bank robbery. Williamson complains that the Daily News later ran a graphic about the SKS with the headline: "Should this gun be legal?" To hear Williamson tell it, nobody here bothered to question why the alleged bank robbers were on the streets despite long criminal histories.
"It's a question that needs asking, but Philadelphia's news media, clergy, and civic leaders won't start that conversation," writes Williamson, who must have missed this during his research. Or this. And this. Oh and this, this, this and this.
Catherine Lucey
John Baer writes that the state legislature is poised to reject a plan that would allow the state Welfare Department to buy prescription drugs for people on medical assistance. It would save the state millions, he says, but lawmakers want to leave that power in the hands of the heath insurance industry and drug companies.

Parents oppose school district proposals that would decrease the number of students eligible for free SEPTA TransPasses.
Councilman Frank Rizzo says the district attorney is blocking him -- and other members of the Committee on Public Safety -- from viewing an enhanced video of the police beating of three shooting suspects.

Speedy cop gets shot and still chases down suspect.
Catherine Lucey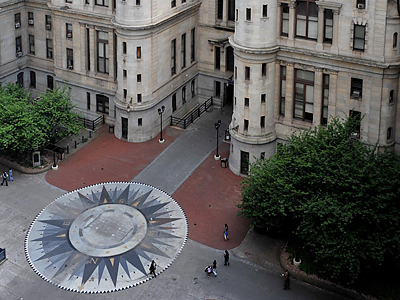 Mayor Nutter just announced that concerts will be held at city recreation centers on Thursdays throughout July and August, to replace the summer shows traditionally held at the Robin Hood Dell East.
That series will conclude with an "Old School Jam Session" on Sept. 1 featuring the Sugarhill Gang. You may remember Nutter performing their hit "Rapper's Delight" at his victory party.
Asked if he would perform with the group, Nutter joked "my agent is in conversations with their people and we have to see if we can work something out."

Catherine Lucey
Lawyers for the Inky and DN are trying to block efforts to get reporters to testify about their sources in the probe into now-indicted slots parlor owner Louis DeNaples.

More on the Cozen O'Conner attempt to lift the local campaign contribution limits, which was rejected by the courts last week.

Larry Mendte is out at CBS-3.