Archive: May, 2011
Chris Brennan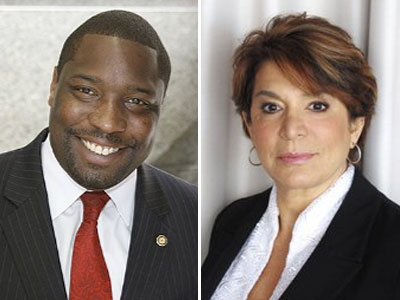 Oh my. We knew the too-close-to-call nature of the Democratic primary election for City Council's 2nd District was getting tense. It just got trashy. Real estate broker Barbara Capozzi, who trails state Rep. Kenyatta Johnson by 72 votes in the race, just sent out an email with a picture of her cleaning up Johnson's block.
Capozzi's campaign added a line when the email was sent to reporters, declaring that Johnson's block is "one of the filthiest blocks in the city." Also this: "Barbara is ready to clean the campaign up with a WIN, and the City too."
The real point of the email seemed to be fishing for election day hijinks that could be used to contest the election results once the Philadelphia City Commission completes its official vote count, which starts tomorrow and will stretch into next week.
Catherine Lucey
Have the primary election results left an opening for former Mayor John Street?
Still no resolution in primary elections for 2nd Councilmanic District or Republican Mayoral Primary.
John Bolaris tells of being drugged and duped.
Catherine Lucey
We'd like to give a shout out to WHYY's Dave Davies, who accurately predicted the fall of Marge Tartaglione in a blog post long before the polls even closed yesterday. Check out his methodology here.
Jan Ransom
PhillyClout tried to track down crushed political icon City Commission Chairwoman Marge Tartaglione at her Northeast home today.
A man answered the door and said Tartaglione -- who appears headed for a re-election defeat -- was at City Hall but a small girl who crept up beside the man blurted "she's in the kitchen."
For now Tartaglione appears to be in hiding. PhillyClout can't confirm whether she showed up for work today.
Chris Brennan
While Mayor Nutter contemplates a second term, we look at who could follow him in 2015.
A group of Republicans looking to revitalize their party in the city had a very good day at the polls.
It's the end of a Philadelphia political era as City Councilman Frank Rizzo fails to advance to the general election for the first time since 1995. Rizzo, like City Commission Chairwoman Marge Tartaglione, was taken down by the controversial Deferred Retirement Option Plan.
Chris Brennan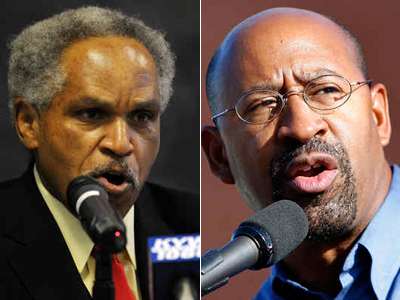 Mayor Nutter won his primary election last night with 76 percent of the vote, the race between two relative unknowns in the Republican primary is too close to call and now here (maybe) comes former Mayor John Street charging into the field.
Street this morning said he will "seriously consider" a run as an independent in the Nov. 8 general election. He later added that this "options review" will look at runs for mayor and City Council at-large. His comments, via email, are very focused on Nutter and the 24 percent of the Democratic vote that his older brother, former state legislator T. Milton Street Sr., collected yesterday.
"I am encouraged that 1of 4 voters in a Democratic primary decided to vote for Senator Street or against the Mayor," Street wrote. "That may be a distinction without much difference but it does provide a healthy base upon which to build a campaign. Mayor Nutter has not yet created a vision for the city nor has he even come close to announcing a plan to get there.
Catherine Lucey
Ok, we're nearing the end of the night. And here's what we have.
* In the Council races, Mark Squilla won in the 1st, Bobby Henon in the 6th, Cindy Bass in the 8th and Councilwoman Maria Quinones-Sanchez easily won in the 7th. State Rep. Kenyatta Johnson was up in the 2nd tonight, but we're told Barbara Capozzi hasn't conceded yet.
* It's the end of the road for Republican City Councilman Frank Rizzo and City Commissioner Marge Tartaglione, both participants in the controversial DROP program. Neither won re-election tonight.
Catherine Lucey
It looks like Republican Councilman Frank Rizzo, who has served for 16 years, will not be re-elected this year. With 77 percent of precincts reporting, Rizzo was in 7th place in the GOP at-large field. Only five candidates advance to the general.
"To sum it up it's been a great honor for me to serve the people of Philadephia. These are the results," Rizzo said just moments ago.
Rizzo is one of several Council members who took heat for participation in the controversial retirement DROP program. If he had been re-elected he would have had to "retire" for a day to collect DROP before returning to serve again.