Archive: May, 2011
Catherine Lucey
Schools Superintendent Arlene Ackerman just made her formal funding request of City Council and Mayor Nutter -- $75 million to $110 million.
Ackerman said those funds would restore full-day kindergarten, transportation services and lower class sizes. The school district -- which faces a $629 million funding shortfall in the coming fiscal year -- will be forced to make major cuts without additional funds.
It's not yet clear how the city would provide those funds. One option would be to raise property taxes to increase revenue. Another would be to shift more of the current property tax revenue to the schools, which would open up a hole in the city's general fund. But no definite funding options have been discussed at today's hearing.
Catherine Lucey
Looks like some movement is happening with the schools budget. Mayor Nutter just emerged from a closed-door meeting with City Council leadership and Schools Superintendent Arlene Ackerman.
Nutter declined comment, but Ackerman did say that she is prepared to ask for a specific amount of funding.
Chris Brennan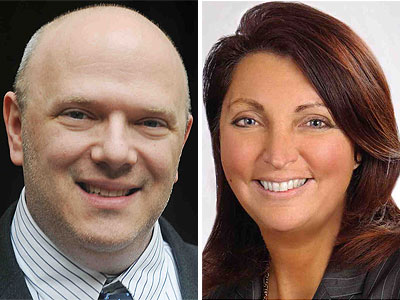 UPDATE, 4:15 pm: Karen Brown and John Featherman have both been told by the Philadelphia City Commission that there are about 50 Republican provisional ballots to be counted in their race. Brown is up by 58 votes. That seems to put the race out of reach for Featherman, who isn't conceding until he has the final vote tally. Brown declared: "Even if he takes all 50, he can't catch me."
ORIGINAL POST: Karen Brown, the long-time Democratic committeewoman recruited by the leaders of the Republican City Committee this year to run for mayor, has taken a big step closer to defeating real estate agent John Featherman, according to a vote tally compiled by the Philadelphia City Commission one week after the May 17 primary election.
Brown beat Featherman by a margin of 57 votes at the polling places last Tuesday. A count of absentee, alternative and military ballots completed today showed that she took in another 81 votes while Featherman picked up 80 votes. Military ballots can arrive and still be counted up until 5 p.m. today.
Catherine Lucey
Councilman W. Wilson Goode Jr. just held the School District's feet to the fire on just how much money they're actually looking for.
"How much money do you want," Goode said. After some hemming and hawing by Chief Financial Officer Mike Masch, Goode said: "If you're not going to make a direct request, say I'm not going to make a direct request."
Finally, Masch said the district would welcome support to restore 50 to 75 percent of a list of $180 million in cuts that they provided to Council. That list included full-day kindergarten ($25 million) and transportation services ($50 million).
Catherine Lucey
City Council this morning kicked off budget hearings for the School District, which faces a massive $629 million budget gap in the coming fiscal year.
Council chambers are packed with schools advocates, waving signs that ask for more funds for schools. School Reform Commission Chairman Bob Archie was first to testify from the district.
Archie said the SRC "respectfully requests" increased funding for the schools from the city, but did not detail how much funding the schools want or what it would pay for. The district's current plan would slash full day kindergarten, cut funds for transportation and lay off teachers.
Chris Brennan
Barbara Capozzi, the real estate broker who lost the City Council 2nd District Democratic primary election to state Rep. Kenyatta Johnson, just left open the notion of contesting the election results to the Court of Common Pleas. In a statement just released, Capozzi says she is disappointed by "very proud of the honest and strong campaign that we ran against the 'machine'."
"As for the final election results, I am considering all options in regards to the next steps," her statement reads. "It is in the city's best interest that the residents of the 2nd District get the last say in how represents them in City Council."
A contest would have to be filed within five days of the election results being certified by the Philadelphia City Commission, an attorney for Capozzi said.
Chris Brennan
The result of last Tuesday's Republican primary election for mayor will probably not be known until tomorrow, according to the Philadelphia City Commission staff, which is still completing the vote tally. John Featherman, part of a GOP insurgency known as the Loyal Opposition, challenged Karen Brown, a Democratic committeewoman turned GOP endorsed candidate.
Brown leads with 57 votes out of nearly 16,500 votes cast at polling places last week. The commission is now tallying 177 absentee GOP ballots and 20 alternative GOP ballots to determine who won. Military votes can also come in as late as tomorrow.
Despite being behind, Featherman was upbeat and declaring a victory of sorts in his efforts to challenge the Republican leadership in Philadelphia through his candidacy.