Archive: May, 2010
Catherine Lucey
Many Philadelphia voters also get to weigh in on competitive state House of Representatives today. State representatives serve districts with about 60,000 residents for two-year terms. In general, the Philly seats turn over rarely, but open seats always become battlegrounds and incumbents frequently face intense challenges.
There are two open seats in today's election. Here are the details:
194th District
Catherine Lucey
Check out this letter that union leader John Dougherty sent out to his email list on behalf of U.S. Sen. Arlen Specter. In the lengthy screed, he seems to compliment longtime rival Vince Fumo -- now in prison -- noting that he can no longer provide funds for the region.
Read the full text below:
May 17, 2010
Chris Brennan
With a bruising Democratic primary election campaign behind them, all eyes are on U.S. Sen. Arlen Specter and his challenger, U.S. Rep. Joe Sestak today. Specter, who is counting on unions and the Black Clergy of Philadelphia and vicinity to turn out the vote today, is pitching himself as the man with seniority to look after the city's interests in Washington D.C. Sestak, who is not running again for his Delaware County seat, presents himself as the true Democrat in the race, ready to put principle before politics. The polls cast this race as a dead heat.
Specter jumped from the Republican Party to the Democrats in April 2009, saying his prospects in a GOP primary were bleak due to the party's shift toward the right and his vote for President Obama's stimulus package. The winner in today's Democratic primary will likely face former U.S. Rep. Pat Toomey. Specter narrowly defeated Toomey in the 2004 Republican primary. Toomey is challenged in today's Republican primary by Peg Luksik, a resource-strapped candidate who has had little luck getting her message out. Toomey has a substantial lead on Luksik in the polls.
Catherine Lucey
The final bill for the massive snow dump on the city this past winter is in – and it's a whopping $19 million.
That's right, the city shelled out $19 million to clear streets during three monster storms, according to the latest Quarterly City Managers Report. Those funds went to overtime for city workers, hiring outside contracters and buying salt.
The report also reveals that the city is set to end the current fiscal year with a slightly higher deficit than expected, which could further weaken the city's cash-flow situation next year.
Chris Brennan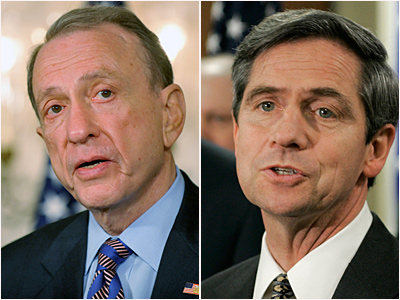 Another day, another poll showing the Democratic primary election race between U.S. Sen. Arlen Specter and U.S. Rep. Joe Sestak is too close to call. The Quinnipiac University Poll released today shows Sestak at 42 percent among likely voters in Tuesday's primary and Specter at 41 percent, with 16 percent undecided. One in four people in the poll said they might change their mind.
Sestak is spending the day visiting five campaign offices in eastern Pennsylvania but first he'll be at the New Hope Baptist Church at 16th and Federal streets in South Philly to be endorsed by African-American clergy members. Specter is hoping his endorsement Friday by the Black Clergy of Philadelphia and Vicinity will help drive voter turn-out in the city tomorrow. Sestak is clearly trying to dilute Specter's support there.
Specter is flying around the state today, starting in Erie and ending in Philadelphia this afternoon. Speaking in South Philly yesterday, Specter was touting his support in the African-American Community. "I went to a bunch of black churches this morning and got a standing ovation," Specter said. "They won't let [Sestak] in. Why are they giving me a standing ovation? Because of what I've done. Why won't they let him in? Because he has nothing of interest to say to them."
Chris Brennan
Fox News will air Inside Campaign 2010 on Sunday at 9 p.m., featuring what it is calling "exclusive behind the scenes access to several Republican and Democrat campaigns." That includes the bruising primary election campaign of U.S. Sen. Arlen Specter and U.S. Rep. Joe Sestak. The show, hosted by Bret Baier, will also look at races in Arkansas, Nevada and Minnesota. Here's a sneak peek.
Chris Brennan
Gov. Rendell had nothing but nice things to say about state Sen. Anthony Hardy Williams this morning as the Black Clergy of Philadelphia and Vicinity endorsed the West Philly legislator in Tuesday's Democratic primary election for governor. But don't take that as an endorsement, cautioned Rendell, who said he wanted to remain neutral in the four-man Democratic race.
"I am incredibly impressed with the campaign he has waged," Rendell said. "And he's always been one of the brightest people in the building."
Williams, speaking in the same event where the Black clergy endorsed U.S. Sen Arlen Specter, noted that one of several conspiracy theories about why he entered the gubernatorial race in late January was to have an African-American politician on the ballot from Philadelphia to drive voter turn-out here. A large Democratic turn-out in Philadelphia Tuesday would be a boon for Specter.