Archive: May, 2009
Catherine Lucey
The It's Our City blog alerted us to a forum on tax policy scheduled for next week, which will likely discuss the proposed sales tax hike and how it might impact the city. Titled "Our Taxes, Our Future," panelists at the event include Budget Director Steve Agostini, City Councilman Bill Green and Wharton Professor Robert Inman. It will be held at the Independence Mall's Visitor Center at 6:30 p.m. next Wednesday.
For more details click here.
Catherine Lucey
In the final days before the primary contest, the Controller's race becomes a mud-slinging contest.
Joe Torsella is out of the Senate race.
Suggesting there are still lingering tensions, Council gives Mayor Nutter's nominees to the SEPTA and Ethics boards a hard time.
Chris Brennan
The so-called "Millionaire's Provision," triggered this week to allow individuals and political action committees to contribute twice as much to campaigns as normally allowed, has proven to be remarkably flexible. If a candidate thinks its a great idea, he can use it to raise more money. If a candidate thinks its a terrible idea, he can use it to raise more money. The provision is triggered when a candidate gives his own campaign $250,000 or more.
Consider an e-mail sent yesterday by John Dougherty, leader of the electricians Local 98, which is supporting Dan McCaffery in Tuesday's Democratic primary election for District Attorney. Dougherty praised the Millionaire's Provision, triggered when McCaffery donated $200,000 to his own campaign, and invited supporters to a fund-raising breakfast this morning. "Fortunately, a newly-triggered provision of the city's Campaign Finance Law allows all of us to contribute to Dan's campaign beyond the normal limits," Dougherty e-mailed.
Now consider an e-mail sent out yesterday by Dan McElhatton, another candidate for D.A. The headline: "Urgent: Don't let them buy this election." McElhatton calls the Millionaire's provision "troubling news" and urges his supporters to help him compete with the big money. "Your support today will send a clear message-that the District Attorney's office is not for sale; that the experience and independence that I will bring to the D.A.'s office is more important than the depth of a candidate's bank account," McElhatton e-mail said.
Catherine Lucey
Check out this Washington Post feature about Sen. Arlen Specter's move to the Democratic party. It opens with the scene on Monday from Specter's appearance at Democratic City Committee in Philly. We especially liked this passage:
But when Specter reached Charlie Branch, the retired member of Laborers Local 332 pointed to the check mark on his baseball cap, a reference to a pro-union bill that Specter has not yet endorsed. "You see that up there on my hat? You gonna remember that?" asked Branch. Specter was noncommittal.
"Darn!" Branch said after the senator had moved on. "I didn't get a picture with him!" And in spite of himself, the wary union man went chasing after the new Democratic star.
Chris Brennan
Legislation proposed by City Councilman Frank DiCicco and Jim Kenney to put a 25-cent fee on every plastic bag given to customers at stores in Philadelphia is being delayed during this morning's weekly Council session. It's clear that some Council members want changes to the legislation. DiCicco played off the delay with a joke in Council's caucus meeting.
"I'm holding this because it's a rainy day and some people didn't bring an umbrella and need the plastic bags to hold over their heads," DiCicco quipped.
The legislation, designed to cut down on litter, requires businesses with more than $1 million in annual sales to give 75 percent of the bag fee to the city. Businesses with less revenue would keep the fee.
Chris Brennan
The Philadelphia Board of Ethics decision to release information Tuesday about two Democratic candidates for District Attorney, one week before the primary election, has clearly raised some hackles on City Council. Council this morning considered and then stalled the appointment of Edward Kung to the board.
Councilman Bill Greenlee asked Kung about the release Tuesday of information on investigation into the campaigns of Dan McCaffery and Seth Williams. "Do you have concern about information being giving out six days or a week before the election?" Greenlee asked.
Kung punted, responding: "I don't know the reasoning of the board of ethics." He also gave vague answers to Councilwoman Marian Tasco about whether the Board of Ethics staff should discuss ongoing cases with the media. She offered no examples of that happening. And Councilman Bill Green suggested Kung's appointment should be held because he had no idea where Kung stood on ethics issues.
Chris Brennan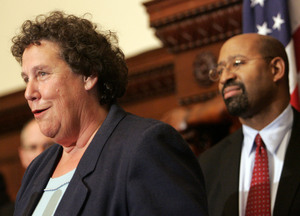 A City Council committee this morning finally approved Mayor Nutter's appointees to two seats on the SEPTA board after letting the issue linger for nearly three months. Nutter sent to Council on Feb. 26 his appointments of Rina Cutler, his deputy mayor for transportation and utilities, and Beverly Coleman, executive director of NeighborhoodsNow. Council, which has been brawling with Nutter on the city budget and other issues, held a hearing on the appointments on March 23 but didn't vote to approve or reject them.
Cutler did not enjoy a smooth ride from Council during today's hearing. Councilmen Wilson Goode Jr. and Bill Green peppered Cutler with questions about a long-running dispute between the city and SEPTA on expired leases for city-owned subway stations. Cutler refused to take a position, referring questions to the city Law Department. Goode and Green said they could not support her appointment until she took a stand on the issue. In the vote, Green supported Cutler's nomination but complained that he should have had a meeting with her before the hearing. Goode cast the lone vote against Cutler's appointment.
Cutler and Coleman still need to be approved in two votes by Council during regular sessions. It appears likely that Coleman will get those votes quickly while Cutler will not.