Archive: May, 2008
Catherine Lucey
City Council this morning gave preliminary approval to Mayor Nutter's revised budget and five year plan.

As reported in the Daily News earlier this week, the revised plan has slowed down wage and business tax cuts and added some additional spending.

Today Council members approved the budget on the committee level. It is on schedule to be fully passed in another week.
Catherine Lucey
Mayor Nutter today appointed Mark Alan Hughes -- a senior fellow at the University of Pennsylvania's Fox Leadership Program -- as his Director of Sustainability.

Hughes, who served as policy director for Nutter's mayoral campaign during the primary, will work on improving the recycling program, developing a plan for reducing energy use in city buildings and creating green jobs. He will report to Nutter and Nutter's Chief of Staff Clay Armbrister.

"Sustainability is not a fringe issue. It is central to everything we do," Nutter said.
Chris Brennan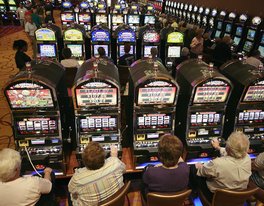 The latest plan to relocate two casinos in Philadelphia, proposed two weeks ago by a trio of state legislators from the city, prompted an idea from the Delaware Valley Regional Planning Commission. State Sen. Vince Fumo and state representatives Mike O'Brien and Bill Keller suggested moving the two casinos away from the Delaware riverfront and putting them near the Philadelphia International Airport. DVRPC executive director Barry Seymour wrote to the legislators last week to suggest building the casinos IN the airport.
"Clearly the airport already has good highway and transit access, and literally millions of visitors throughout the year, many of which have time available due to flight delays and layovers," Seymour wrote, adding that one set of slot machines could be placed in the area before travelers pass through security while another set could be placed in the area past the security checkpoints. Seymour offered the DVRPC staff to do more research.
Seymour, who sent a copy of his letter to Mayor Nutter's administration, told PhillyClout today that he had not contacted anyone at the airport to see what they thought of the suggestion. "We're not advocating it," he added. "It's just an idea." PhillyClout is waiting on airport officials and Fumo to give us their take on that idea. Mary Issacson, chief of staff to O'Brien, said he and Keller support the concept.
Chris Brennan
EarthLink, the Internet service provider that hooked up the city through Wireless Philadelphia, announced this morning that it wants to start dismantling the system on June 12. The Atlanta-based company has been looking to get out of the municipal wireless business here and in other cities since November. But Philadelphia has a 10-year contract with EarthLink, signed in February 2006, that calls for the company to pay the city $1 million in 10 days as part of a long-term payment plan.
So EarthLink today went to federal court, asking a judge for permission to pull down its equipment after June 12. You've probably seen the stuff, which EarthLink says has a value of $17 million. It's those little silver boxes with two antennae strapped to streetlights across the city. They broadcast Internet signals to computers with wireless access. EarthLink also asked the federal judge today to limit its financial liability for Philadelphia Wireless to $1 million.
Mayor Nutter today vowed to protect the city's interest under the contact and said he does not intend to spend city money to keep the system up and running. Nutter added that EarthLink had been negotiating with Cleveland-based OneCommunity to take over Wireless Philadelphia but that several potential deals had fallen apart in the last week. OneCommunity, a non-profit, has $25 million in funding for the next five years from the John S. and James L. Knight Foundation to help provide Internet access to 26 cities, including Philadelphia.
Chris Brennan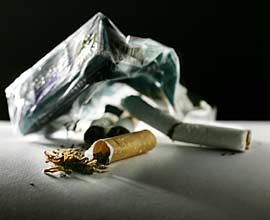 Gov. Rendell, speaking to reporters in Harrisburg this morning, vowed to veto legislation for a statewide indoor smoking ban if it weakens a law already enforced in Philadelphia. Mayor Nutter, while a member of City Council, championed the city's indoor smoking ban, which was signed into law in September 2006 and went into effect in January 2007.
State Sen. Vince Fumo today issued a press release criticizing the proposed legislation for a statewide smoking ban now being considered in Harrisburg. Fumo quoted extensively from a "confidential draft" of the legislation, drawn up by a conference committee of three state senators and three state representatives. That legislation would override the city's smoking ban in facilities for long-term health care, residential adult care, mental health, and drug and alcohol rehabilitation, Fumo said. It would also allow smoking in designated areas for sports arenas, performance venues and casinos.
"It would be a step backward for the city," Fumo said. "Philadelphia has a strong ordinance that should be the model for the rest of the state, rather than Harrisburg dictating to Philadelphia on a matter on which the city has been more proactive."
Chris Brennan
The Daily News takes a look at people struggling with the mortgage crisis sweeping the nation.
The city's overworked ambulances pick up a side job.
State Attorney General Tom Corbett's Democratic challenger claims Corbett has "eviscerated" the state's campaign finance law.