Archive: April, 2011
Catherine Lucey and David Gambacorta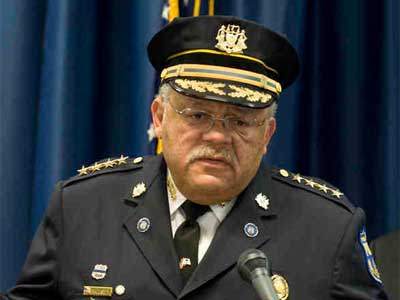 UPDATE 5:03 PM.: Police Commissioner Charles Ramsey today annonuced that he is staying in Philadelphia, after weeks of speculation that he was considering the top cop job in Chicago.
"I would like to just stay right here," Ramsey said to thunderous applause, during a press conference in City Hall. Ramsey said he informed Nutter of his decision last night.
Mayor Nutter, who has been vocal in his desire to keep Ramsey, said he has offered the commissioner a raise that will bump his pay from $195,000 to $255,000, an amount Nutter said was appropriate for a big-city police chief.
Catherine Lucey
This just dropped into our inbox. Is Mayor Nutter going to announce something related to Police Commissioner Charles Ramsey, who is rumored to be considering the top cop job in Chicago? We'll let you know.
MAYOR NUTTER TO MAKE PERSONNEL ANNOUNCEMENT
WHO: Mayor Michael A. Nutter
Chris Brennan and Catherine Lucey
Council Candidate Danny Savage – running to recapture the 7th District from Councilwoman Maria Quinones-Sanchez – yesterday put out a press release that he had been "recommended" by the Greater Philadelphia Chamber of Commerce.
The announcement piqued our interest, because we didn't recall the Chamber getting into political races. And Savage's press release made it sound like he was picked over Sanchez, with the following statement: "Savage has spoken out against his opponent's proposed tax bill, which would give tax breaks to downtown businesses while increasing the burdens on neighborhood shops. The recommendation of the business community's premier coalition is a significant endorsement of Savage's message and candidacy."
But it turns out this was not an endorsement at all. The Chamber tells us that they do not endorse candidates and they "recommended" both Savage and Sanchez as candidates who are friendly to business development.
Catherine Lucey
Judging from the press release we just got, it looks like Mayor Nutter is poised to endorse Cindy Bass in the race for the 8th Councilmanic District.
PhillyClout sources confirm that Nutter is going to back Bass. This will be his first endorsement in the open Council races.
Check it out:
Catherine Lucey
We don't usually write about endorsements, but one from big Eddie really means something. Here's the release:
EDWARD G. RENDELL ENDORSES BOBBY HENON, DEMOCRAT FOR CITY COUNCIL
Former Philadelphia Mayor & PA Governor Lauds Henon on Record of Job Creation
Chris Brennan
Jeff Hornstein, one of the four Democrats seeking to replace City Councilman Frank DiCicco in the 1st District, decided to draw attention to his campaign today by cracking wise on the City of Brotherly Love. Hornstein issued a news release touting his plan to "Make Philly less weird" when it comes to taxes.
The plan, dubbed "Investing in Philadelphia," is aimed at the city's tax structure, pension problems and use of vacant land. You can read the plan here.
We asked Hornstein, Brooklyn-born and raised in Matawan, NJ, about the political viability of calling Philly weird. He said we shouldn't get "hung up on the word" and said there are many weird aspects of Philadelphia -- the guy can seriously talk local theater -- that the city does and should embrace.