Archive: April, 2009
Catherine Lucey
City Council second budget hearing out in the community is scheduled for this afternoon. The legislators usually don't leave City Hall for the financial sessions, but the budget woes and community concerns this year prompted them to bring the debate to the public.
You can check out the show from 4 to 7 pm at the Mount Airy Church of God, 6401 Ogontz Ave.
Catherine Lucey
Mayor Nutter heads to Washington DC tomorrow where he will meet with President Obama's new urban policy director and the Secretary of the Office of Housing and Urban Development, as well as members of the local congressional delegation.
On the mayor's to-do list is to push for funding for the Youth Violence Reduction Program and support for the city's mortgage foreclosure effort.
Chris Brennan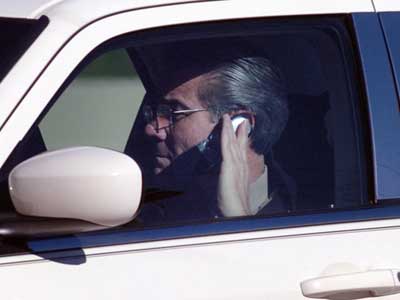 The state House this afternoon voted down legislation to ban the use of cell phones by drivers, less than a week after City Council passed similar legislation for motorists in Philadelphia. Mayor Nutter will sign the local legislation into law "soon, and publicly," according to his spokesman, Doug Oliver.
The House then approved legislation that would allow police statewide to issue an extra $50 traffic ticket if talking on a cell phone caused a motorist to drive carelessly, according to the Associated Press.
PennDOT has repeatedly said the local legislation conflicts with the state Motor Vehicle Code. And a Montgomery County attorney who successfully challenged a similar law in Bucks County in 2000 has vowed to challenge the Philadelphia law.
Catherine Lucey
Our buddy Josh at the Allentown Morning Call has a good post up on how U.S. Rep. Joe Sestak had his brother and sister on his campaign payroll last year. Here's what he has to say:
Elizabeth Sestak, the finance director, earned more than $38,000 during the course of the year, while Richard Sestak, the campaign manager, took in more than $66,000.
It's not illegal -- nor unusual -- for members of Congress to employ family members on their campaign staffs. And there is reason to think they do their jobs well. Sestak, a Democrat from the suburban Philadelphia 7th District, raised a whopping $3.9 million during the cycle and went on to win his reelection campaign in a landslide over Republican Craig Williams.
Chris Brennan
The state Gaming Control Board announced today that it will hold a hearing in Philadelphia on May 6 to consider a request from SugarHouse, a casino planned for the banks of the Delaware River in Fishtown, to extend by a year its deadline to build the project. You can read the board's announcement on that here. The time and place for the hearing have not been announced.
SugarHouse, which has long tangled with city officials who opposed the casino location, also needs approval from the board to change its construction design. That new plan was announced by casino investors two weeks ago in a news conference with Mayor Nutter, who had long opposed the project but now offers his support. SugarHouse says it could be open by this time next year if the board approves its plans.
Chris Brennan
City Councilman Jack Kelly, who doesn't weigh in too heavily on most subjects, has made a pet issue of animal care and control in Philadelphia. Kelly, who played the animal card hard in his last campaign, showed a bit of ire on the topic a few minutes ago in the Council budget hearing for the city Health Department. Kelly is deeply displeased with the Animal Care and Control Team from the Pennsylvania SPCA, which has the city contract to handle animal issues.
"I want to just tell you that I am completely angry over the decision that you and the mayor and the administration made in awarding that contract," Kelly told Dr. Don Schwartz, who heads the Health Department. "I think it's obvious that it was disastrous and somehow we're going to have to get through this. I'm also cautiously optimistic that we can work together. And I hope to work with you and the mayor to see if we can do some damage control."
Kelly cited a story in today's Philadelphia Weekly, which in turn cites stories previously published in the Daily News on the subject of animal care. But after raising the issue, Kelly said the budget hearing wasn't the right place to talk about the issue. Instead, he'll be bringing it up at tomorrow's weekly Council session. And if he isn't satisfied, Kelly warned, he'll seek Council hearings on the subject.
Catherine Lucey
Throughout City Council's budget hearings, Councilman Bill Green has repeatedly complained that his questions of the administration aren't being answered to his satisfaction. Today he took his complaints a step further, suggesting that Council should hold hearings on the issue.
"I believe we need to have hearings where people come back and answer our questions," Green said. "If they just put it in writing, we're never going to get real answers."

Chris Brennan
The city tackles a legal claim by the Philadelphia Eagles that the team struck a secret deal with then-Mayor John Street to settle an $8 million stadium dispute.
Foxwoods continues to move forward with plans for a casino at 8th and Market streets while anti-casino activists continue to protest.
The city and organizers of the Philadelphia International Cycling Championship work to find a way to keep the race rolling during tough budget times.