Archive: April, 2009
Catherine Lucey
The City Controller race continues to heat up. Incumbent Controller Alan Butkovitz has a press conference scheduled with District Attorney Lynn Abraham tomorrow. We're guessing an endorsement is in the works.
Meanwhile, Republican Controller candidate Al Schmidt is running a radio ad on KYW today. You can check it out here.
Chris Brennan
As City Council flirts with a wage tax increase, state legislators in Harrisburg turn a cold shoulder to the notion.
On Tax Day, John Baer takes a look at where some of your money went.
On the casino beat, everyone declares victory in a legal tussle about a Poconos slots parlor.
Chris Brennan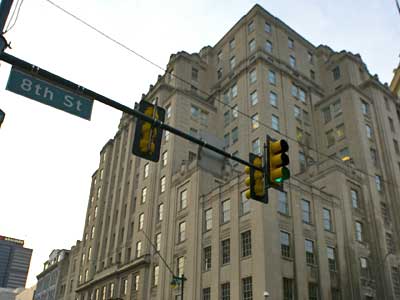 Mayor Nutter and City Councilman Frank DiCicco are scheduled to make an announcement this afternoon about Foxwoods, a casino proposed for the former Strawbridge & Clothier department store at 8th and Market streets. PhillyClout hears Nutter and DiCicco will lay out the process for Foxwoods to obtain "commercial entertainment district" zoning for the former store, an important step in opening a casino here.
This will be the third go-round for Foxwoods at CED zoning. The state Supreme Court in April 2008 ordered the city to approve zoning for Foxwoods at its original state-approved location on the Delaware riverfront in South Philly. The court agreed with complaints from Foxwoods that city officials had been purposefully stalling the project. Foxwoods in September bowed to political pressure from Nutter and Gov. Rendell to relocate the project to Center City. That set up a speedy but rancorous zoning process for the casino, which then was looking to set up shop inside the Gallery at 11th and Market.
Foxwoods last week told the Gaming Control Board it has now settled on 8th and Market for its casino. That location, like the Gallery, has incensed anti-casino activists from nearby Chinatown. City Council held a rare Saturday hearing on Nov. 1 to consider zoning for Foxwoods at the Gallery. Nutter quickly signed into law the Gallery zoning after meeting with Chinatown protesters.
Catherine Lucey and Chris Brennan
8:20 -- And we're at closing remarks. Whew. Quite a night.
8:15 -- A question on police corruption allows McCaffery, McElhatton and Turner to mention they have or had family members on the force.
8:05 -- Dave notes the impact of city budget cuts on programs for young people and re-entry services. He asks what the city can do for those who need support.
Catherine Lucey
We had record response to the latest PhillyClout contest and we're pleased to announce the winner...
Congratulations Lanette Swopes! An XL Daily News t-shirt is now yours. Wear it with pride. Email us for details on how to get your prize.
Thank you to everyone who participated. And stay tuned for our next giveaway.
Catherine Lucey
PhillyClout spotted state Rep. Dwight Evans exiting Council President Anna Verna's office this morning. Evens met with Verna, Mayor Nutter and council members Marion Tasco and Darrell Clarke to talk about how Harrisburg would handle the city budget.
Mayor Nutter needs Harrisburg approval for two items in his proposed budget – a hike to the sales tax and changes to the city pension payouts. Evans, head of the House Appropriations Committee, said it was too soon to say how state legislators would react to those requests.
"We want to work with them. We understand that the challenges they face are challenges that a lot of cities and counties face across the commonwealth of Pennsylvania. And that we're going to be open to their ideas," Evans said.
Catherine Lucey
Yep, tonight at 7 p.m. the six District Attorney candidates will face off in a debate. Daily News reporter Dave Davies will moderate the showdown at the National Constitution Center, sponsored by Fox 29, the Philadelphia District Attorney's Alumni Association and Philly.com.
The debate will be live-streamed on Philly.com. and myfoxphilly.com. But in addition you can check out PhillyClout tonight for our liveblog of all the action.