Archive: April, 2008
Catherine Lucey
Are the candidates playing nice in their TV ads, but pulling dirty tricks behind the scenes? Check out this Dave Davies report.

And Ed Schwartz -- of the Institute for Civic Values -- has ten urban questions for the candidates.

Sen. Barack Obama is in Levittown and Malvern today, while former U.S. Secretary of State Madeline Albright will appear at several events in Philly and the suburbs on behalf of Sen. Hillary Clinton.
Chris Brennan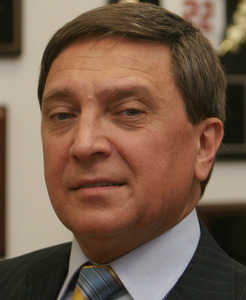 City Council's budget hearings don't just focus on who gets what and how they spend it. They can also be a forum for old political grudges. Take today's hearing for the Board of Revision Taxes. City Councilman Frank DiCicco had something he had to get off his chest to BRT chairwoman Charlesretta Meade about one of her board members: Former state Supreme Court Justice Russell Nigro.
DiCicco told Meade he has received complaints from Society Hill residents who felt "slighted and insulted" by Nigro's questions during BRT hearings on their property tax appeals. DiCicco said Nigro told the residents that he'd buy their homes for cash if they really thought they were worth less than their taxes indicated. "If he was here, I would tell him to his face, it's just a terrible message," DiCicco said. "In his tone, they almost felt like they're on trial and they have to plead their innocence or else they will be found guilty."
Nigro, who was not at the hearing, later said DiCicco is still angry about a 2003 ruling on the candidacy of Vern Anastasio. The state Supreme Court voted 4-3 to remove Anastasio, who was challenging DiCicco, from the Democratic primary ballot. "Unfortunately, the councilman still can't get over the fact that I voted in the minority to allow his opponent to remain on the ballot five years ago," Nigro said. "He can't accept the fact that I was entitled to give my opinion as to what I thought was the appropriate legal conclusion to be rendered in that case." Nigro added that he hasn't received a single letter or phone call from anyone complaining about how he conducts himself in BRT hearings.
Chris Brennan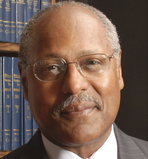 President Judge C. Darnell Jones today told City Council that the First Judicial District is developing a program to assist homeowners at risk of losing their houses due to problems with subprime mortgages. That means no moratorium on sheriff's sales, as called for by Council and Sheriff John Green last month, Jones said. "Realistically, it's simply not the answer because it doesn't help anyone," Jones said later. "It just postpones the inevitable."
The new program, which may be in place by Monday, would provide legal, financial and housing assistance to people who live in homes that may be foreclosed. Jones said it would exclude commercial, rental and abandoned properties, which will be up for auction when sheriff's sales resume on May 6 . A total moratorium, Jones said, did not appear to be required or legal.
Subprime mortgages, with interest rates that can increase, are often issued to buyers with credit problems who cannot afford conventional mortgages. Green last month said he would ask Jones to institute a six-month moratorium on sheriff's sales. Philadelphia sheriff sales have been declining for the last four years but Green yesterday said he remains concerned when even one homeowner faces foreclosure.
Catherine Lucey
A writer for Philebrity is analyzing the presidential candidates' technology plans -- a topic we haven't heard about much on the campaign trail. Check out what he has to say about Sen. Barack Obama's ideas.
Catherine Lucey
Yes, Mayor Nutter stars in a Clinton ad called "Get It Done." Check it out:
Catherine Lucey
Turns out Philly really is a dump!

Mayor Nutter announced today that 2.56 million pounds of trash were picked up during the citywide cleanup on Saturday.

"These results far exceeded anything we thought about in the planning of this event," Nutter said.
Catherine Lucey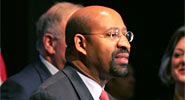 CNN yesterday announced that they will host a presidential candidates forum on faith issues Sunday night. Both Sen. Hillary Clinton and Sen. Barack Obama will appear individually on stage to talk about topics like poverty, AIDS, climate change and human rights, according to a press release.

So what ever happened to the urban issues forum proposed by Mayor Nutter? Nutter pitched the event as a chance to debate rarely discussed city issues like housing, transportation and crime.

Nutter told us today that it's most likely not going to happen.
Catherine Lucey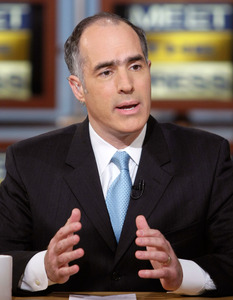 John Baer talks about the new and improved Sen. Bob Casey.

A Philly consultant lost his gig with the SugarHouse casino project over his ties to state Senate candidate Larry Farnese.

Farnese's rival in the race, union boss John Dougherty, won backing from ward leaders yesterday.