Archive: April, 2008
Catherine Lucey
Today in the Daily News:

Sen. Hillary Clinton launched the first radio attack ad in the Democratic Pennsylvania presidential primary yesterday.

But her attack may be drowned out by the number of TV ads Sen. Barack Obama is running in the state.
Chris Brennan
Six City Council members and five state legislators from Philadelphia will endorse U.S. Sen. Barack Obama for president in a City Hall ceremony tomorrow afternoon. The group, in a statement today, said the "endorsement event is meant to balance the endorsements of other political leaders in the city and state, including Mayor Nutter and Governor Rendell."
Nutter and Rendell, of course, have endorsed U.S. Sen. Hillary Clinton. Nutter appears in a new television ad for Clinton running in Pennsylvania and Rendell is all over the the cable TV news shows talking up Clinton.
The Obama endorsers include Council members Curtis Jones, Bill Green, Jannie Blackwell, Jim Kenney, W. Wilson Goode Jr. and Donna Reed Miller along with state representatives Tony Payton Jr. Jewell Williams and Harold James and state senators Vincent Hughes and Shirley Kitchen.
Chris Brennan
City Councilman Darrell Clarke is expected to let five of his nine gun control bills come up for a final vote during tomorrow's weekly Council session while four bills are expected to be held for further review by the city Law Department.
PhillyClout hears Clarke will call for a vote on measures to limit handgun purchases to one a month, require owners to report lost or stolen guns to police, allow police to confiscate guns from people considered a risk to themselves and others and ban semiautomatic weapons with clips that hold more than 10 rounds. The bills to be held would establish a registry for ammunition sales and require a license from police to bring a gun into the city.
Mayor Nutter has vowed to sign and enforce gun control bills passed by Council. Clarke's measures are already the topic of a lawsuit against the state General Assembly in Commonwealth Court. He is hoping to provoke a re-hearing of the 1996 state Supreme Court ruling that said only the state can regulate guns.
Chris Brennan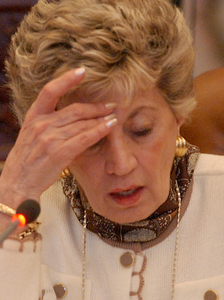 City Council held its annual budget hearing for SEPTA this afternoon and the topic of subway safety after three recent attacks, including one homicide, was expected to be on the minds of many members. But Council President Anna Verna started the questions and answer portion of the hearing with an admonishment that her colleagues should "refrain" from asking SEPTA officials about the topic.
Verna's reason? Three Council members -- Curtis Jones, Darrell Clarke and Bill Greenlee -- will introduce a resolution tomorrow calling for public hearings on the "safety of the Philadelphia subways, elevated trains, buses and commuter rail lines and the measures that SEPTA, the city, the Department of Public Property and the Police are taking to protect all riders on the public transportation system."
While SEPTA has been combating talk of a subway crime wave, the resolution goes on to say "three serious attacks in a period of 10 days is indicative of a possible larger problem which if not rectified will cause a loss of ridership, an increased use of cars and the additional traffic congestion and pollution that is caused by such an increase." The resolution does not set a timeline for the public hearings to come.
Chris Brennan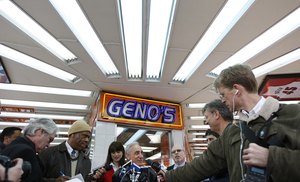 Could it be because a gang of local reporters and photographers swarmed around him yesterday to hear his take on sweet vindication by the Philadelphia Commission on Human Relations? And could the renewed publicity result in an uptick in cheese steak sales at his stand, Geno's, in South Philly?
PhillyClout posed that question today to Nick Taliaferro, executive director of the Commission on Human Relations, after he discussed his annual budget with City Council. "I would not seek to rummage through the thoughts of Mr. Vento," Taliaferro said. "Our task as an agency is not to determine whether or not a business will be benefited or whether it will be broken. We don't wish for that to happen."
Vento is demanding apologies from the city and changes to the way the commission deals with cases like his. He drew notoriety by posting a sign in his stand's window that reads: "This is America. When ordering, please speak English." The commission last month ruled that Vento's sign did not give customers the sense that they couldn't order food if they didn't speak English.
Catherine Lucey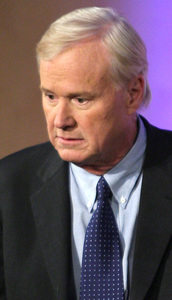 This NY Times profile of talk show host Chris Matthews, notes that the local celeb is rumored to be considering a run for Senate. The rumor has been out there forever, but here's what the story says:

"The more intriguing notion is that Matthews could challenge Senator Arlen Specter, who is up for re-election in Pennsylvania in 2010. This has been rumored before, but Matthews has been particularly obsessed with Pennsylvania of late, devoting hours on and off the air to the state's upcoming Democratic primary, staying in close contact with the state's party apparatus. "I talked to Eddie Rendell today," Matthew told me on the phone a few weeks ago, urging me again to call the Pennsylvania governor."

And this:


"I asked him about the Senate rumors. He thinks Specter has hung on way too long, he said, but running would require Matthews to give up a career he loves. Still, "I get a great feeling when I go home," he told me. "Is Thomas Wolfe right? Can you go home again?""
Catherine Lucey
Check out this video from www.the700level.com. Mayor Nutter took in the Mets-Phillies game in NYC yesterday with NYC Mayor Michael Bloomberg. And according to this clip, he opted for water -- yes H20 -- over a cool beer.
Is this guy really a Philadelphian? At least the Phillies won.
Catherine Lucey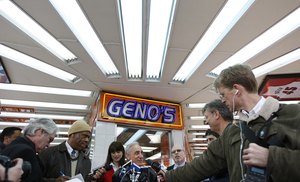 Also in today's paper:

Joey Vento -- the now-infamous owner of Geno's Steaks -- wants a sit down with Mayor Nutter.

The city's police radio system has failed repeatedly despite assurances that all glitches were fixed.