Archive: April, 2008
Catherine Lucey
So former City Paper writer Brian Hickey -- who left to join union leader John Dougherty's failed state Senate campaign -- has now blogged more detailed thoughts on the race. Sadly, he never really details the "disgusting, all-out smear campaign to keep a good man down," which he promised in an earlier post. It's mostly just ramblings about how the local press ganged up on Dougherty and didn't critically cover the other candidates.

Hickey argues that we spent too much time on Dougherty. But the guy has a long history in this town that reporters have a responsibility to report on. He also says the press didn't report enough on state Sen. Vince Fumo's support of winner Larry Farnese. Which we did.

But he saves the real ammo for how the press never got to know Doc as a person.

The John I got to know over the course of the past two/three months isn't a knuckle-dragging bully. Quite the opposite actually: He's a guy who tirelessly works to make life better for his family, community and, yes, union membership.

Sounds like quite a tale. But not exactly a new one.
Catherine Lucey
Remember Brian Hickey, the former City Paper scribe turned spokesman for John Dougherty? That whole press gig didn't really turn out as planned, since Doc's state senate run failed Tuesday. And Hickey says it's all the media's fault. The following is from Hickey's blog (credit to DMac over at www.philadelphiawilldo.com for finding it.)

"Coming later today, or maybe tomorrow, depending on how much work we have to do today to keep our fledgling organization to push John's initiatives going strong, I'll be offering a full breakdown on why the residents of the First District made out worse on Tuesday than either John or Anne Dicker; complete with a breakdown of how the city's established media used a disgusting, all-out smear campaign to keep a good man down. You'd never believe half of the things I saw to that end; makes me wonder why I got into the press game in the first place."

The post seems to echo Dougherty's final email to supporters, which said, "we ran a positive, issues-oriented, honorable race, despite the biased newspaper coverage and the unrelenting smear campaign orchestrated by Fumo for Larry Farnese's benefit."
Catherine Lucey

Yes, it's "Take your Daughters and Sons to Work Day" here in City Hall. But Philly's first daughter, Olivia, is nowhere to be seen.

According to Mayor Nutter, she's just too cool to tag along with dad these days.

"She told me she really needed to be in school," Nutter said this morning at a welcome for kids of city staff. But he added, she's now 13 and she's just reached the point where she's tired of hanging out with her dad."
Chris Brennan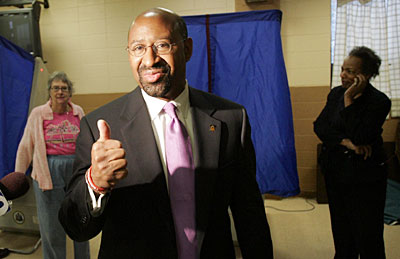 Mayor Nutter was a good sport, posing for picture after picture for about 40 minutes this morning with the throng of children brought to City Hall for "Take Our Daughters & Sons To Work" day. But then it all went south. One little boy, who looked to be about four or five years old, stepped up to the mayor, who extended his hand for a shake. Not having it, the boy grabbed the mayor's thumb. Nutter's security detail stood transfixed. Was this tyke really taking on the mayor in an impromptu thumb-wrestling match?
He was. And the mayor came in second.
Later, Nutter spoke of launching a "rigorous thumb exercise workout routine." And a little pay-back. "He did take me down and I am ... I am ... really impacted," Nutter said. "I'm dealing with it. By the end of the day, I'm going to track that kid down and demand a rematch."
Chris Brennan
A temporary restraining order issued last week to prevent the city from enforcing five new gun control laws will be in place until a May 19 hearing in Common Pleas Court, according to an attorney for the National Rifle Association. Judge Jane Cutler Greenspan last week approved the restraining order and set an April 28 hearing to consider the NRA's challenge to the new gun laws, passed by City Council on April 10 and signed immediately into law by Mayor Nutter. But the judge on Tuesday pushed back the hearing by three weeks, according to NRA attorney C. Scott Shields.
The city Law Department, which has defended the new laws as constitutional, has not challenged the NRA's standing to intervene in the matter, Shields said. Greenspan gave the city until Monday to decide if it wants to make that challenge for the NRA or the other groups and individuals that took the city to court last week. If the city doesn't challenge their standing, Greenspan will consider on May 19 whether to issue a permanent injunction to prevent the city from enforcing the new laws.
The laws limit handgun purchases to one a month, make it a crime to not report a lost or stolen gun within 48 hours, allow police to confiscate guns with a judge's approval from people considered a danger to themselves or others, prohibit gun possession by people subject to protection from abuse orders, and ban semiautomatic weapons with clips that hold 10 or more rounds.