Archive: March, 2012
Catherine Lucey
Will Bunch thinks Rick Santorum is looking to President Reagan's failed 1976 presidential campaign for inspiration.
Meanwhile, John Baer writes that the political divide between ideologies is only widening.
A violent car crash in the Italian Market on Sunday afternoon is fatal for an 11-year-old girl.
Jan Ransom
Philadelphians outraged by the Trayvon Martin case will rally in the city today and Monday.
For more on Martin's story check out Jenice Armstrong's column.
Meanwhile, City Councilwoman Blondell Reynolds Brown has publicly weighed in on the matter.
Jan Ransom
City Councilman Curtis Jones Jr. was the only nay vote Thursday against a bill sponsored by Councilman Bill Green that exempts private investment or hedge funds and their general managers from paying business taxes.
"I think it would be a problem for me to vote for that and then have to consider a real estate increase for the third year in a row," Jones said. "It was a vote of conscience."
"For us to exempt a certain group of businesses from taxation... I just could not do it," Jones said, adding that he informed Green about his decision prior to voting on the bill which passed 16 to 1.
Jan Ransom
An Old City developer may face time in the slammer.
The state Department of Education is completing an investigation into questions about financial and academic problems at the Frontier Virtual Charter High School.
City Councilman Mark Squilla serves a major hold up to Mayor Nutter's proposal to reform the city's property-tax system.
Chris Brennan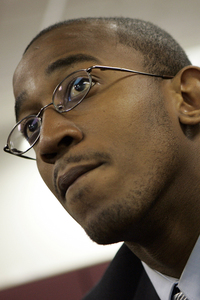 State Rep. Tony Payton withdrew from the April 24 Democratic primary election this evening after a two-day Commonwealth Court hearing made clear that he did not have enough valid signatures on his nominating petitions to remain on the ballot. Payton submitted 1,854 signatures in his bid for a fourth two-year term representing the 179th District but a line-by-line examination of those names, with the help of a hand-writing analyst, resulted in many being disqualified.
The legal challenge against Payton was filed by Doris Robinson, a Democratic committeewoman in the 23rd Ward. Payton said the challenge was spurred by her ward leader, former City Councilman Dan Savage, who lost his City Hall post to Councilwoman Maria Quinones Sanchez in 2007 and lost a bid to retake the Council seat from her last year. Payton said the challenge was payback for his refusing to support Savage over Sanchez.
Savage denied that while calling it a "disgrace" that Payton could not follow the state election code to collect at least 300 valid signatures on his petitions, the number needed to stay on the ballot. Savage said he was supporting James Clay Jr. in his bid to challenge Payton in the primary.
Catherine Lucey
The road to a possible Philadelphia Gas Works sale clearly won't be paved with hearts and flowers.
Councilwoman Marian Tasco, who serves as chairwoman of the Gas Commission, this week fired off an angry letter to the mayor, saying the commissioners were concerned that PGW funds were being used to hire consultants to help sell the public utility and noting that "no one has submitted any specific budget requests to us for approval."
In the March 20th letter, Tasco says the city has agreed to $60,000 in consultant contracts for a lobbyist and communications consultant. Tasco said any such expenditures should be subject to a review by the five-member commission and a public hearing.
Jan Ransom
City Council threw their support behind the city's municipal workers unions today, voting unanimously on a resolution calling for the Nutter Administration to negotiate a fair contract.
A vocal crowd of members from DC 33 and DC 47 appeared at today's Council session in force shouting "Keep your word," –a statement directed at Mayor Nutter.
The unions have been without a contract since it expired in 2009. Nutter has said he would not agree to a contract that doesn't include significant benefit changes.
Jan Ransom and Dan Geringer
UPDATE: At 5 p.m., as SEPTA's 219 unionized transit police were three hours into the second day of their strike, both sides told the Daily News that they were ready to return to the bargaining table tonight.
Contract negotiations ended abruptly on Tuesday afternoon, after SEPTA management rejected the Fraternal Order of Transit Police's final offer.
SEPTA declined to discuss specifics, but FOTP President Rich Neal Jr. said the transit agency reject a 50-cent per hour increase for police certification training that would cost a total of $200,000 annually.