Archive: March, 2012
Chris Brennan
Ronnie Polaneczky looks at a different angle on the video -- and one man's attempt to turn a profit on it that lead to criminal charges -- of a Philadelphia Parking Authority enforcement agent allegedly rescinding a ticket in return for a bootleg DVD.
Conservative radio show host Rush Limbaugh apologizes to a law student for calling her a "slut" and a "prostitute" because she wanted her contraception to be covered by her health insurance plan. As advertisers flee his show, could the controversy cost Limbaugh big in court?
The college Republican groups at Drexel University and Temple University look at former Mass. Gov. Mitt Romney as the potential GOP presidential nominee and decide -- meh.
Jan Ransom
Updated: To include correction on the proposed new name for "The Dell."
The "Robin Hood Dell" may soon have a new name.
City Council's Committee on Parks, Recreation and Cultural Affairs approved a bill sponsored by Councilman Curtis Jones Jr. that would rename the open air-amphitheater to the "Georgie Woods Entertainment Center," after the late civil-rights activist and radio personality.
Chris Brennan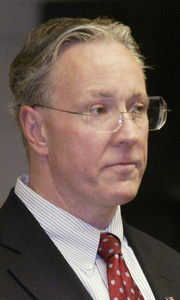 This may be the cruelest season in politics, the period when legal challenges are filed to knock candidates off the ballot. Those challenges usually focus on three key issues: Are the signatures of registered voters on nominating petitions valid; did the petition circulators follow proper procedures; and did the candidate properly fill out a statement of financial interests?
Jack Morley Jr. went a different way. In challenging state Sen. Larry Farnese's bid for a second term, Morley instead focused on what he claims were a series of problems in campaign finance reports Farnese has filed since he won his first term in 2008. Farnese beat Morley, who was running as a Republican, that year by a margin of 81-19 percent. Morley has also lost bids for the 1st Senatorial District against its former seat holder, Vince Fumo, in 2004 as a Republican and in 2000 as a Democrat.
Farnese's attorney, David Senoff, today successfully argued in Commonwealth Court that Morley's challenge was based on issues that are not used to remove a candidate from the ballot. It didn't help that Morley failed to property serve a copy of the legal challenge to Farnese, as the court requires.
Catherine Lucey
Mayor Nutter showcased his acting skills in a recent performance of Hello Dolly at the Masterman School, where his daughter is a student. Check out the clip below. (Hat tip to The Philly Post where we saw this first.)
Will this kick off more mayoral stage appearances? What would you like to see him in? Oklahoma, Guys and Dolls or maybe Wicked?
Chris Brennan
Are you fluent in English and Spanish? Do you want to help voters cast their ballot during the April 24 primary election? Than the City Commission, which runs elections in the city, wants to talk to you.
The Commission is seeking non-partisan bilingual interpreters. It will hold a training session on Saturday, April 14. Interpreters are paid $30 for the training and $75 for election day. After the jump, you can read the details in a news release from the Commission.
PHILADELPHIA, PA -- The County Board of Elections continues to seek individuals fluent in both English & Spanish languages to serve as Non-Partisan Bilingual Interpreters for the April 24, 2012 General Primary in Philadelphia County. Eligible Interpreters MUST have their language skills reviewed and Certified and must also attend Interpreter Training sessions.
Catherine Lucey
As Super Tuesday looms, Will Bunch argues that the day has become less significant, calling it "Superficial Tuesday"
And John Baer wonders if Rick Santorum could end up being a spoiler for the GOP in 2012, much like Ralph Nader supposedly was for Al Gore in 2000.
Ronnie Polaneczky reports that a pizza parlour owner had a hard time gettting justice after a scam cost him $1,200.
Jan Ransom
Updated:
The city's blue-collar municipal union, District Council 33 turned-up the heat earlier this week when it began rolling out TV and radio ads blasting Mayor Nutter for failing to make good on a promise for a fair contract.
The city's largest municipal union has been without a contract since it expired in 2009.
Chris Brennan
Nate Kleinman, an Occupy Philly member, this morning dropped his bid to get his name on the April 24 Democratic primary election ballot to challenge U.S. Rep. Allyson Schwartz for the 13th District seat. Facing a legal challenge to his nominating petitions, Kleinman decided to try a run for the seat with a write-in effort.
Kleinman unsuccessfully tried to play a narrow legal game in a hearing this morning, denying that he had been properly served with the legal papers filed by four of Schwartz's political supporters. Commonwealth Court Senior Judge Rochelle Friedman was not swayed, telling Kleinman she thought he "did everything possible to avoid being personally served."
Hearing that, Kleinman asked to withdrawn his nominating petitions and told Freidman he would run as a write-in candidate.