Archive: March, 2011
Chris Brennan
Gov. Corbett's first state budget could mean serious cuts in funding to the city. And for public education. And also for people who rely on a state program for health care. But not for the corporations behind a booming industry in the state that help fund Corbett's campaign.
John Baer notes that you get what you vote for in the state budget.
Yesterday was nominating petition filing day to run in the May 17 primary election. Mayor Nutter will defend his seat against former state legislator and ex-con T. Milton Street while Republicans John Featherman and Karen Brown, a recent Democratic convert, will seek the GOP nomination. Also, nearly everybody in Philadelphia is running for City Council, or so it seems.
Catherine Lucey and Chris Brennan
Nominating petitions to run for office are flooding in today and here's one interesting development: four people have filed to run against Councilwoman Marian Tasco in the 9th Councilmanic District.
Those interested in unseating Tasco in the district covering parts of Northeast and Northewest Phialdelphia are Sabriya Bilal, Thomas Lamont, Rhaim Dawkins and Bobby Curry.
Tasco, who is currently serving her sixth term, has been widely expected to easily win re-election, despite her participation in the controversial Deferred Retirement Option Plan. Tasco is set to receive $478,057 from DROP. If she wins re-election, she would have to employ a loophole that allows elected officials to run for re-elction, "resign" for a day to collect the payout and then get "rehired" in time to start another term. That loophole has been widely criticized by good government reformers.
Catherine Lucey and Chris Brennan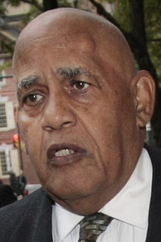 And they said there wouldn't be a mayor's race.
Milton Street is officially running for mayor.
The former state senator – released from prison in November after serving 26 months for failing to file federal tax returns for three years – just filed 2,600 signatures in his official nominating petitions to run for office. He is the brother of former Mayor John Street.
Catherine Lucey
Mayor Nutter today said Gov.Corbett's budget would take a serious toll on Philadelphia, with a "negative impact on children, some of our most vulnerable populations… as well as jobs related to higher education."
Nutter said it would take weeks to precisely break down how the cuts in Corbett's $27.3 billion budget would impact Philadelphia, but he said slashing funds for schools, some social services and higher education would hit the city hard. Speaking from Harrisburg, where he attended the budget address, Nutter questioned how the public will react to the state spending place.
"It was no real surprise there," Nutter said. "How does the fiscal discipline ultimately impact? Is the public really prepared to accept this kind of pain and sacrifice? If the school district isn't able to provide full day kindergarten, people are going to feel some kind of way about it."
Chris Brennan
City Councilman Frank DiCicco will announce tomorrow that he is dropping his bid for a fifth term, convinced he could have won but saying he doesn't have the "fire in the belly" to face the coming battle over his participation in the controversial Deferred Retirement Option Plan.
DiCicco said a poll he did last week showed his popularity in City Council's first district was still strong enough to win re-election but that it would have been a tough fight in a crowded field.
"I made a bad decision three years ago to get into the program," DiCicco said of DROP, which has become a political liability for several Council members this year. "Had I known it would cause all this trouble and confusion, I never would have done it."