Archive: March, 2011
Chris Brennan
Picture a circus troupe holding a lottery in a court of law. Now you know what it looks like when ballot positions are chosen for candidates seeking elected office in Philadelphia.
Police Commissioner Charles Ramsey may be headed for his hometown, Chicago, now that new mayor Rahm Emanuel is looking for a new police chief there.
Former City Councilman Rick Mariano, recently released from federal prison, urges his former colleagues to approve legislation that would make it easier for ex-cons to land jobs.
Catherine Lucey
Mayor Nutter wants Police Commissioner Charles Ramsey to stay in Philadelphia.
Nutter this afternoon responded to news reports that Police Commissioner Charles Ramsey is being courted for top cop in Chicago by new Mayor Rahm Emanuel. Nutter says he understands why Ramsey is a candidate for the job, but stressed that he'd like him to stay put.
"Police Commissioner Ramsey is the best in the country," said Nutter, who wooed Ramsey from Washington, DC over three years ago. "I and we and all of us want him to stay right here."
Chris Brennan
In crowded elections, ballot position can be a critical factor in a candidate's success or failure. Politicians and their friends and staffs gathered in a sixth-floor City Hall courtroom this morning to determine the order in which their names will appear on the May 17 primary election ballot. They chose by reaching into an old Horn & Hardart's coffee can and selecting numbered bingo balls.
The stiffest competition is in the race for Traffic Court judge, where 15 Democrats and one Republican are seeking just one open seat. Democrat Christine Solomon, who didn't show up for the drawing, drew the first ballot position for her party. Lewis Harris Jr. took the first GOP spot by default.
Position is also key for City Council at-large, where 10 candidates are seeking office as Democrats and 10 are running as Republicans. Candidates need to be in the top five voter getters in the primary election to advance to the November general election.
Catherine Lucey & Chris Brennan
T. Milton Street is camped out in front of the mayor's office, calling on Mayor Nutter to personally serve him with his petition challenge.
Nutter yesterday challenged Street's petitions to run for mayor. The challenge was filed by three of his supporters and paid for by the Nutter campaign. Street says that he still hasn't been served with the challenge and he wants Nutter to hand it over.
"I have a right to be served so that I can prepare my defense," said Street, a former state legislator, who was released from federal prison last year after serving 26 months for not paying his taxes.
Catherine Lucey
Former Councilman Rick Mariano is back in Council for the first time today since his release from prison, where he served four years on corruption charges.
Mariano is set to testify on legislation proposed by Councilwoman Donna Reed Miller that would restict the ability of employers to ask job applicants about their criminal records. According to Mariano, many of his friends from prison have had difficulty finding employment.
"I'm guilty. I did my time. I just want a level playing field for myself and all the other people that have been incarcerated," said Mariano, who was convicted of taking bribes while in office.
Chris Brennan
A group of 10 voters calling themselves the Citizens of Philadelphia Collection Agency just visited City Commission Chairwoman Marge Tartaglione's City Hall office, demanding that she pay back the $288,000 in Deferred Retirement Option Plan money she collected in 2008 or drop her bid for re-election. Tartaglione did not appear to be in her office. Her staff asked if the protesters had an appointment and then declined to comment on whether she was at work.
One of the protesters, Ellen Chapman, said she was there to demand a refund, accusing Tartaglione of setting the legal precedent of signing up for DROP, running for re-election, retiring for one day and then returning to the city payroll.
"She doesn't care about the city of Philadelphia," Chapman said. "I want her to resign. I want my money back."
Chris Brennan & Catherine Lucey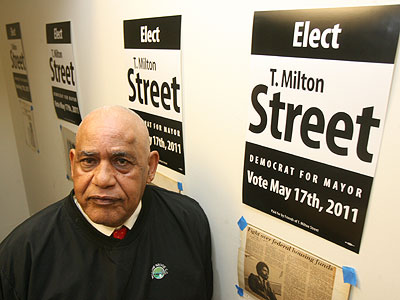 Mayor Nutter's re-election campaign, using three friendly voters, challenged T. Milton Street's eligibility to appear on the May 17 Democratic primary election ballot for mayor. The voters claim Street does not meet the three-year residency requirement to run for mayor and that his nominating petitions are rife with forgeries.
Nutter's campaign spokeswoman, Sheila Simmons, said his campaign worked with the three voters, who used campaign lawyers to file the challenge. She noted that one of the trio was a longtime supporter of the mayor. The voters are Olga McGarity, Tiffanie Standard and Shantel French.
The challenge, filed in City Hall 10 minutes before today's 5 p.m. deadline, said three of Street's petition circulators were not qualified to collect signatures and failed to properly complete the paperwork. It accuses another circulator, Malik Aziz of submitting petitions with forged names and addresses of voters. And it notes that Street was in federal custody during the three years running up to this election.
Catherine Lucey
As expected, a petition challenge has been filed against City Commissioner Marge Tartaglione. Here's a press release from the group:
****** MEDIA ADVISORY ******
What: The Citizens of Philadelphia Collection Agency Press Conference. The group has filed a petition challenge against City Commissioner Marge Tartaglione's right to be on the ballot. Despite making an irrevocable commitment to retire upon receiving her DROP payment, Tartaglione fleeced the citizens of Philadelphia by leaving office for one day to cash in on her $308,625 DROP payment and then returning to office after a long weekend. Tartaglione was the first elected official to start this wave of greed.