Archive: March, 2011
Chris Brennan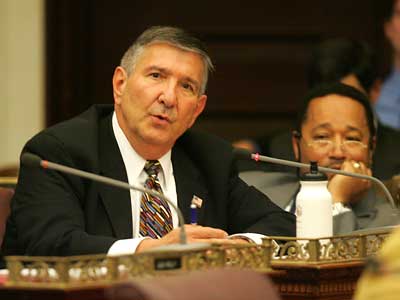 Malcolm Lazin, a Republican candidate for City Council at-large, didn't have to wait long today for a response from Councilman Frank Rizzo about the Deferred Retirement Option Plan, the controversial program known in City Hall as DROP.
Lazin invited reporters to watch him drop off a letter this morning at Rizzo's City Hall office, demanding that the councilman release publicly his application for DROP. Rizzo was in Council's chambers at the time for a budget hearing. Lazin once again criticized Rizzo for participating in DROP while the city faces a budget deficit and the city's pension plan is underfunded.
Lazin also cited what he called "two major indicators" of Rizzo's trouble in his bid for a fifth term: The Republican City Committee and the local chapter of the Fraternal Order of Police have denied him their endorsements for the first time.
Catherine Lucey
It's a big day for birthdays here in City Council. Both Councilmen Bill Green (46) and Bill Greenlee (58) are celebrating turning another year older. And they can celebrate in budget hearings, the lucky guys.
A best wishes to both from PhillyClout!
Catherine Lucey
The New York Times had an interesting story today about one local attempt to fight childhood obesity, which is a huge problem facing the city. Says the report:
Earlier this year, when Michelle Obama, as part of her campaign against childhood obesity, announced that Wal-Mart would reduce salt and sugar in its packaged foods, she said, "We're beginning to see the ripple effects on the choices folks are making about how they feed their kids."
But this effort is up against an array of powerful forces, from economics to biology, all of which are playing out in Philadelphia, where the obesity rate is among the nation's highest. At the intersection of North 28th and West Oxford Streets, the Oxford Food Shop and the William D. Kelley School are in a tug of war over the cravings of kids.
Catherine Lucey
Check out It's Our Money's video recap of this week's city budget hearings: