Archive: March, 2009
Chris Brennan
The saga of former state Sen. Vince Fumo's federal corruption trial took an odd turn over the weekend with reports that one of the jurors has been posting on-line comments about deliberations.
Dave Davies takes a look at how city taxes compare to suburban neighbors.
SEPTA's contract with transit workers expires but they keep working. And in -- ahem -- other transportation news...
Chris Brennan
We know what PhillyClout readers want. And in addition to budget documents and breaking casino news, we know that you want to savor a little political gossip every now and then. So today we're kicking off a new regular item on the blog. Called "PhillyClout Wishes To Inform You..." it will feature tidbits we've picked up in the dark corners of the City Hall. (If you'd like to help fuel this feature, you know where to find us. Go ahead. Be bad.)
Up this week:
* A full-time City Council staffer who also moonlights as a freelance journalist has been denied a City Hall press parking pass. Patty-Pat Kozlowski, who works in Councilwoman Joan Krajewski's office, was granted a press identification card for her work at Spirit Community Newspapers – and also sometimes the Daily News. But no parking love from the press office, which says only full time breaking news reporters will get the coveted car placards. Koslowski, who has used previous press parking passes for her car at City Hall, said she wanted the new placard for story assignments "out in the hood."
Chris Brennan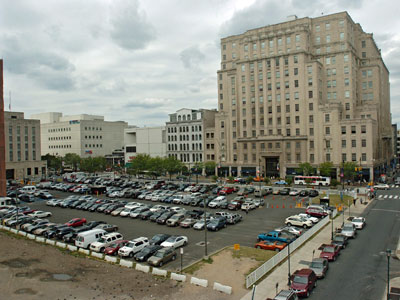 Mayor Nutter, in a City Hall press conference that just wrapped up, sought to "set the record straight" about the city's role in the construction of two casinos here. Nutter insisted that his administration has no interest in blocking the projects, despite recent complaints from Gov. Rendell and state legislators. "The city of Philadelphia has not and does not stand in the way of the construction of the two casinos," Nutter said.
To demonstrate the city's willingness to cooperate, Nutter invited Joe Coradino, president of the Pennsylvania Real Estate Investment Trust, to talk about negotiations with Foxwoods, a casino approved by the state for South Philly that is now negotiating to convert the former Strawbridge & Clothier store at 8th and Market streets. Coradino said PREIT is "working diligently" toward a deal with Foxwoods and thanked Nutter for the city's help in expediting matters.
Nutter also insisted that he expects SugarHouse, a casino approved by the state for the Delaware riverfront in Fishtown, to build there despite concerns he expressed in the past about that location. While Foxwoods has been working closely with the city, SugarHouse has asked the state Supreme Court to force the city to issue permits. Nutter brought a giant mock version of a building foundation permit, saying SugarHouse can pick it up from the Department of Licenses & Inspections right now.
Catherine Lucey
Following Mayor Nutter's street confrontation with a business tax delinquent, the city today released their updated list of the city's top 50 tax deadbeats.
The bold-faced name that jumped out at us was former Mayor Street's brother Milton Street, who owes the city $383,037, according to the list. But since Street last September was locked up for failing to pay federal taxes, we doubt the city will see that money any time soon.
Review the list for yourself.
Chris Brennan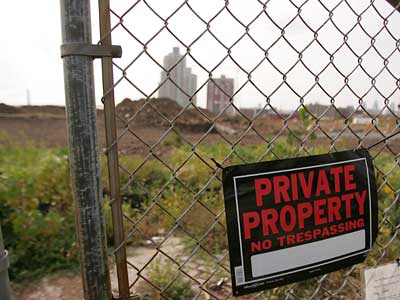 Union leaders in the city's construction industry are starting to push more publicly for movement on the two stalled casino projects proposed for Philadelphia and approved by the state more than two years ago. Thirteen union leaders, calling themselves "Labor United To Build Casinos Now," sent Mayor Nutter a letter last week saying city and its residents "desperately need" the taxes and jobs those casinos would create.
"Philadelphia's two casinos were projected to be the most successful revenue-generators in Pennsylvania and should already have been pouring millions in tax dollars into the city's depleted financial accounts," the group wrote. "The interminable delay also has deprived financially-strapped Philadelphians of good paying construction, casino and supporting industry jobs."
The letter wraps up with the union leaders urging Nutter move the projects forward, saying he alone has "the power and responsibility to end the impasses."
Catherine Lucey
Ok, PhillyClout readers, you know you're excited! It's time for another Friday contest. We're doing trivia this week. Email us (luceyc@phillynews.com) the answer to the following question by 6 p.m on Monday. We'll select a winner at random. This week's winner gets a stylish red Daily News t-shirt, sure to make you the envy of your family and friends.
The question is:
What taxes is Mayor Nutter proposing to raise in the budget plan he has provided to City Council?
Chris Brennan
Your pals at PhillyClout take a close look at City Council's budget. And here's more on Councilman Bill Green's idea to dedicate property taxes to the library system. Meanwhile, Mayor Nutter looks to cut the city's fleet of cars.
Our Inky sibling, Clout, finally gets a peek at the old Penn's Landing Corp. payroll and finds a few surprises.
And how goes the state legislature across the river? Why New Jersey is taking a whack at the old Brazilian wax.
Catherine Lucey
He forgot his green tie, but Mayor Nutter yesterday told local Irish-Americans that he was ready for St. Patrick's Day.
"If you want, I will certainly respond to O'Nutter on this particular day," Nutter told the St. Patrick's Day Observance Association -- a green-clad crowd -- yesterday as they gathered in City Hall in advance of the Sunday St. Pat's Parade.