Archive: March, 2009
Chris Brennan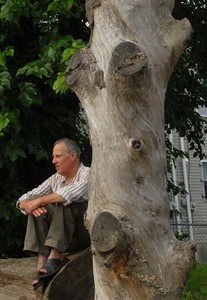 PhillyClout would like to salute Skip Wiener, founder and executive director of The Urban Tree Connection, who cares so much about open space in the city that he made a stand while suffering an apparent heart attack in City Council's chambers yesterday afternoon. Wiener's main concern once he was revived in Council? Making sure his written testimony as an applicant for the new Commission on Parks and Recreation was entered into the record.
Wiener is one of the nearly 200 applicants for nine seats on the new commission, which will advise the department that grew out of a merger of the Department of Recreation and the Fairmount Park Commission. He collapsed in Council's chamber before his chance to testify in a hearing. Councilman Frank DiCicco and a police officer rushed to help. "He didn't look too good there for a few minutes," said DiCicco. Wiener was pale but revived and immediately started asking for his testimony to be admitted. "This guy is really concerned about the parks system," DiCicco said. "He's laying there. He looks like he's half dead."
Misako Scott, the office manager at The Urban Tree Connection, said Wiener had a heart attack. Doctors at Hahnemann University Hospital found a blockage in one of the arteries of Wiener's heart and were preparing to use a catheter to clear it, she added. Scott didn't sound at all surprised that Wiener was adamant about his testimony. The Urban Tree Connection gets children involved in cleaning up vacant lots in their neighborhoods and then teaches them about the environment, gardening and farming.
Chris Brennan
The Committee of 70 wants Mayor Nutter's City Solicitor to reverse the opinion of the last person to hold that job, who said it was legal for City Council members enrolled in the controversial DROP program to run for re-election, retire for one day, collect a six-figure pension payout and then go back to work the next day. You can read the letter here.
Zack Stalbeg, the Committee of 70's president and CEO, wrote to Smith that her "prompt attention is critical." Nutter's new budget calls for a ban on future elected officials from participating in the DROP program but does not address current elected officials already enrolled. Six Council members are now enrolled -- Anna Verna, Marian Tasco, Frank DiCicco, Donna Reed Miller, Frank Rizzo and Jack Kelly. A story in today's Daily News about the program prompted a tirade this morning by Tasco.
Nutter seemed cool to Stalberg's proposal when PhillyClout caught up to him this afternoon. "That's a legal opinion," he said of the 2006 opinion crafted by then-City Solicitor Romulo Diaz. "That's an analysis of the law. It's not like somebody's opinion just walking down the street."
Chris Brennan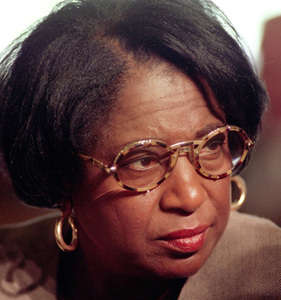 Did you read this story in today's Daily News? City Council Majority Leader Marian Tasco sure did. And she didn't like it. Not one bit. Tasco made a speech at the end of Council's weekly session, complaining that she and five colleagues who are in the controversial Deferred Retirement Option Program [DROP] are being "maligned" for their participation.
We reported today that Tasco, Council President Anna Verna and Council members Frank DiCicco, Donna Reed Miller, Frank Rizzo and Jack Kelly are enrolled in DROP and will collect a combined $2.1 million in lump-sum retirement payments at the end of their terms. None of those Council members would tell the Daily News if they intended to exploit a loophole that allows them to run for another term, get re-elected, retire for one day, collect the six-figure payout and then go back on the city payroll.
Tasco's point, which she declined to discuss yesterday when the Daily News was reporting the story, is that Council members are simply taking their own pension benefits, not cash from the city's general fund. She complained in her speech that the DROP program is portrayed as if "we are taking suitcases of money out of the city."
Chris Brennan
Your City Hall team takes a look at DROP for elected officials, in light of Mayor Nutter's call to change the controversial program.
The long City Council budget process kicks off with some contention between that body and the mayor's staff during the first hearing.
The 2007 race for mayor just keeps going for U.S. Rep. Bob Brady, who has to pay a $19,250 fine for campaign finance ethics violations for that run for office.
Chris Brennan
City Councilman Bill Green didn't win the legal battle all by himself to keep 11 library branches in the city last year when Mayor Nutter wanted to close them. Library fans and other Council members were also in that fight. But Green was alone during yesterday's first city budget hearing when he revisited that battle by starting a new skirmish with Nutter's chief of staff, Clay Armbrister, and City Solicitor Shelley Smith.
Saving his inquisition for the end of the hearing, Green asked Armbrister if the administration would ask Council for approval before trying to close any city facilities. This was a key question because the library win rested on a previously untested section of the city Charter, added 21 years ago, which says the mayor must get Council approval to close city buildings. Armbrister played it safe, mumbling "where's my lawyer" while waiting for Smith to come to the witness table. After a brief consultation, Armbrister said: "We will do whatever the law requires us to do."
That didn't satisfy Green, who eventually re-asked his question at least eight times. Smith eventually stepped in when Green demanded a "yes or no" answer, saying she would not litigate the matter in a Council budget hearing. That really fired up Green. "I'm sorry. You're before this body. You'll answer my questions before this body," Green interrupted, his voice growing louder.
Catherine Lucey
Here's the release:
MAYOR NUTTER ANNOUNCES APPOINTEES TO THE COMMUNITY COLLEGE OF PHILADELPHIA BOARD OF TRUSTEES
Philadelphia, March 25, 2009 Today, Mayor Michael Nutter announced his appointments to the eight open seats on the Community College of Philadelphia Board of Trustees: Matthew Bergheiser, Helen Cunningham, Stacey Holland, Harold Honickman, Councilman Jim Kenney, Dorothy Sumners Rush, Lydia Hernández Vélez, and Gil Wetzel. Board members serve up to a six-year term, without compensation, and meet monthly.
Chris Brennan
City Council's hearings for Mayor Nutter's controversial budget, which starts on July 1 and must close a $1.4 billion gap in the city's five-year financial plan, are under way. Council President Anna Verna kicked off the questioning of Clay Armbrister, Nutter's chief of staff, asking if Council's 17 members should be asked to approve the budge as written because it counts on $125 million in savings across five years from the four municipal unions. Verna noted contracts for those four unions are still being worked on. Armbrister explained that the fall-back plan is for the administration to cut staff if those savings are not realized.
Check back here for updates on today's hearing, which is focused on the city's five-year financial plan.
UPDATE, 11:10 am: Nutter plans a two-year increase in property taxes and a three-year increase in the sales tax to balance the budget. The sales tax increase requires approval from the state General Assembly. Armbrister told Councilman Curtis Jones Jr. Council can propose other ideas but the administration does not want to increase the city wage tax. Jones responded: "All things should be at the table, on the table, for the discussion."