Archive: March, 2008
Chris Brennan
Dukie is the new Bubbles? Michael is the new Omar? Oh indeed. [If you didn't watch The Wire, you missed a great television finale.]
John Baer and Stu Bykofsky hash out the demographics -- political and personal -- in Pennsylvania's presidential primary.
State Sen. Vince Fumo is out of the hospital and ready to go in this four-way primary election challenge.
Chris Brennan
Cozen O'Connor, the law firm that fought off a challenge from millionaire Tom Knox last year to bounce U.S. Rep. Bob Brady from the Democratic primary ballot for mayor, asked a Common Pleas Court judge this week for help in getting paid for $448,468 in legal bills. The firm isn't suing Brady for non-payment. It's suing the city Board of Ethics for making Brady obey campaign contribution limits even after he lost the race. The firm is asking for a ruling that says any money spent by a candidate in a ballot challenge or raised by a candidate after losing an election is not subject to the contribution limits.
Shane Creamer, the executive director of the Board of Ethics, said Cozen O'Connor has no standing to file the lawsuit since the contribution limits restrict Brady, not the law firm. And Creamer said there's no reason to create an exception in the city's campaign finance law just to help a law firm get paid.
Chris Brennan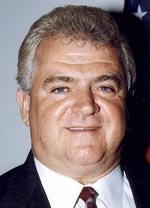 Well the Democratic City Committee just wrapped up its meeting about the April 22 presidential primary and, as expected, they didn't endorse either U.S. Sen. Hillary Clinton or U.S. Sen. Barack Obama.
U.S. Rep. Bob Brady, the party chairman, this week told PhillyClout he had invited both candidates to the meeting to make their pitch for an endorsement. Instead, Clinton sent her husband [OK, a former President gets some attention] and Obama sent rookie U.S. Rep. Patrick Murphy.
After the meeting, Brady told PhillyClout's Catherine Lucey that he will again invite Clinton and Obama to stop by to sweet-talk the city's ward leaders. "We're not going to make a decision today because we want the candidates themselves to come in front of us," Brady said. "If it's that important to them that they need Philadelphia, they should come in front of us."
Chris Brennan
Former President Bill Clinton just arrived at the Democratic City Committee meeting where ward leaders will discuss whether to endorse U.S. senators Hillary Clinton or Barack Obama. Clinton gave a wave as he entered the party's Walnut Street headquarters but did not stop to answer questions from the press.
Mayor Nutter, a Clinton backer, told PhillyClout's Catherine Lucey that he thinks it would be best if the City Committee avoided endorsing one candidate over another, allowing a free-flowing debate about the candidates for the next seven weeks. Word in political circles has been that the party won't endorse one candidate.
But Nutter will believe it when he sees it. "I've lived my life making it a habit never to predict what will happen in City Council or Philadelphia City Committee," the mayor said.
Chris Brennan
Ron Donatucci has a lot of titles: Philadelphia Register of Wills, 26th Democratic ward leader and presidential super-delegate.
Donatucci was an early arrival today for the noon meeting of the Democratic City Committee, where ward leaders will discuss whether to endorse U.S. senators Hillary Clinton or Barack Obama. Rumor is the ward leaders will leave the endorsement open.
PhillyClout's Catherine Lucey is staking out the party headquarters on Walnut Street. Here's what Donatucci, a Clinton supporter, told her just a few minutes ago: "I believe we're going to do an open primary. For party unity, I think it's best to keep an open primary."
Chris Brennan
Peggy Banaszek, a Democratic challenger to state Rep. Babette Josephs, fired off an angry press release last night after voters in the 182nd legislative district started receiving automated telephone calls that sounded a lot like a push-poll.
The robo-call -- first reported by PhillyClout yesterday -- asked voters who they planned to support in the April 11 primary election, instructing: "Press one for Rep. Babette Josephs, press two for insurance industry representative Peggy Banaszek, press three for electrician Bob Gormley or press four if you're undecided."
Banaszek says she isn't currently working for an insurance company and hasn't received any campaign contributions from that industry. She goes on to compare the robo-call tactic to those used by Karl Rove, the man behind President Bush's rise to the Governor's Mansion in Texas and then the White House. "I'm disappointed that Rep. Josephs would lower herself to these tactics," Banaszek said.
Chris Brennan
Politico.com is speculating that a 527 group supporting U.S. Sen. Hillary Clinton will be bringing its ads to Pennsylvania television stations soon.
The American Leadership Project naturally didn't want to talk to Politico about its possible upcoming strategy.
Here's a link to an ad the group ran in Ohio. It doesn't mention U.S. Sen. Barack Obama by name but takes a clear shot at him, straight out of Clinton's recent playbook, with a voice-over and on-screen text saying: "If speeches could create jobs, we wouldn't be facing a recession."