Archive: March, 2008
Chris Brennan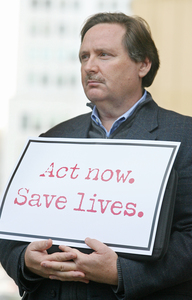 Philadelphia Consumer Advocate Lance Haver stopped by the hospital this morning to talk to his son, Daren Dieter, an aspiring artist paralyzed and kept alive by a ventilator after being shot outside a restaurant on Sept. 22. Haver, who choked up while speaking to about 100 people gathered in the City Hall courtyard to rally in support of local laws to regulate handguns, said his son sent this message: "How many more? How many more children have to be shot because of illegal gun laws before the state allows us to act?"
The rally followed a hearing in Commonwealth Court, where City Council members Darrell Clarke and Donna Reed Miller have filed suit against the state General Assembly, seeking the power for the city to enforce its own gun laws. Attorneys for the state House and Senate, along with the National Rifle Association, have challenged that right. Clarke called the lawsuit the first step in the process of the city taking control of it's destiny on the issue. "At the end of the day, they're saying we can't do what we need to do to protect our people," Clarke said.
Catherine Lucey
Given what's going on in Philly today regarding local gun laws, we thought you might be interested in this:

During an interview yesterday with Sen. Barack Obama, we asked what he could do as president to help Philadelphia fight gun violence.

"We do have to strengthen some of our gun laws and enforce those that are already on the books, particularly on tracing guns that are coming from unscrupulous gun dealers," Obama said.
Catherine Lucey
Obviously, the big story today is State Sen. Vince Fumo's plans to retire and give up his re-election bid.

Union leader John Dougherty -- who is in the running for Fumo's seat -- has been asked by police to change a TV ad in which a Philly cop appears to endorse his candidacy.
Chris Brennan
Terry Phillis, the city's chief information officer, told City Council this afternoon that many municipal employees are visiting Internet sites that they "have no business" looking at during work.
"I will tell you that improper use of sites probably amounts to 65 percent of our traffic in the city," Phillis said during a budget hearing for the Mayor's Information Services office. "In order for us to address that, we did not have the tool to control the content of what people were downloading off the Internet. We had to go out and buy that."
Phillis added that his agency has to balance the use of that new tool with the need for anonymity for Council members. "They deserve the anonymity of their jobs not to be scrutinized in that way," Phillis said. "We are providing that kind of anonymity for Council members."
Chris Brennan
Philadelphia black clergy groups wrestle with the question of endorsing U.S. senators Hillary Clinton or Barack Obama for president in Pennsylvania's upcoming April 22 Democratic primary election.
Is there something more than hydrogen and oxygen in Philadelphia's water supply? The Philadelphia Water Department says there is no need to panic.
Crime and violence is on the rise in the Philadelphia School District.
Chris Brennan
State Sen. Vince Fumo was watching a City Council hearing on Foxwoods, a proposed casino in South Philly, from home this morning while recovering from a recent heart attack. Under orders to rest from the doctors who discharged him from the hospital yesterday, Fumo still got a little exercised by a notion that Foxwoods might want to have buses waiting to pick up patrons park under Interstate-95 across Columbus Boulevard from the casino.
Fumo, in a statement read by Councilman Frank DiCicco, vowed to "vigorously oppose" letting that happen. Fumo mentioned defending Pennsport, the Foxwoods neighborhood, three times in that five-sentence statement. One of Fumo's three challengers in the April 22 Democratic primary election is John Dougherty, a Pennsport native who is president of the Pennsport Civic Association.
UPDATE: Foxwoods spokeswoman Maureen Garrity said the proposed casino has no interest in parking buses under Interestate 95.
Chris Brennan
It's been getting harder and harder to visit your elected officials in City Hall in recent years. First, metal detectors were put up for visitor's to City Council's fourth-floor chambers. Then visitors had to check in on the first floor and get a pass to go anywhere upstairs. But can a stick-pin in your lapel really keep you out?
Yes, Terry Gillen learned this morning. Well, at least until she pointed out that she's a top economic adviser on Mayor Nutter's staff scheduled to testify in a Council hearing.
The private security guards who man the metal detectors told Gillen her pin -- she describes it as decorative, with a few fake pearls -- was far too dangerous to be allowed anywhere near Council members. Luckily officers from the Philadelphia Police Department's Civil Affairs Unit stepped in to point out that Gillen works for Nutter.
Catherine Lucey
Here are a few more things we picked up from talking to Wire cast members at last night's screening:
-- Wendell Pierce (Bunk Moreland) said the last night of shooting in August was "bittersweet."
"We shared a lot of tears that night."