Archive: March, 2008
Catherine Lucey
So what's your question for the candidates? Sen. Hillary Clinton and Sen. Barack Obama will duke it out in a nationally televised debate on April 16 at the National Constitution Center. According to a release from the Obama campaign, ABC will host.
Catherine Lucey
As reported in the Daily News earlier this week, the United Black Clergy of Philadelphia and Vicinity endorsed Sen. Barack Obama for president today.

Both Governor Rendell and Mayor Nutter reportedly made personal appeals to the group on behalf of Sen. Hillary Clinton, but to no avail.

On a Clinton campaign conference call earlier today, both Rendell and Nutter insisted Clinton would be the best candidate in a general election -- and cited her support in Pennsylvania as proof. Rendell said the Obama campaign is trying to downplay the significance of the keystone state.

Chris Brennan
A recent Associated Press report about trace amounts of pharmaceuticals showing up in tests of the city's water supply has prompted many calls to the Philadelphia Water Department. City Councilwoman Marian Tasco today called for public hearings to discuss the issue. As part of that discussion, she added, city residents will be advised about the dangers of flushing old prescription drugs down the toilet and how to properly dispose of them.
The Philadelphia Water Department has assured residents that the water supply is safe. Tasco believes that -- sort of --but she still wants to put it all on the record. "I do drink Philadelphia water," she said. "I kind of think the Philadelphia water is fairly safe."
Chris Brennan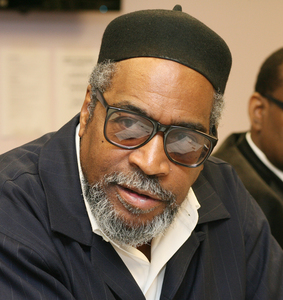 City Council this morning honored Kenny Gamble and Leon Huff, the creators of the "Philly Sound" who were inducted Monday night into the Rock & Roll Hall of Fame. Gamble told Council the duo always try to promote the city, "because we believe Philadelphia is the greatest city in America."
Gamble later had little to say about his role in an legal dispute between the Philadelphia Housing Authority and the U.S. Department of Housing and Urban Development. U.S. Sen. Bob Casey yesterday tried unsuccessfully to get HUD Secretary Alphonso Jackson, a longtime Gamble friend, to talk about that dispute. PHA claims HUD withheld millions in federal money because PHA refused to give Gamble two pieces of city land. Gamble, who has been developing housing in the city's Hawthorne neighborhood, said the timing didn't detract from the Hall of Fame or City Council honors.
"Not really because I don't have anything to do with it," Gamble said of the dispute. "I don't have no comment about it. "Not yet, anyway. I will. But, you know, I guess it has to unfold itself because I don't really know that much about it."
Chris Brennan
"This is not about unfilled potholes or an un-repaired guardrail on a highway. The danger they are describing is created by criminals, not the state. This is about drug violence." -- John Krill, an attorney for the state Senate, challenging the notion of a "state-created danger" because the General Assembly won't allow City Council to pass and enforce local gun control laws.
Catherine Lucey
As reported in today's Daily News, state Sen. Vince Fumo will retire at the end of this year. Here's the Inquirer report of the press conference.

A candidates forum for the remaining contenders in the race will be held tonight at Palumbo Recreation Center.
Chris Brennan
The Rev. Robert Shine Sr., a former president of the United Black Clergy of Philadelphia and Vicinity, gave a rousing invocation today at a City Hall rally for gun control legislation. Shine teased the crowd of about 100, saying the group would have a big announcement tomorrow morning that they should also attend.
So what is it? As PhillyClout asked, Shine was interrupted by a cell phone call. He spoke to the caller about getting black clergy members from Harrisburg to attend "the Barack announcement." Could this be the anticipated endorsement for president of U.S. Sen. Barack Obama, first reported Tuesday by Dave Davies of the Daily News?
"I'm not getting into that," Shine said, laughing. "I didn't mention that."