Archive: March, 2008
Chris Brennan
U.S. Barack Obama took race head-on at the opening of his speech, referring to the U.S. Constitution as an unfinished document stained by this nation's original sin of slavery. He spoke of the struggle for civil rights and says he chose to run for president now, "To continue the long march of those who came before us, a march for a more just, more equal, more free, more caring and more prosperous America."
Obama goes on to say some critics have said he was too black while others have complained that he was not black enough. He is now talking about the controversial racial remarks of his church pastor as a "profoundly distorted" view of America.
Chris Brennan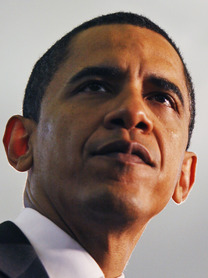 PhillyClout's Catherine Lucey is standing by at the National Constitution Center to update us about the speech to be given by U.S. Sen. Barack Obama in a few minutes. Obama's media adviser, David Axelrod, just told reporters the senator was up until 2 a.m. working on the speech, which will touch on race and politics.
Gathered at the center to watch are state Rep. Rosita Youngblood, state Sen. Vincent Hughes, City Councilman Bill Green and former City Councilwoman Carol Ann Campbell.
Catherine Lucey
The political ad operation, The Campaign Group, has won a national award for the tv ads that helped Mayor Nutter get elected.
The prize, known as a Pollie award, is awarded by the American Association of Political Consultants. The Campaign Group won a gold prize in the "Television Campaign" category.
"They are great," Nutter said of the admakers.
Chris Brennan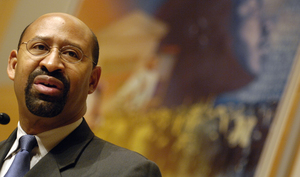 Mayors love a good joke to warm up a crowd. Some mayors even love a bad joke. Take Mayor Street. Please. Street spent eight years telling the same joke, which usually drew polite laughter from the audience and eye-rolling from the press. The joke: "I'll be brief [pregnant pause] no matter how long it takes." Ba-dum-dump.
Mayor Nutter seems to prefer situational comedy as opposed to the repetitive set piece. Speaking this afternoon to the Philadelphia Bar Association's quarterly luncheon, Nutter described his humor this way: "I'm just a sarcastic kind of smartass." Did the attorneys need evidence? Nutter followed up with this wisecrack about the lawyers in the audience who had contributed the maximum amount allowed by law to his campaign last year: "If we've not been in touch with you this year, we will be shortly."
Chris Brennan
We here at PhillyClout have been at this journalism game for a while now but we can still be surprised from time to time. Take for instance today's press conference at the City Controller's Office, where the most interesting photographs and questions were strictly forbidden. No hard feelings here because it was all for a good cause. Controller Alan Butkovitz was hosting a group from Iraq's National Auditor's Office in a three hour seminar on how we watch the books here in the USA.
Like most press conferences, television and newspaper photographers arrived and started setting up their equipment. That prompted concerns for the Iraqis, since working for their government is very dangerous, especially when people know what you look like. "You know, personal security is a huge consideration," said Philip Farah of the U.S. Government Accountability Office. GAO officials are traveling the country with the Iraqi auditors, who are here for five weeks.
Butkovitz welcomed the Iraqis and noted that their office was one of the only branches of government that stayed open and operating during the 2003 U.S. invasion. Butkovitz then warned that questions about politics and the war, which the Iraqis described as the "2003 events," were off limits to reporters.
Chris Brennan
Gov. Rendell, speaking this morning on MSNBC, said U.S. Sen. Barack Obama would win Pennsylvania against U.S. Sen. John McCain in November's general election. Which is interesting, since Rendell is this state's biggest booster for U.S. Sen. Hillary Clinton, who faces Obama in the April 22 Pennsylvania Democratic primary election.
Chris Brennan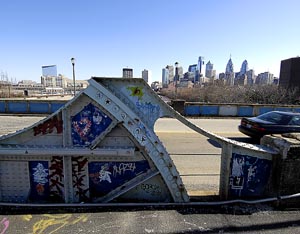 So it's Friday and, quite frankly, PhillyClout is ready for the weekend to start. But there are questions to be asked:
Have you ever felt trepidation while traversing the South Street bridge?
Are you surprised that state Sen. Vince Fumo's supporters are flocking to Larry Farnese, prompting a certain level of discomfort in the John Dougherty campaign?