Archive: March, 2008
Catherine Lucey
In the Clout column today, Sen. Barack Obama shoots a TV ad in Jenkintown and will Gov. Rendell endorse John Dougherty for state Senate?

Our own John Baer convinces Sen. Arlen Specter to co-sponsor the Conquer Childhood Cancer Act.

Tough times for two state representatives running for re-election. The state Supreme Court has ordered a lower court judge to review a challenge to State Rep. Harold James' nominating petitions. And it looks like State Rep. Tommy Blackwell -- already thrown off the ballot for bad petitions -- could have a hard time with his appeal.
Catherine Lucey
A new Daily News/Franklin and Marshall poll shows Sen. Hillary Clinton with a whopping lead -- 16 points -- over Sen. Barack Obama in the presidential primary.

Did Obama's speech on race change any minds? Not really, according to some primary voters.

Will Bunch looks at the papers from Clinton's time as first lady.
Catherine Lucey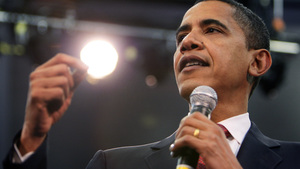 Sen. Barack Obama was interviewed on 610 WIP this morning by host Angelo Cataldi. Check out this report from Dan Gross of www.phillygossip.com.
Catherine Lucey
So what was Sen. Hillary Clinton doing while her president hubby snuck around with infamous intern Monica Lewinksy? Well, apparently she was in the White House the day the notorious affair got going.

The National Archives in Washington and former President Bill Clinton's library today released 11,000 papers of Clinton's schedules as first lady. Clinton has been questioned throughout the campaign about her experience as first lady, which she says helps qualify her for the White House.

But The New York Times says the documents still leave questions unanswered and don't back up claims that she helped pass the Family and Medical Leave Act or worked on the Irish Peace Accord. And according to this story in The Guardian, Clinton was often far from the White House when key foreign policy decisions were made.
Chris Brennan
Gov. Rendell raised a few eyebrows last week when he told the RadioPA Network that former New York Gov. Eliot Spitzer was the "50th pick out of 50 governors" he would have expected to be ensnared in a sex scandal with a prostitute. The question on the minds of many wags: Rendell is a governor so where would he land on his list?
Then former New Jersey Gov. Jim McGreevey, who also resigned in a sex scandal, reignited interest in his story by confirming claims by his former driver that they had engaged in threesomes with McGreevey's former wife.
It all grew too heavy a burden to bear for Late Night host David Letterman, who let this fly on Monday.
Catherine Lucey
It turns out that Mayor Nutter's promise of an "open and transparent" City Hall comes with a few disclaimers.

Earlier this year, Managing Director Camille Barnett told us that she would be holding regular "PhillyStat" meetings to track the performances of city departments. These sessions, she said, would be open to the public and the press.

But apparently, not right away. It turns out that PhillyStat meetings have begun, but the press has yet to receive invitations.
Chris Brennan
U.S. Sen. Hillary Clinton, in remarks today at City Hall, said she was glad that U.S. Sen. Barack Obama had spoken out earlier in the day about controversial remarks on race made in sermons by his church pastor. But Clinton was not eager to discuss the situation. Asked if Obama has done enough to renounce the sermons, Clinton said: "I think that's a question for him."
Clinton spread the blame on problems of race and gender in the campaign when asked about her supporters bringing up race. She said both candidates were dealing with it. "We've spoken out," Clinton said. "We've had private discussions. We've admonished our staffs and supporters. And we will continue to do that."
Finally, Clinton was asked if she'd give her own speech on race and gender in the campaign. "That's a good question," she said. "I don't know."