Archive: March, 2008
Catherine Lucey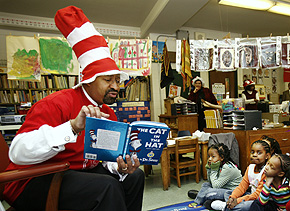 So MC Hammer dropped by City Hall yesterday for a little face time with Mixmaster Mayor Nutter.

Hammer is in town to speak to ex-offenders and kids today. Nutter tells PhillyClout that during the former rap star's visit to the Mayor's office, he played him the YouTube clip of his inauguration party performance of "Rapper's Delight."

And Hammer was impressed. "He thought it was good," Nutter said.
Catherine Lucey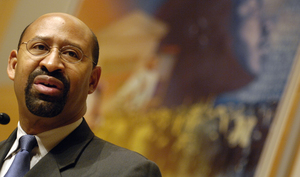 Mayor Nutter took some time this afternoon to visit the site of yesterday's savage Center City subway murder.
Nutter descended the stairs to the Market-Frankford El at 13th and Market streets and walked to the spot on the platform where 36-year-old Sean Patrick Conroy died after an assault by four teens yesterday afternoon.
"This is just one of these completely random, senseless acts of violence," Nutter said somberly. "There's no explaining this kind of bad judgment."
Chris Brennan
Want to know the future of the 2008 summer concert series at the Robin Hood Dell East? Then you better get yourself elected to City Council. Because, for now, Mayor Nutter's staff isn't telling anyone but Council. This sensitive treatment of the information may track back to the surprised and angry reaction Nutter's staff got from Council in late February when they announced the concert series was being canceled so the Dell could receive long-overdue renovations.
Nutter's staff then sat down with concerned Council members three weeks ago and said an engineering report was being completed to determine if work on the venue's foundation could be postponed until after the summer series or if the concerts would have to be moved to a temporary location. Clay Armbrister, Nutter's chief of staff, also left open the option that the concerts could still be canceled. Nutter's staff promised Council an answer in three weeks.
So? PhillyClout asked about the Dell today and Luke Butler, Nutter's deputy press secretary, said Council will be the first to hear the news. "A decision has been reached," Butler said. "They are trying to set up a meeting." Stay tuned.
Chris Brennan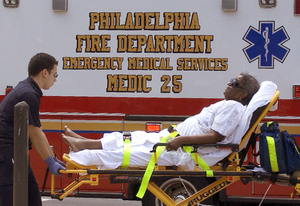 City Council members today urged Lloyd Ayers, commissioner of the Philadelphia Fire Department, to pick up the pace in hiring paramedics to staff his agency's ambulances. Mayor Nutter in February budgeted $3.9 million to boost the department's long-understaffed medic units. Ayers said his department is short 31 paramedics now but has the funding for 80 more, meaning he could hire 111 if he could find them.
That prompted Councilman Frank Rizzo to ask why Ayers has resisted asking the city's Personnel Department for a waiver on the residency requirement for new paramedics, similar to the one granted in February to the Police Department to boost recruitment. "You have the money," Rizzo told Ayers. "And we're not doing it. I just don't get it."
Ayers said his experience with the last time the Fire Department waived the residency requirement was that 25 to 30 percent of the new hires from outside the city got their training and then moved on to nursing school or to other departments with lighter workloads. "They didn't come in and stay with the Philadelphia Fire Department," Ayers said.
Chris Brennan
You already know former City Councilman is fuera de aquí [out of here] after losing last year's Democratic primary. But did you know Ramos will now get paid to go to Phillies games? Nice gig. Ramos, who is also a lobbyist for The Bravo Group, is joining the Spanish Baseball Network as a commentator. Ramos will be heard on WUBA-1480AM, which broadcasts Phillies games in Spanish.
UPDATE: A sharp-eyed reader noted that PhillyClout botched our Spanish grammar on the original headline for this post, saying "Juan Ramos ES fuera de aquí" when it should have been "Juan Ramos ESTA fuera de aquí." Our apologies to Harry Kalas.
Chris Brennan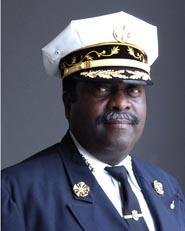 Lloyd Ayers, commissioner of the Philadelphia Fire Department, is anything but terse when answering questions from City Council. During this morning's budget hearing, Ayers spoke at length about his department's efforts to hire paramedics and other issues. Ayers spoke so long, in fact, that the allotted time for questions from individual Council members repeatedly ran out. Councilwoman Donna Reed Miller complained when the bell rang, ending her turn mid-question. "I'll shorten the answers up. Sorry," Ayers responded with a chuckle.
Catherine Lucey
In today's Daily News:

Sen. Hillary Clinton says Rev. Wright would not have been her pastor.

Is Clinton pulling a fast Eddie? John Baer questions why Clinton still hasn't released her tax returns.