Archive: February, 2013
Jan Ransom
Philadelphia land owners took to the phone lines shortly after property assessments were released Friday and after receiving notices in the mail --some say their properties were over assessed.
From Monday through 3 p.m. today, the Office of Property Assessment (OPA) received 3,200 calls and voicemails, a substantially higher volume of calls than usual, said mayoral spokesman Mark McDonald. The increased number of calls came as thousands of property owners got notices from the city detailing what their properties are worth under the new property-tax system based on market values known as the Actual Value Initiative.
City Councilman Mark Squilla's office received 30 calls today, the most AVI-related calls to a Council office. Squilla's 1st district includes Center City, Northern Liberties, parts of South Philly and Fishtown, some of the hardest hit neighborhoods. Squilla plans to challenge the assessments and believes that OPA made some mistakes.
Jan Ransom
When City Councilwoman Blondell Reynolds Brown's ex-campaign manager pleaded guilty to wire fraud last Thursday, she slid out of Council chambers.
Her former campaign manager, John McDaniel is accused of stealing $100,000 from Reynolds Brown's political-action committee and faces 15 to 21 months in federal prison.
Here's what Reynolds Brown had to say once reporters caught up with her today:
Chris Brennan
Philadelphia's Traffic Court may be nearing extinction but that hasn't deterred interest in three open seats. As of 1:30 p.m. Tuesday, the first day to start circulating nominating petitions to get on the May 21 primary ballot, 45 potential candidates had picked up petitions at the Philadelphia City Commission offices in City Hall.
The state Senate last week voted to abolish Traffic Court after all but one of the judges there were indicted in a federal investigation into ticket fixing as political favors. That means this could be the last election year for Traffic Court judges.
State Sen. Dominic Pileggi, a Delaware County Republican and the Senate's majority leader, introduced one bill that would eliminate the three open Traffic Court seats. Another Pileggi bill deletes Traffic Court from the state Constitution. Both bills were approved by the Senate last week. The legislation moves traffic cases to Philadelphia's Municipal Court, where they would be heard by hearing examiners.
Sean Collins Walsh
The Philly All Stars youth basketball team should be headed to Disney World for the Small Fry International Basketball championship. But many sponsors of the new team didn't come through, and it's unclear whether the kids' dreams will be able to come true.
District Attorney Seth Williams is looking into a rise in senior-abuse cases.
And a debate over horseshoe crabs is pitting New Jersey environmentalists against a Democratic state senator.
Sean Collins Walsh
As the city began mailing out its assessments of every plot of taxable land in the city on Friday - a major step in executing the new property-tax system slated for next year - Mayor Nutter said it was a "historic day" for Philadelphia.
"The broken system that unfairly undervalued or over-assessed residential, commercial and industrial properties in Philadelphia for decades will now be a thing of the past," he said. "The old system is dead," he said at a press conference. "For the first time, our property-tax system will be an accurate reflection of the real value of our properties."
The Actual Value Initiative, or AVI, seeks to fix the city's highly inaccurate tax rolls, which for years have been the scorn of Philadelphians who received unpredictable and often unfair tax bills because of outdated assessments.
Jan Ransom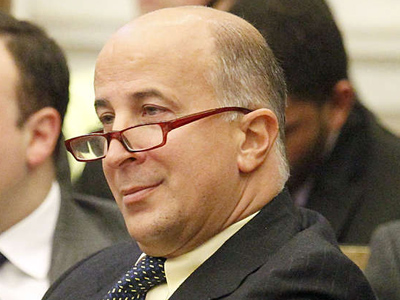 It's Valentine's Day and City Councilman Mark Squilla showed the ladies on Council some love.
Squilla spent roughly $30 and purchased roses and chocolates for Councilwomen Maria Quinones-Sanchez, Cindy Bass, Blondell Reynolds Brown, Jannie Blackwell and Marian Tasco.
Former City Councilman Frank DiCicco would give Councilwomen roses and chocolates every Valentine's Day.