Archive: February, 2011
Chris Brennan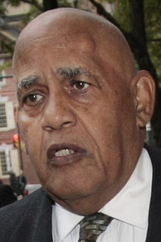 T. Milton Street, 71, is rested and ready for action. The former state legislator and brother to former Mayor John Street says he plans to challenge Mayor Nutter in the May 17 Democratic primary election. Street, sentenced in 2008 to 30 months in federal prison for tax evasion, was released to a halfway house in June and then to supervised release in November.
Street said his time behind bars made him better aware of the issues offenders face. He estimates that there are 300,000 ex-offenders in the city of Philadelphia and he hopes to use them as a political army to confront issues like crime, unemployment and poverty.
"I'm going to deal with those issues," Street said today. "They deserve to be discussed. They have to be on the front-line. They're basically being ignored."
Catherine Lucey
As expected, State Sen. Anthony Hardy Williams will not run for mayor. Here's his statement:
State Sen. Anthony Hardy Williams announces decision on his 2011 mayoral candidacy
"At the end of my 2010 bid for governor, I publicly stated that my aspirations did not include being a candidate for mayor in 2011. But since this year began, I have been approached by people who have asked that I reconsider that decision.
Chris Brennan
Here comes the busy political season, when candidates across the city dive into the election cycle for what is shaping up to be a monumental year of change in City Council. Here's a partial calendar:
Catherine Lucey
From Bob Warner:
Philadelphia's President Judge, Pamela Pryor Dembe, has named herself and two other Common Pleas Court judges to oversee city elections this year, while the three elected city commissioners ­-- Marge Tartaglione, Anthony Clark and Joseph Duda -- are expected to seek re-election.
The three-judge panel will include Dembe, Charles J. Cunningham III and Leon Tucker. Generally, they will oversee the work of civil-service employees who handle voter registration, ballot preparation, distribution of voting machines and other election activity.
Catherine Lucey
Yet another endorsement for the mayor, who's running without a primary opponent so far. Here's the release:
BLACK CLERGY TO ENDORSE NUTTER FOR MAYOR Announcement scheduled for Monday at First District Plaza
(PHILADELPHIA) -- The Black Clergy of Philadelphia and Vicinity will endorse Michael Nutter in his re-election bid for mayor, during an 11 a.m. press conference at First District Plaza at 3801 Market St., Monday, Feb. 7.
Catherine Lucey
Has a future City Council candidate already run afoul of city ethics rules?
In City Hall today, Joe Grace – who is trying to unseat Councilman Frank DiCicco in the 1st Councilmanic district -- held a press conference to attack DiCicco's recent proposal to change the controversial DROP program.
Grace delayed the talking to reporters until he was joined by Bill Rubin, an elections supervisor who is publicly considering a run for the 10th Councilmanic district. When he arrived, Rubin -- a former vice-chairman of the Board of Pensions -- also criticized the DiCicco proposal.