Archive: February, 2011
Chris Brennan
Michael Ta'Bon's bright orange prison jumpsuit and handcuffs really stood out this afternoon among the sharp suits and snappy dresses sported at the Greater Philadelphia Chamber of Commerce's annual Mayoral Luncheon. Ta'Bon was one of six people from the Ex-Offenders Association of Pennsylvania who crashed the party at the Pennsylvania Convention Center to protest what they call insufficient efforts by Mayor Nutter's administration to help prison inmates re-enter society.
Nutter's 4,120-word speech, which spanned more than 33 minutes and covered a variety of employment and economic efforts, included one sentence about the city's Office of Reintegration Services For Ex-Offenders (RISE) and how it was helping to reduce the recidivism rate in the city.
The ex-offenders walked in about 20 minutes into Nutter's speech, sparking consternation from flustered Chamber and Convention Center officials who told them they had to leave.
Chris Brennan
Mayor Nutter is politically vulnerable, a new Franklin & Marshall College/Daily News Poll shows but only T. Milton Street is stepping up to challenge him in the Primary Election. The poll also shows that Philadelphia thinks one casino is enough.
The Philadelphia Police sergeant who once headed Nutter's security detail now faces FBI scrutiny.
And former Secretary of Defense Donald Rumsfeld leaves an audience with questions about war but does spill the story about the time he met Sammy Davis Jr. and Elvis Presley.
Chris Brennan
John Dougherty and his union, Local 98 of the International Brotherhood of Electrical Workers, are getting busy in a very active campaign cycle for City Council. Here's a little info about the man they call "Johnny Doc."
Vice President Joe Biden came to 30th Street Station yesterday to announce a $53 billion plan to construct a national high-speed rail system.
The U.S. Census Bureau reports that African-American-owned businesses increased by 70 percent in the Philadelphia metro area from 2002 to 2007.
Chris Brennan
Bob Henon, the political director for Local 98 of the International Brotherhood of Electrical Workers, made official today his run for the May 17 Democratic primary election for the 6th City Council seat by releasing a YouTube video introducing himself to voters. Henon spends much of the video -- running time five minutes and 25 seconds -- talking about his concerns for the things his Northeast Philly neighborhood is losing: Jobs, public safety, values, and a sense of community.
Henon, who will face former School Reform Commission member Marty Bednarek in the race for the seat opening up by the retirement of Councilwoman Joan Krajewski, uses his family as backdrop for the video. Over a meal of pasta and salad, Henon speaks to his wife and children, his mother, his brother and his wife and kids.
Chris Brennan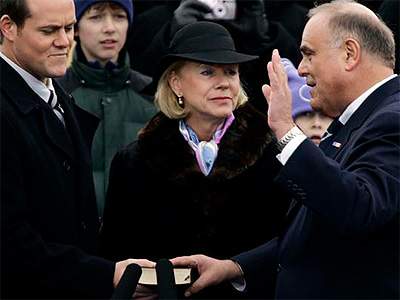 Gov. Rendell and his wife, U.S. Appellate Judge Marjorie "Midge" Rendell, announced in an e-mail to friends today that they will be "living separately" now that they have left the Governor's Mansion in Harrisburg.
But don't let that prevent anyone from sending them invitations to the same party, the parting couple advised. The split after four decades of marriage is "amicable" and they won't find it awkward or uncomfortable to socialize together.
"Dear friends, we wanted to let you know that we have decided to embark upon this next phase of our lives by living separately," the e-mail said. "This has been a difficult decision, but we both believe it is the right thing to do. Our parting is amicable, and we will remain friends and continue to be active in our community, sometimes together, sometimes separately."
Catherine Lucey
This should be fun. Check out the release:
COMMITTEE OF SEVENTY AND LEAGUE OF WOMEN VOTERS TO SPONSOR CITY COUNCIL PRIMARY DEBATES
PHILADELPHIA - FEBRUARY 7, 2011 – The Committee of Seventy and League of Women Voters of Philadelphia will hold a series of debates featuring candidates for Philadelphia City Council in the May 17, 2011 primary election. There will be one debate involving all at-large candidates and several other debates covering open or hotly contested Council seats. The debates will be held in late April and early May at various locations around the city.