Archive: February, 2011
Daily News
Philly Clout's Chris Brennan chats about the latest in the mayor's race on Tuesday, February 22 at 1 p.m.
Catherine Lucey
Mayor Nutter is set to roll out another big endorsement tomorrow. Sources tell PhillyClout that former Gov. Rendell will endorse the mayor at a morning press conference.
Rendell, who spoke on behalf of Nutter at a fundraiser several weeks ago, will be the biggest name on the growing list of endorsements that Nutter has been raking up in recent months.
There's a lot of history between Nutter and Rendell – and they've had their ups and downs. Back in 1986, a 25-year-old Nutter drove Rendell around as he ran for governor. And while Rendell was mayor and Nutter was on City Council, they were often allies on issues. But they've also clashed at times, like over Nutter's alliance with Republicans at the Convention Center, a move which enraged Rendell.
Chris Brennan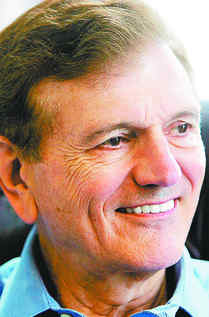 Businessman Tom Knox, who finished second to Mayor Nutter in the Democratic primary election four years ago, says he will announce tomorrow whether he will be a candidate for mayor this year. We hear Knox, who has publicly considered for months a run financed from his personal fortune, is learning against getting into the race.
Knox commissioned a poll last week to gauge how strong he would fare against Nutter in this year's Democratic primary or as an independent in the general election. Knox said Friday that he would announce a decision today. He then pushed announcement to tomorrow after the Daily News asked about talk that he would not run at all this year. Knox declined to comment on rumors that he would not be a candidate, saying his decision would come as a surprise.
Sam Katz, a former Republican candidate for mayor, said he spoke recently with Knox and does not expect him to be a candidate this year. Knox and former Mayor John Street urged Katz to challenge Nutter in the primary this year. Katz considered it but then ruled out another run.
Chris Brennan
State budget cut-backs that started in the closing days of Gov. Rendell's second term are resulting in fewer campaign finance reports being posted on the Department of State's web site. And that has Common Cause, a good government watchdog group, worried that a new loophole is being created that can be exploited to avoid scrutiny of political contributions.
The problem: candidates and political action committees [PAC] can file their campaign finance reports -- there are seven reports required by state law due during 2011 -- electronically or on paper. The Department of State has outsourced the data entry work needed to put some of the paper reports available on-line and uses in-house staff for some of the work.
As a result of the budget cut-backs, which started in September, the posting on-line of PAC reports is slowing down, according to Kevin Murphy, a spokesman for the Department of State. "However, the department is working on inputting the reports as available resources permit," Murphy added.
Chris Brennan
Here's the problem with running a campaign for mayor of Philadelphia based primarily on technology: If you don't set up your Twitter account right away, some helpful wag will do it for you. That seems to be the case with @MyrMiltonStreet, the Twitter feed set up today to apparently mock T. Milton Street. [Thanks for the follow, by the way.]
The account, which also bears the name "Milton Streetz," claims to be originating from "East Philly (NJ) and concludes: "I honestly think I should be mayor of Philadelphia (?)."
Street, the former state senator who was released from federal custody in November after 26 months for not paying his taxes, yesterday announced from the bed of a pick-up truck in West Philly that he will challenge Mayor Nutter in the May 17 Democratic primary election. Street hopes to rely on cell phone text messages, Facebook and Twitter to gain attention to his otherwise poorly financed campaign.
Catherine Lucey
After fighting a series of brutal winter storms -- and with more weeks of winter to go -- the city is set to buy more salt.
Streets Commissioner Clarena Tolson today said that the department plans to buy 28,500 tons of salt to get through the rest of the winter. The department is seeking approval from Council to spend $1.9 million on the salt.
"We need the additional salt to make it through this winter," Tolson said, noting that the city has gone through 58,000 tons already this year.