Archive: February, 2009
Catherine Lucey
Check out this report from the Sunday New York Times on Mayor Nutter's public budget outreach.

Catherine Lucey
We had great response to our first PhillyClout contest and all of our eagle-eyed entrants got the answer to the question right. (It was Jack Kelly, Joan Krajwski, Blondell Reynolds Brown and Frank Rizzo.) So we put all the names in a hat and pulled our a winner. Drum roll please...

Congratulations to George Matysik! Please shoot us an email and we'll let you know how you can get your prize.

And don't worry readers. We plan many more contests in the future.

Catherine Lucey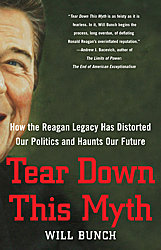 We're very excited to launch a new feature here at PhillyClout – reader contests!

For our first ever competition, we have a pretty awesome prize. It's an autographed copy of a new book by our co-worker Will Bunch, writer of Attytood, called "Tear Down This Myth: How The Reagan Legacy Has Distorted Our Politics and Haunts Our Future." You can read about the book – a look inside the mystique of President Reagan – here and here.

So, to win the prize, here's what you have to do. Email us (luceyc@phillynews.com) the answer to the following PhillyClout trivia question by 5 p.m. on Sunday. We will randomly select a winner* from all the correct answers. Here's the question:

Which City Council members skipped Mayor Nutter's budget briefing on Monday?

(*Of course, PhillyClout co-workers and family members may not enter.)

Catherine Lucey
KYW Newsradio has a good report up about how four City Council members hired new staffers this month, despite the city's worsening financial problems.

Council members Bill Green, Frank Rizzo, Blondell Reynolds Brown and Maria Quinones Sanchez all filled vacant, low-paying positions, according to KYW.

Catherine Lucey
We took in the first citizen budget workshop last night at St. Dominic's School in Holmesburg. More than five hundred people attended the meeting, hosted by the Penn Project for Civic Engagement. The night started with a briefing from city officials on the budget crisis -- the city faces a $1 billion shortfall over five years -- and then broke into small group sessions where participants tried to rank their budget priorities.

One of our favorite thing about the evening was the "Wailing Wall," a board set up in the school auditorium where people could pin notes to the city. Most messages said things like, "Cut Nutter's increasing staff," "No tax loopholes for big corporations," or "Stop letting city employees take city cars home."

But here was the best one: "I would like to meet a good looking single woman my age (68)."

Why solve the financial crisis when you can look for love?