Archive: February, 2009
Catherine Lucey
Prisons Commissioner Louis Giorla today said he was considering charging a fee for all new inmates at Philadelphia prisons.

"We just have to find some ways to offset our costs," Giorla said at a PhillyStat session this afternoon. "We can't cut food. We can't cut health care or behavioral health."

If the plan is implemented, Giorla said new inmates would be charged about $35 -- a sum he says most have on them when they get processed. He couldn't estimate how much money the fees would generate, although he said they process about 40,000 people each year.

Like other department heads, Giorla is reviewing cost-cutting steps as the city tries to close $1 billion budget hole over five years. Philadelphia's prison costs have soared in recent years. The prisons budget is currently about $230 million. Giorla said the system currently houses 9,681 inmates, which includes sentenced individuals and those awaiting trial.

Mayor Nutter said the fee was worth consideration. "I think it's something that should be explored," he said. "I don't think it's unreasonable at all."



Catherine Lucey
The Penn Project for Civic Engagement has posted the reports from the first community budget workshop on their website.

You can go through and see how 12 different groups tried to plug a budget gap using a list of cuts and tax hikes that were assigned point values. The goal was to get to 100 points. For example: cutting 20 percent from the police budget was worth 26 points, but cutting 30 percent from recreation only got you 5.

What's clear from most of the reports is that the groups largely had great difficulty reaching the goal. Many disputed the premise and made alternate lists of how the city could close the gap. Most groups came in between about 30 and 70 points. Except for one -- group 8 got all the way to 99. How did they do it? Among other things, they raised the wage tax, the real estate tax, the sales tax, cut courts and prisons and added a trash fee.

To try out the worksheet yourself, click here. Or you can head to the next workshop, tonight in Germantown at Mastery Charter School.

Chris Brennan
The jury in the federal trial of Chris Wright, former chief of staff for City Councilman Jack Kelly, resumed deliberations about an hour ago. The jury, which received the case from the judge yesterday, is considering whether Kelly's one-time campaign treasurer, Andy Teitelman, and developers Hardeep and Ravinder Chawla bribed Wright with $1,000, a rent-free apartment near Rittenhouse Square and free legal services in exchange for help with city agencies and officials.

Defense attorneys say the four men are close friends who acted to help Wright after he relapsed into a drinking problem during a bitter divorce. Prosecutors say Wright cashed in on his City Hall post and the potential for future real estate commissions with the Chawla brothers.

Check back here today for trial updates.

UPDATE, 11 am: The jury of six men and six women in this case includes four people from Philadelphia, four from Chester County and one each from Montgomery, Delaware, Bucks and Northampton counties. One juror is a city employee, one is a former employee of the Philadelphia Police Department, and two jurors have relatives who work in law enforcement. Two of the jurors have served on juries before. One juror was a defendant in a criminal case more than four decades ago.

UPDATE, 1:15 pm: The jury, which had several questions for U.S. District Justice Eduardo Robreno yesterday, has been very quiet it its work today. They asked for lunch at 12:15 p.m. and are due to get back to deliberations by 1:30 p.m. Robreno has kept himself busy today hearing an international custody dispute, with the father from Cyprus and the mother from Siberia. Defense attorneys and reporters have been following that hearing while waiting for the jury.

UPDATE, 2 pm: The jury came back from lunch with a question about how they should vote on a verdict for the 14 counts under consideration for the four defendants. They asked Robreno in a note whether they need to vote based on the indictment, from back in August, or from the evidence presented during the trial. Prosecutors and defense attorneys agree that Robreno should tell the jury to consider all the evidence and apply it using the instructions he provided on Friday and yesterday. That's what Robreno is doing now.

UPDATE, 4:25 pm: The jury just informed the judge's clerk that they would like to break for the day. Robreno just sent them home with an order to return at 9 a.m. tomorrow for day three of deliberations.

UPDATE, 4:50 pm: While Hardeep Chawla waited to hear his fate from the jury in this case, another federal matter had to be pushed off to a later date. Chawla pleaded guilty in 2006 to defrauding the federal government on two leases for buildings in Northeast Philadelphia. He was due to have a hearing today, where a judge would consider "certain violations which may warrant revocation of your supervised release," according to a court order. That hearing was pushed until Feb. 27.
Chris Brennan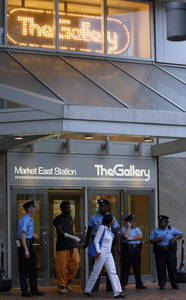 Anti-casino activists are gearing up for a big day in the city tomorrow.

The "No Casino In The Heart Of Our City Coalition," being promoted by Asian Americans United, plans to protest outside Gov. Rendell's Center City office at Broad and Walnut streets tomorrow at 11 a.m. The group wants to stop the proposed Foxwoods casino from relocating from its state-approved South Philly location to The Gallery at 11th and Market streets, just one block from Chinatown. You can read more about that here.

And Casino-Free Philadelphia plans to hold the first of four "town hall meetings" tomorrow at 6:45 p.m. to push its "Declaration of Independence from Casinos" effort. The group wants to encourage elected officials to help them prevent the openings of Foxwoods and SugarHouse, another state-approved casino planned for Fishtown. You can read more about that here.
Catherine Lucey
Deputy Mayor for Transportation and Utilities Rina Cutler said today that implementing a sanitation fee could be a "win-win" for Philadelphia.

At a public PhillyStat budget session, Cutler said that the streets department is looking at charging residents about $5 a week to collect trash and recycling -- a fee she said could generate between $85 and $105 million annually. That money would also reduce the amount of cuts needed from the department, Cutler said.

"I do think it's a reasonable alternative to picking trash up twice a month or three times a month," Cutler said.

The streets department is pondering a number of possibilities as Mayor Nutter figures out how to cut $1 billion from the city's budget over the next five years. Other options they are considering include reducing recycling pick up or cutting trash collection frequency to save money.

Mayor Nutter said the city is still just considering its options. "We have to be open to look at any number of ideas," he said.

The Daily News wrote about trash fees last summer. Check out that story here.

Catherine Lucey
This just in:

RELEASE

MEDIA ADVISORY

MAYOR NUTTER TO CHAIR BUDGET PHILLYSTAT SESSION ON ECONOMIC DEVELOPMENT AND TRANSPORTATION

WHO: Mayor Michael A. Nutter

WHAT: Mayor Nutter will chair a PhillyStat session examining budget scenarios in the area of Economic Development and Transportation.

Departments: Commerce, License and Inspections, City Planning Commission, and Streets.

This is the second of three sessions that will be chaired by Mayor Nutter with a final session on Public Safety to be held tomorrow, Wednesday February 18, at 1:30pm in the same location.

WHERE: Room 1450, Municipal Services Building, 15th and JFK
[Note: space is limited; access will be on a first come, first served basis]

WHEN: Tuesday February 17, 2009 1:30 pm

Chris Brennan
The federal corruption trial of Chris Wright, City Councilman Jack Kelly's former chief of staff, and three political allies, gets back under way this morning with U.S. District Justice Eduardo Robreno finishing his instructions for the jury. Attorneys for the defendants, Wright, developers Hardeep and Ravinder Chawla, and their attorney, Andy Teitelman, completed their closing arguments on Friday.

The jury is expected to start deliberations this morning. Wright is accused of accepting $1,000, a rent-free apartment near Rittenhouse Square and free legal services from the Chawla brothers, Kelly's most generous campaign donors, and Teitelman, who was Kelly's campaign treasurer.

The jury of six men and six women in this case includes one city employee, a former employee of the Philadelphia Police Department, two people with relatives who work in law enforcement and one person who was a defendant in a criminal case more than four decades ago.

Check back here throughout the day for updates from the trial.

UPDATE, 10:20 am: The judge has completed giving the jury his instructions. Deliberations on the case have started, three weeks after this trial began.

UPDATE, 10:45 am: After 20 minutes of deliberation, the jury already has a question for Judge Robreno. They want some legal definitions. Maybe the start of the jury instructions from Friday afternoon turned hazy over the three-day weekend? Defense attorneys, after taking time to discuss the request, suggested giving the jury copies of the judge's instructions. Prosecutors agreed.

UPDATE, 12:10 pm: The jury just passed another note to Judge Robreno, asking for recordings Kelly secretly made in June 2007 of a telephone call to Wright and a face-to-face meeting with Ravinder Chawla. Kelly was publicly unveiled as a cooperating witness just before the trial started. Kelly made the recordings after four FBI agents surprised him at home with allegations made about him by a local businessman awaiting sentencing on federal tax and gun charges. Kelly has not been accused of any wrong-doing.

UPDATE, 12:30 pm: The judge has decided to bring the jury into the courtroom at 2 p.m., after lunch, to let them listen to the tapes of the conversations recorded by Kelly.

UPDATE, 2:30 pm: The jury is listening to the tapes, which have a lot of background noise and static. They are following along with transcripts scrolling on two large flat-screen televisions at each end of the jury box. On the tapes, Kelly sounds concerned, almost to the point of panic, about the federal investigation. Wright and Chawla deny any wrong-doing.

UPDATE, 2:50 pm: Up next, Judge Robreno is going to consider a request from the Daily News to release the audio recording of his discussion in chambers last week with a juror who was then dismissed. Defense attorneys complained that the juror slept during some testimony and glared at their clients while awake. The Inquirer has joined the request for the audio.

UPDATE, 4:35 pm: Judge Robreno just ruled against the Daily News request for the audio, saying he was concerned because the recording "contains the juror's views concerning one of the participants in the case." Robreno said he will release the recording after the jury finishes deliberating. Attorneys for the defendants and the prosecution asked Robreno to hold off on releasing the audio.

Robreno just sent the jury home for the night. They are due to restart deliberations at 9 a.m. tomorrow. Robreno approved a request from the jurors to review copies of e-mails between Wright, the Chawla brothers and Teitelman.