Archive: February, 2009
Catherine Lucey
In a speech to the city's business community today, Mayor Nutter announced that he was setting up a new task force to look at the city's tax policies.
"Overhauling Philadephia's tax structure is vital to our competitiveness and economic prosperity," said Nutter, who called the city taxes "onorous, cumbersome and burdensome."
The 15-person group will be charged with reviewing the city taxes, as well as issues like development and regulation, and providing a report to Nuttter by Sept. 14. Nutter said he had not yet selected the members.
Catherine Lucey
After Daily News investigation into allegations that a narcotics cop and an informant fabricated evidence, public defenders review criminal cases the duo worked on.
Former state Sen. Vince Fumo takes the witness stand to defend himself in his corruption trial. John Baer talks about the differences between Fumo and Gov. Ed Rendell, who also testified.
Former head of the National Constitution Center wants to run for the senate seat held by Sen. Arlen Specter.
Chris Brennan
Chris Wright, City Councilman Jack Kelly's former chief of staff, is expected to re-take the stand this morning to continue testimony in his federal corruption trial. Wright is accused of taking bribes from Kelly's campaign manager, Andy Teitelman, and two big-time campaign contributors, developers Hardeep and Ravinder Chawla.
Wright testified yesterday that the trio of political insiders helped him starting in 2005 as his life was falling apart. Check back here today for trial updates.
UPDATE, 9:50 am: Defense attorneys pointed out this morning that both the Daily News and Inquirer published stories today that mentioned their complaints yesterday about one of the jurors. U.S. District Justice Eduardo Robreno just questioned the jury to see if any of them had been exposed to any media accounts about yesterday's proceedings. No jurors raised their hands to that question. So the trial is now under way again.
Chris Brennan
Catherine Lucey just got a copy of the city presentation with some of the budget cut scenarios and it's pretty grim. In the wake of a $1 billion budget hole over five years, these scenarios were prepared by the departments to show the impact of 10, 20, or 30 percent cuts.
Nutter stressed that these are only scenarios -- no action has been taken on next year's budget.
"No decisions have been made with regard to any of the proposals that you see," he said to the group of City Council members and top administrators gathered for the briefing.
Chris Brennan
Catherine Lucey reports that local firefighter union president Brian McBride just stormed out, fifteen minutes into the administration's budget briefing session with City Council after Mayor Nutter made no mention of fire cuts during a recap of the fall budget reductions.
"They didn't mention any fire houses closing," McBride hissed at reporters as he left the room.
Nutter eliminated seven pieces of fire equipment during cutbacks in November. No firefighters were laid off and no stations were closed. Local 22 of the International Association of Fire Fighters protested the cuts Friday with a rally.
Catherine Lucey
District Council 47 President Cathy Scott, whose union represents white-collar city workers, today held a press conference to attack Mayor Nutter's public budget process. Scott -- who has support from community groups, including One Philadelphia and Neighborhood Networks -- specifically takes issue with the community budget workshops that the University of Pennsylvania will host.
In prepared remarks, Scott says the workshops will force citizens to chose between cutting services or cutting more services -- instead of looking at other ways to generate revenue. Here is her full statement:
We thank you for attending this press conference.
Catherine Lucey
We didn't link this earlier today, but it's an interesting read. Mayor Nutter has an op-ed in today's paper about the budget crisis, in which he asks the city to work with him on the city's fiscal problems.
An excerpt:
Participatory democracy is not only about expressing what you want, it's also about DOING. We need people willing to clean their street and sidewalk or volunteer at their local rec center or school.
Catherine Lucey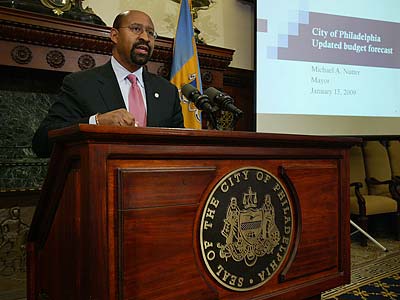 Mayor Nutter will brief City Council tonight on department budget cut options. Nutter plans to provide council members with the scenarios created by department heads to show the impact of 10, 20 or 30 percent budget cuts -- and he says it won't be pretty.
"I think the main point is to share the information as we said we would. That's the purpose of tonight's meeting," Nutter said. He added that he wants council to understand the "very tough" options before the city.
After closing a $1 billion gap in the five year plan last November through service reductions, layoffs and delaying tax cuts, the city now faces another $1 billion shortfall over five years. Nutter is in the midst of a public budget process to get input from citizens on how the city should balance their books.