Archive: February, 2008
Chris Brennan
City Commission Chairwoman Marge Tartaglione has a warning for voters: Don't get stuck behind a blind person at the polling place.
Tartaglione, in a press conference this morning, said the city spent $5 million in 2005-06 to equip every precinct in the city with a voting machine with earphones for the visually impaired. That change was the result of a federal lawsuit.
With a long November ballot, listening to the choices took blind voters about an hour each, Tartaglione said.
Catherine Lucey
According to our buddy Dan Gross, actress Sheryl Lee Ralph is trying to get State Sen. Vincent Hughes into the 21st century. She wants him to start texting.
Chris Brennan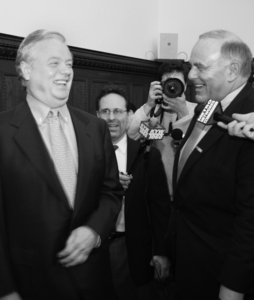 State Sen. Vince Fumo has the first television commercial running in the race for the First Senatorial District but he apparently hasn't updated his campaign web site since he was re-elected four years ago.
Fumo's list of endorsements includes John Dougherty, head of the International Brotherhood of Electrical Workers, Local 98.
We'd check on that since Dougherty is one of two candidates vowing to unseat Fumo in the April Democratic primary election.
Catherine Lucey
More drama over in the Milton Street trial today, the Inquirer reports. Prosecutors today argued that Street never paid taxes on thousands of dollars in consulting fees. Also, lots of people say they paid him fees and got nothing in return.
Chris Brennan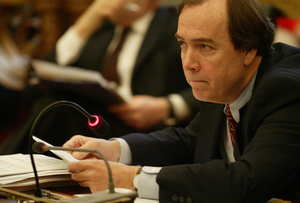 City Council's Committee on Parks, Recreation and Cultural Affairs this afternoon unanimously approved legislation proposed by Councilman Brian O'Neill to allow Fox Chase Cancer Center to expand onto 19 acres of Burholme Park. That legislation will be considered by the full Council on Thursday and could be passed on Feb. 28.
Mayor Nutter is likely to sign the legislation into law since he brokered the meeting last month that brought together hospital officials and neighborhood residents who had been at odds.
"Everyone gave a little," O'Neill said today. "Everyone got a lot."
Chris Brennan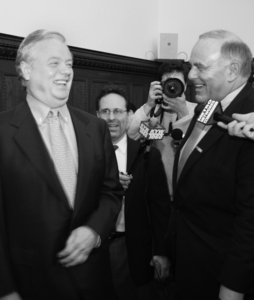 State Senator Vince Fumo has introduced legislation calling for divestiture of state funds from companies doing business with the energy sector of Iran's economy.
Up Next: John Dougherty will send electrician apprentices to protest Hugo Chavez speeches in Venezuela and Anne Dicker will insist on ban of soft pretzel exports to North Korea.*