Archive: February, 2008
Chris Brennan
Mayor Nutter and Gov. Rendell get together at 1:30 this afternoon in City Hall to talk about education.
The Daily News studies efforts to battle crime in Philadelphia Housing Authority properties.
Larry Farnese decides he'd rather take on Vince Fumo on the state Senate than Babette Josephs in the state House.
Catherine Lucey
Sounds like Sen. Barack Obama's presidential campaign is getting ready for the Pennsylvania primary.
We hear the campaign has been calling around looking for a Center City office that they can use through the end of April. They want 5,000 square feet near Broad and Market streets and they need to find it this week.
Insiders are referring to the PA primary (on April 22) as "Iowa II" because the campaigns will set up shop here for six uninterrupted weeks before votes are cast.
Catherine Lucey
Daily News staffer Mensah Dean is reporting that Arlene Ackerman will be the next schools CEO. Expect an announcement as early as tomorrow.
Ackerman has served as schools superintendent in San Francisco and Washington, DC. She doesn't seem to have much support from local education activists, many of whom had asked for the search to be reopened.
Catherine Lucey
Looks like Philly's fight to get tougher gun laws within city limits is heading to the state Commonwealth Court. Councilman Darrell Clarke and Councilwoman Donna Reed Miller are trying to overturn the state law saying that only the General Assembly can control gun laws.
Their lawsuit against the state legislature and the National Rifle Association is supposed to be heard next month.
This AP article also predicts a court battle over Mayor Nutter's plan to enforce city gun laws with or without state authorization.
Catherine Lucey
It's probably going to be a slow day here at City Hall because of the holiday. Mayor Nutter doesn't have any public events scheduled so far and city workers have the day off.
Dave Davies has a great column questioning the massive borrowing in Nutter's budget. Is it legit, or just financial slight of hand?
John Baer criticizes state lawmakers for not taking on healthcare reform.
Catherine Lucey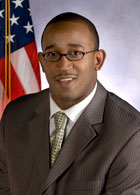 Freshman State Rep. Tony Payton is not backing down from a primary challenge. He kicks off his campaign tomorrow at a Boys and Girls club in Frankford. Councilman Bill Green and Councilwoman Maria Quinonez Sanchez will be on hand to show support.
Ward leaders in Payton's district are backing Temple University Nurse Guy Lewis in the April primary election. They've been accused of trying to mess with Payton because he beat their candidate last time around.
Chris Brennan
It has been called the "crowning legislative achievement" of the late City Councilman David Cohen's long career. Now after years of delay, Cohen's call for a reduction in the city's wage tax for the working poor might never take effect.
Mayor Nutter, in a five-year financial plan released Thursday, called for the elimination of the "Low Income Tax Credit." The Revenue Department has said the tax cut, due to start in July 2013, would cost the city $80.8 million in three years.
Cohen, who died in 2005, championed the tax cut for years and got it passed by Council in 2004. Nutter voted to support it and helped override a veto by Mayor Street, who was in a budget battle with Council that year.
Catherine Lucey
Mayor Nutter's victory lap continued this week with a snooze of a appearance on ABC Word News Tonight. Let's just say there's not nearly enough Olivia.