Archive: December, 2010
Catherine Lucey
Former Mayor John Street – who has been verbally pummeling Mayor Nutter in the press for months – did not show today at a Nutter fundraiser during the annual Pennsylvania Society festivities in New York City.
But his son did.
Yes, Sharif Street strolled into Nutter's party in the W Hotel in midtown Manhattan and stared noshing on the plentiful buffet of cheese and cured meats. The 36-year-old attorney said he was not part of the ongoing beef between his dad and the current mayor.
Catherine Lucey
PhillyClout is reporting from Pennsylvania Society – an annual weekend when politicians and influence-makers from around the state head up to New York City to talk shop and down drinks at a seemingly endless series of cocktail parties and fund-raisers.
After a long night spent trekking through crowded ballrooms and bars at the storied Waldorf Astoria Hotel and other midtown spots on Friday evening, here are a few items we've picked up:
Joe Grace Running For Council
Chris Brennan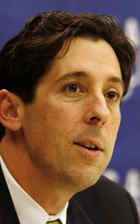 Joe Torsella, chairman of the Pennsylvania Board of Education and twice president of the National Constitution Center, was in Washington D.C. this morning for a U.S. Senate Foreign Relations Committee hearing on his nomination by President Obama for a top post at the United Nations.
Torsella was asked by U.S. Sen. Jeanne Shaheen, the New Hampshire Democrat chairing the hearing, about his decision in May 2009 to drop his bid for U.S. Sen. Arlen Specter's seat. Specter, at the urging of Obama and Gov. Rendell, switched from Republican to Democrat last year in what turned out to be a failed bid for re-election. Shaheen asked "whether you're getting out of that campaign and this nomination are in any way connected?"
Torsella said there was "absolutely no connection" between the two, adding that the "facts changed dramatically" in the race, prompting his decision. "No one offered me or hinted at the offer of anything to do so, nor did I ask anyone for anything to do it," Torsella testified. "I just did it because for me and my family the right thing to do. The only deal I made to get out of that Senate race was with my wife. And it was a good one."
Catherine Lucey
In the wake of the "Christmas Village" fiasco that dominated headlines last week, Philly has been named the best city to celebrate holiday spirit by U.S. Airways Magazine.
The city announced the news in a press release today. Philadelphia was ranked first among 15 cities, based in part on the Christmas light shows and organ concerts at Macy's, formerly John Wanamakers.
No mention is made in the press release of the "Christmas Village" controversy, first reported by the Daily News. That scandal erupted last week after workers were spotted taking the word Christmas off the archways into the traditional German Christmas Village outside City Hall in Dilworth Plaza. The organizer took down the word after Managing Director Richard Negrin told him the city had received complaints.
Chris Brennan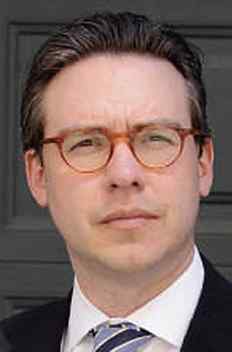 Al Schmidt, the Republican candidate for City Controller in 2009 and recently a senior adviser to the Republican Party of Pennsylvania, this morning released a stack of faxes and e-mails that he said demonstrates a "culture of corruption" among Democrats and Republicans in Philadelphia using public resources for partisan political purposes. Schmidt made his revelation while announcing that he will seek a seat on the Philadelphia City Commission in next May's primary election.
"The fact that they don't think its a big deal is what the big deal is," Schmidt said, flipping through copies of the documents blown up to poster size. "It's so pervasive."
Schmidt said the documents show that local elected officials -- city, state and federal -- use their offices to coordinate election day workers such as poll watchers and judges of elections. Based on the header information printed at the top of faxes, the documents came from U.S. Rep. Bob Brady's office along with the offices of state House representatives, City Council members and City Commission members.
Catherine Lucey
Seeking to reduce the number of visibly blighted properties in Philly, a City Council committee today approved legislation that would require banks that obtain foreclosed properties to appoint a local manager and keep the building up to code.
Councilman Bill Greenlee, who sponsored the measure along with Councilwoman Marian Tasco, said the bill is designed to keep tighter watch over vacant foreclosed properties, which can easily fall into disrepair.
"It's not a cure-all, but I think it will have an effect," Greenlee said.
Chris Brennan
Tim Dowling, an elections and finance documents specialist for the Philadelphia City Commission, told his bosses this morning that he has had mixed results with state House representatives from the city filing the required campaign finance documents this year. Of the 13 sent notices of past-due reports and fines, seven came up to speed while six -- all Democrats -- are still not filing the proper reports.
"They've been sent numerous notices in regards to their lateness and fines," Dowling said. "There has been no response." Dowling identified the representatives as:
Dowling said state law requires the representatives to file reports with the state and their home county. The representatives can have their paychecks withheld if they don't file with the state. Dowling recommended that the City Commission refer the six cases to the state Attorney General's Office for investigation since they hold state offices.