Archive: December, 2008
Catherine Lucey
Mayor Nutter's Pennsylvania Society event, featuring Sen. Hillary Clinton, hits Page Six. With the headline "Nutter Butter."
Catherine Lucey
The Clout column looks at the biography of attorney Dick Sprague penned by former Daily News writer Joe Daughen.

Group threatens to sue over library closings.

As the Fumo corruption trial turns: A chef for the Independence Seaport Museum yacht testifies that state Sen. Vince Fumo didn't pay for meals when he used the yacht.
Chris Brennan
Donald Trump's federal lawsuit, filed in federal court in Harrisburg today against the state Gaming Control Board, is really targeted at two proposed casinos in Philadelphia -- SugarHouse and Foxwoods. They won casino licenses in 2006. Trump didn't. Now he wants a judge to declare a do-over.
The investors for the two casino projects reacted very differently today. Foxwoods declined to comment. SugarHouse issued two comments that sounded like a poke first in Trump's right eye and then in his left.
SugarHouse spokeswoman Leigh Whitaker first suggested Trump's lawsuit was motivated by the bottom line of his casinos in Atlantic City. "In light of the financial trouble that Trump's Atlantic City casinos are in, it certainly is not surprising that Trump would seek to further delay the opening of casinos in Philadelphia," Whitaker e-mailed reporters. She followed up with an e-mailed statement from SugarHouse investor Richard Sprague, who cited the now defunct catch-phrase from "The Apprentice," Trump's canceled television series: "When the matter is finally over, Mr. Trump will be told "you're fired!"
Chris Brennan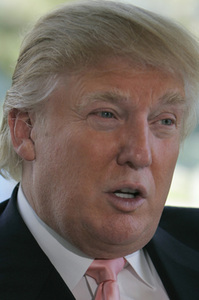 Donald Trump sued the state Gaming Control Board in federal court this afternoon for rejecting in 2006 his bid to build a casino on the site of the former Budd Co. plant in Nicetown with a group of investors*. Trump's lawsuit, filed in the state's Middle District in Harrisburg, accuses the board's members of violating the U.S. Constitution's protection on interstate commerce.

The board, while considering five applicants for two casino licenses in Philadelphia, weighed whether casino operators with properties in Atlantic City would attempt to recruit customers here and then divert them there. Pennsylvania's casinos are taxed at a rate of 54 percent. Atlantic City's casinos are taxed at a rate of 9.25 percent. "The board has considered the fact of competing Atlantic City properties as a negative factor for licensure in Philadelphia," the Gaming Control Board wrote on Feb. 1, 2007 about its Dec. 20, 2006 decision. The board singled out Trump, who has three Atlantic City casinos, noting his company had recently emerged from bankruptcy and could "lure patrons… to assist in the rebuilding and revitalization of properties there."

Trump is asking a federal judge to overturn the state-awarded gaming licenses for SugarHouse in Fishtown and Foxwoods, which was approved for a South Philly site but is now considering relocation to the Gallery at 11th and Market streets. The lawsuit says Trump and his investors spent more than $10 million in planning for their Nicetown location and were rewarded with a "discriminatory criteria" from the board that wasn't part of the 2004 state casino law. That, the lawsuit continues, gave an unfair advantage to applicants with no business in Atlantic City.
Catherine Lucey
More on that lawsuit to keep the libraries open. Attorney Irv Ackelsberg is filing the suit and plaintiffs will includes students and parents who rely on the branches.

Here's the press release. Also, public relations guy Bob Bedard, who's organizing press for the event, is volunteering for this project, according to the Inquirer.


Class Action Lawsuit Planned by Attorney Irv Ackelsberg as Support for Coalition to Save Public Libraries Grows.
Chris Brennan
A decision on a request from Local 22 of the International Association of Fire Fighters for a court order blocking Mayor Nutter's budget cuts doesn't appear to be coming for about a week. The union sued the city yesterday, asking Common Pleas Court Judge Gary Di Vito to issue an injunction until it has arbitrated a grievance on the decision to close seven fire companies. The union also asked the state Supreme Court to intervene, since it has a hearing scheduled for March on an appeal of a 2007 Commonwealth Court ruling on how the city is allowed to close fire companies. The Supreme Court has not ruled on that request.
Di Vito granted a request from the city to follow up today's three-hour hearing with legal briefs on Monday morning. The city argues that the 2007 case gives it the right to close fire companies. The union argues the budget cuts will put firefighters at risk for injury or death and that workplace safety language in its contract gives it the right to go through the grievance process first. Union attorney Nan Lassen asked Deputy Fire Commissioner John Devlin if there is some "line" that gets crossed with budget cuts where the city doesn't have enough Fire Department resources to safely protect the city. "I'm sure there is a line some place but we haven't reached it yet," Devlin testified.
No firefighters are being laid off and no fire stations are being closed. Nutter's budget staff says the city will save $10.4 million per year in Fire Department overtime by shifting staff from five fire engines and two ladder trucks to other posts. Delaying the cuts, the city said, by three months would cost $2.5 million and possible result in more employee layoffs or the closure of more library branches.
Catherine Lucey
This just dropped in our inbox:



(Update: The Black Clergy and members of organized labor will attend the press conference, but a spokesman for District Council 47 -- who sent out this press release -- wouldn't say who was actually filing the lawsuit.)

Press ADVISORY

Class Action Lawsuit, Action by Black Clergy of Philadelphia, Organized Labor to Back Action of the Coalition to Save Public Libraries.