Archive: December, 2008
Catherine Lucey
Our pal Dan Gross reports over at PhillyGossip that mayoral spokesman Doug Oliver has changed the vanity plate on his car from "CMNIC8R" to "NO CMMNT." Check out the full item here.
Catherine Lucey
Chris Brennan reports that a panel discussion at UPenn's Wharton School is right now focusing on the notion of "environmental racism" as Stephen Mullen of eConsult Corp. called it, for a casino proposed near Chinatown at the Gallery.

Grace Kao, director of the school's Asian American Studies Program, said that was a dangerous spot for a community she described as big on gambling. "The stereotype, unfortunately, of the Asian American gambler...is probably true," said Kao, who then struggled for an analogy to the casino location.

"Like a bar in an Irish neighborhood," quipped former Inquirer columnist Tom Ferrick, who has written in favor of the two casinos proposed in the city. The academic crowd burst out in laughter.
Catherine Lucey
This just in from the press office:

MAYOR MICHAEL NUTTER ANNOUNCES MEMBERSHIP OF MAYOR'S CULTURAL ADVISORY COUNCIL

Mayor to host arts and culture town hall meeting today to discuss City's financial situation
Chris Brennan
City Controller Alan Butkovitz sure seems to be smarting from the criticism he's taken in the last week about a report he issued, calling on the Philadelphia School District to drop its student TransPass program and switch back to tokens for student SEPTA rides to and from school. Butkovitz said truant students can use a TransPass to roam SEPTA's transit system for hours, adding up to more crime on subways.
A Daily News editorial dismissed the report, complaining that Butkovitz offered little evidence to support his claim and suggesting his "sloppy research" could cause panic among SEPTA riders. Butkovitz fired back with an unusual defense, citing many of the anonymous comments posted by Philly.com readers about his report.
Now Butkovitz is going after the School District, releasing to reporters a "letter to Philadelphia School District Superintendent Arlene Ackerman refuting the School District's contention that crime on the SEPTA Subway System is not linked to the new SEPTA TransPass program." In the letter -- you can read it here -- Butkovitz said he was "baffled" by the School District's claim that he didn't back up his claims with hard evidence. He then cites a 62 percent uptick in disorderly conduct incidents involving youths on SEPTA during the first seven months of the student TransPass program.

Catherine Lucey
Next weekend, local and state politicians will gather in New York City for the annual Pennsylvania Society, two days of breakfasts, dinners and cocktail parties for the state's political elite.

Mayor Nutter, of course, will be in attendance. Remembering the hubbub this summer over the fact that the city paid for Nutter's aides to attend Democratic Convention, we asked who was covering Nutter's expenses in the Big Apple.

Now, this isn't exactly the same situation as in August. Back then, Nutter, whose personal travel to the Denver convention was paid for by his campaign fund, took heat because city money was used to send staffers to a political event. City workers are barred from doing political work. Nutter maintained that his staff was there to aid him, not participate in politics.
Catherine Lucey
We just got this from the Mayor's Press Office:

MEDIA ADVISORY

MAYOR NUTTER TO ATTEND ARTS AND CULTURE TOWN HALL MEETING TO DISCUSS CITY'S FINANCIAL SITUATION
Chris Brennan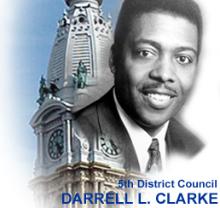 City Councilman Darrell Clarke introduced legislation this morning that would change the city's 10-year property tax abatement on new residential, commercial and industrial housing and offer a rebate on the city's real estate transfer tax for people who buy existing homes. Clarke proposes to keep the property tax abatement at 10 years but reduce the amount from 100 percent of the tax to 80 percent. He also wants buyers of existing homes to get a rebate -- a set dollar amount still to be determined -- on the city's share of the real estate transfer tax. That rebate would only be available during a 12-month period. Home buyers would receive the money across five years.
Clarke said his proposals are designed to bring more money into the city as it experiences serious budget trouble. He considered other ideas for changing the property tax abatement, including reducing the number of years available or having it decrease several times over the 10-year period. He decided to use the 80 percent figure to give home-buyers a consistent number to count on. "I think at this point it could probably withstand some level of tweaking," Clarke said. "While we want to alter it, we don't want to see it go away."
Clarke said he had brief discussions with Nutter's staff about the real estate property tax rebate but not about the proposed change to the 10-year tax abatement. "I anticipate I will be getting a phone call," he joked to reporters.