Archive: November, 2011
Jan Ransom
Bedlam erupts on Penn State's campus with the firing of Joe Paterno. Will Tom Ridge be the next president of Penn State?
Ronnie Polaneczky wants to know where was the fury over the rape of a boy? Are most people reluctant to get involved?
Is disgraced former senator Vince Fumo a drug abuser?
Chris Brennan
City Commission employees will begin sifting this afternoon through election materials in the too-close-to-call race for a Republican City Council at-large seat but a result will not come until at least next week. Candidates David Oh and Al Taubenberger attended this morning's commission meeting, where it was announced that Oh has a 140-vote lead with 96.32 percent of the polling place ballots counted.
Attention now turns to absentee, military, alternative and provisional ballots along with 73 voting machine cartridges that have not been returned to the commission. Chairwoman Marge Tartaglione noted that the cartridges may contain no votes if they were not used in yesterday's election, which had light voter turn-out. There are 1,757 absentee and military ballots so far, 252 alternative ballots and an unknown number of provisional ballots. Military and overseas voters have until Nov. 15 for their ballots to arrive at the commission.
Tartaglione told Oh and Taubenberger they are allowed to observe the entire process but can't interfere and should direct any questions to commission staffers. "If you get boisterous or anything, you will be asked to leave," she warned.
David Gambacorta
Woooo! Election Day is over. The Daily News today is taking a look at the winners, losers and what's coming next in City Hall.
Catherine Lucey peers into the crystal ball to see what the next four years might be like for Mayor Nutter.
The battle is just beginning for the second most powerful job in the city: council president.
David Gambacorta
The much-hyped battle for Northeast Philly's 10th Councilmanic District seems to be plodding along.
Ellen Kaplan, the Commitee of Seventy's vice president, just posted the following update on turnout in the Northeast Region, which includes the 10th: 66/32—677 registered voters/77 voted (11.4%); 53/21—691 registered voters/97 voted (14%).
"It's been pretty much the same all day. Pretty steady, but a low turnout," said Republican City Councilman Brian O'Neill, who is trying to win his ninth term.
Jan Ransom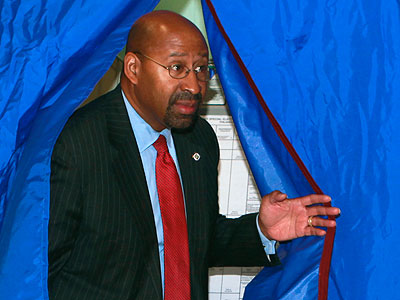 Looking ahead to reelection Mayor Nutter is also looking forward to working with the soon-to-be new members in City Council.
"It's exciting when I came in 1992 there were seven new members," Nutter said. "I'm excited about what the new blood can bring and in helping to move this city forward."
It's not clear how the new members will affect Nutter's legislative agenda.
David Gambacorta
The majority of the pols filed out of Famous 4th Street Deli about an hour ago.
Here are some extra tidbits for you, dear PhillyClout reader:
*Patrick Murphy, the congressman-turned-candidate for state attorney general, stopped by to shake hands and dole out hugs.
Jan Ransom
PhillyClout is over at Relish Restaurant where a number of politicians are gathering on Election Day.
Councilwoman Marian Tasco said voter turnout is slow and the hot race is up in the Northeast between 10th district Republican Councilman Brian O'Neill and Democratic challenger Bill Rubin.
But Tasco believes her long-time ally will pull through.
Jan Ransom
It's Election Day and throngs of the city's African-American politicians head to Relish Restaurant in Northwest to discuss the race and voter turnout over lunch.
"It's so slow," said Councilman Curtis Jones Jr. who made his way to the restaurant on Ogontz Avenue near Walnut Lane after casting his vote at 8 a.m. "I was the 24th person. This is a real sleeper."