Archive: November, 2011
Chris Brennan
While one group from Occupy Philly was asking Mayor Nutter's administration to relocate from Dilworth Plaza, another group was two floors up in City Hall, disrupting this morning's City Council session.
Nutter said some of the protesters, calling themselves the "Reasonable Solutions Group," submitted a permit request around 10:30 am, asking to move across the street to Thomas Paine Plaza, in front of the Municipal Services Building. Nutter would not say whether the protesters would be allowed to camp for weeks, as they have at Dilworth Plaza, if they relocate. But he repeatedly said the conditions at Dilworth Plaza can not be repeated at any new location.
Nutter also would not say if the city will force the protesters off Dilworth Plaza. "I'm not going to prejudge or predict what we're going to do," said Nutter, adding that police officers will leaflet the protest today with notices that say the campers must leave immediately.
Jan Ransom
After child-sex allegations surfaced against former Penn State coach Jerry Sandusky state lawmakers weren't the only ones eyeing new ways to address flaws in the pension law.
Many legislators, including City Councilwoman Blondell Reynolds Brown were shocked to learn that Sandusky, the accused child-molester still receives a $58,898 annual pension from the State Employees Retirement System.
Brown, a Penn State graduate and former employee will introduce today, a bill that disqualifies any city employee found guilty of a sex crime against a minor from collecting a city pension.
Jan Ransom
The city projects that they may have to dish out $2.5 million in police overtime due to Occupy Philly for fiscal year 2012, according to the Quarterly City Manager's Report released yesterday.
The costs have dropped since the protest against corporate greed began more than a month ago.
Budget Director Rebecca Rhynhart said that overall the protest has cost the city $490,000.
David Gambacorta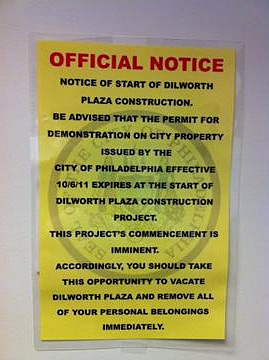 Update:
The city posted an official notice advising members of Occupy Philly to "vacate Dilworth Plaza and remove all of your personal belongings immediately."
The notice advises protesters that the $50 million makeover of the plaza "is imminent."
Chris Brennan
The Philadelphia Board of Ethics, which usually finds itself with expanding responsibilities but not the matching budget to keep up, today said it will hire two new staffers with a $332,000 windfall.
We told you on Friday [second item] that the Fund for Philadelphia, a city-run non-profit, found the money tucked away in a bank account. It had been authorized by then-Mayor John Street during his second term but never sent to the board until an audit discovered the cash.
The board's staff today was granted permission to use the money to hire an information services director and an information specialist. That comes to a combined $84,000 per year in salary. Since we're already well into fiscal year 2012, the staff said the funding should last through the end of fiscal year 2015. The leftover money will be kept for other budget issues.
Jan Ransom
Check out the press release below and the report here.
For Immediate Release:
November 16, 2011
Controller Butkovitz Refers Findings of Forensic Investigation
of Sheriff's Office to United States Attorney
Controller says, "investigation uncovered people getting rich at the expense of the poor,
& Sheriff John Green turned a blind eye."
Jan Ransom
Negative headlines hurt Occupy Philly message.
Today the City Controller releases report on scams at the Sheriff's Department.
Friends try to save Penn State wide-receivers coach's image. And John Baer has a question for the grand jury in the case against former Penn State coach Jerry Sandusky.
Chris Brennan
There will be no repeat of the nightmare four years ago, when attorney David Oh was ahead on election night for one of two City Council at-large seats set aside for the minority political party but lost after absentee ballots were tallied.
Oh today finally bested Al Taubenberger in last week's election, after absentee, military and provisional ballots were counted. In the final tally, Oh led by 166 votes from election day ballots and absentee ballots. A count today of 755 provisional ballots, used on election day when there are questions about a voter's registration, did not put Taubenberger ahead.
Oh said he was not surprised by the narrow margin, though he said it was unclear what impact a barrage of negative mailings, radio ads and robo-calls in the closing week of the campaign had on his campaign. That effort was run by a political action committee controlled by Local 98 of the International Brotherhood of Electrical Workers, which supported another Republican in the race.