Archive: November, 2010
Chris Brennan
Meet the new home squatters, people who can't or won't leave their homes as banks foreclose.
The city and the local Boy Scouts chapter settle their dispute about real estate and discrimination.
Here's more detail about Philadelphia Police Inspector Daniel Castro's attempt to retire with a $65,000-per-year pension while under federal indictment.
Chris Brennan
Gov. Rendell today said a proposal to delay a $1 increase in the bridge tolls collected by the Delaware River Port Authority could be sustained for "a couple of months, maybe" but could not be permanent, insisting twice that an increase is inevitable.
The DRPA is considering using $54.5 million in unspent economic development funds to pay for a delay in the toll increase. Rendell said that money is already slated to be spent on projects and "wouldn't make a dent in the maintenance of bridges," one of DRPA's primary functions.
"A toll increase is inevitable," Rendell said. "Nobody likes to pay more. But it is inevitable. And again, most of that $54 million has been contracted."
Chris Brennan
Daniel Castro, the Philadelphia Police Department inspector indicted Nov. 5 on federal charges for allegedly hiring a "collector" to use strong-arm tactics to recoup $90,000 lost in a real estate deal, told the city yesterday that he wants to retire and collect his pension. Castro, who pleaded not guilty in an arraignment last week, has 25 years, seven months and 22 days of service in the department as of today. He also has an appointment in early December to complete his retirement paperwork with the city's Board of Pensions and Retirement.
Mayor Nutter today took a wait-and-see approach to Castro, who is paid $97,015 per year by the Police Department. "We'll see what happens as it works its way through the system but I believe you cannot legally stop someone from retiring," Nutter said. "They have a right to walk in and file their papers."
That doesn't mean Castro will get to keep his pension, Nutter added. "If there is a conviction, the law provides, given the nature of the criminal activity and…you did it as part of your job, the pension can be taken away," Nutter said. "So that story is far from over. You have seen pensions taken away from public officials who were convicted of wrong-doing."
Chris Brennan
John Baer says Gov. Rendell should veto the so-called "castle doctrine" bill, which expands the area in which someone can use deadly force to protect themselves at home.
Here's more about President Obama appointing Joe Torsella to a top United Nations post and the possible political blow-back that could result.
The city is preparing to hit merchants with larger fines for selling tobacco to underage customers.
Chris Brennan
The state House Democratic Caucus just announced via Twitter post that state Rep. Joe Markosek of Allegheny County just won the post as ranking Democrat on the House Appropriations Committee. That was the job held by state Rep. Dwight Evans of Philadelphia for two decades. We gathered from previous Twitter posts that Markosek won the post on a second ballot after he and Evans failed to gain the required 46 votes on the first try. Click here for some background on how and why Evans was challenged [second item].
Chris Brennan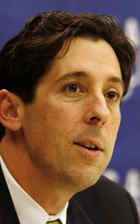 As PhillyClout predicted way back on Sept. 3, President Obama has named Joe Torsella to a top post at the United Nations. Torsella, Gov. Rendell's appointee as chairman of the State Board of Education, was nominated yesterday by Obama to be the United States Representative for U.N. Management and Reform. Torsella, who twice served as president of the National Constitution Center and was deputy mayor for policy and planning when Rendell was mayor of Philadelphia, must have his appointment approved by the U.S. Senate.
Torsella ran briefly last year for the U.S. Senate seat held by U.S. Sen. Arlen Specter. He dropped out after Specter, at the urging of Rendell and Obama, jumped from the Republicans to the Democrats in a bid to save his seat. Specter lost the May 18 Democratic primary to U.S. Rep. Joe Sestak, who then lost the Nov. 2 general election to Republican former U.S. Rep. Pat Toomey.
Republicans assailed Sestak during the campaign after he said former President Bill Clinton, acting on behalf of the White House, tried to lure him out of the race against Specter with a job offer. The White House eventually explained that Clinton offered Sestak an unpaid post on an intelligence advisory board if he would drop his Senate bid and remain in the U.S. House.
Chris Brennan
The hungry line up before dawn under Interstate 95 in South Philly for the help that sees them through an economic crisis.
Will the Philadelphia Parking Authority be granted some control over Philadelphia's chaotic private towing business?
The widow for state Rep. Robert Donatucci, who died six days after winning re-election on Nov. 2, is considering running in a special election for his seat.
Chris Brennan
Maria Donatucci, the widow of state Rep. Robert Donatucci, is thinking about running for his seat in a special election, according to his brother, Philadelphia Register of Wills Ron Donatucci. Robert Donatucci, 58, died in his sleep last Monday, apparently from complications due to sleep apnea. Ron Donatucci, leader of Southwest Philadelphia's 26th Ward, said his Democratic committee members want Maria Donatucci to run.
"At this stage, we're still grieving," Donatucci said. "She's sharp. She's been around. She knows the job. I think it would be a nice tribute for my brother if she served out his term."
Robert Donatucci was a 30-year veteran of the state House's 185th District, which stretches from Broad Street and Passyunk Avenue southeast into Delaware County's Darby Township. He was re-elected in the Nov. 2 general election by a margin of 5-to-1.