Archive: November, 2008
Chris Brennan
Dave Davies takes a closer look at Mayor Nutter's proposed budget cuts to the Fire Department.
City Council yesterday moved on zoning for a proposed casino at the Gallery and an attempt by Verizon to break into the Comcast-dominated cable television market in Philadelphia.
Clout examines the line-up for potential U.S. Attorneys here for President-elect Barack Obama's administration.
Catherine Lucey
This was just sent out by Mayor Nutter's press office. Here's a link to the letter.

Thursday, November 13, 2008 FOR IMMEDIATE RELEASE

MEDIA ADVISORY


MAYOR NUTTER TO DELIVER LETTER TO TREASURY DEPARTMENT URGING FEDERAL ACTION FOR CITIES

Philadelphia, November 13 – Philadelphia Mayor Michael A. Nutter will visit Washington D.C. tomorrow to hand-deliver a letter to the Treasury Department calling on the federal government to provide assistance to American cities dealing with the effects of the global financial crisis. In a letter to Treasury Secretary Paulson signed by the mayors of Philadelphia, Atlanta, and Phoenix, Mayor Nutter requests that the Treasury Department use a portion of the $700 billion Troubled Asset Relief Program to provide loans to city governments to assist with pension costs, provide $50 billion in loans and grants to cities for infrastructure investment, and provide short-term loans for cities to address cash flow needs resulting from an inability to borrow.

Mayor Nutter will also meet with the Assistant Secretary of Economic Policy at the Treasury, senior staff from the Committee on Ways and Means, senior advisers to House Speaker Nancy Pelosi, and a policy adviser on President-elect Barack Obama's Transition Team.

WHO: Mayor Michael A. Nutter
WHERE: 30th Street Station, Philadelphia
WHEN: Friday November 14, 2008 6:05 am (Note: this is the train departure time)
Catherine Lucey
Councilman Frank Rizzo has sent Mayor Nutter a letter, essentially asking the mayor to make sure he has cut all the fat from the budget before he make cuts to the Fire Department or shuts down pools. Rizzo argues that even departments that the city can't touch -- like the Department of Human Services -- should be reviewed for efficiencies.

You can read the letter here.

Rizzo also writes that a five-year shortfall of $1 billion in a city with a $4 billion annual budget amounts to 5 percent in cuts across the board. But Nutter, in his budget address last week, noted that more than half the city's budget costs are locked in and can't be touched. So the non-fixed costs must take a bigger hit than 5 percent.
Chris Brennan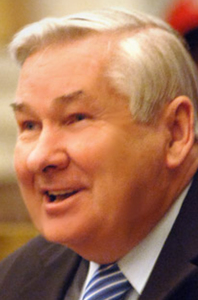 With 15 Philadelphia firefighters in City Council's audience this morning to protest budget cuts in their department, several members made speeches about the dangers of eliminating fire engines and ladder trucks. Councilman Jack Kelly called on Mayor Nutter for look for other cost-cutting measures "before putting the lives of our residents at risk."
That got PhillyClout wondering: What ever happened to that request Kelly made two months ago to Council President Anna Verna for a $25,000 annual contract to hire an outside press aide for his office? "As far as I'm concerned, that's something I'm looking at," Kelly said. "I'm going to try to save this administration and the taxpayers of the city of Philadelphia as much money as I can. We have to straighten out this dilemma that we're in."
Kelly's office had a $25,000 annual contract for press help, held by a Republican ward leader from 2004 until this summer. Kelly said he is not pushing for the contract "at this time" but might revive the request. "It all depends on the financial condition of the city," Kelly said. "We're going to have to cope. We have to make a sacrifice."
Chris Brennan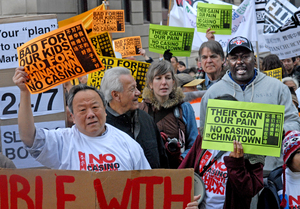 Two zoning bills that open the door for a casino to be located in the Gallery at 11th and Market streets were approved in City Council this morning as 25 protesters waved signs and chanted "Shame on you." The group interrupted the Council session, prompting one of Council President Anna Verna's sergeant at arms to threaten some with ejection. They also drew a rebuke from Verna.
"The vote has been cast and your shouting like that is not going to change the vote," Verna said sternly after the first bill was approved. "Now I ask you please, we're trying to conduct business and I'd appreciate it..." Her voice trailed off as the chants continued. Verna again admonished the protesters for chanting after the second vote. "I would like you to please stop it. You're not going to be changing anybody's mind by doing what you're doing."
It has been two months since Foxwoods investors announced they are considering moving their casino project from a state-approved location on the Delaware riverfront in South Philly to the Gallery. Foxwoods has not shown any plans for what a Center City casino might look like, drawing complaints from the protesters that the zoning legislation is moving too fast. Foxwoods will need state approval for a move and approval from the City Planning Commission on a plan of development in order to open at the Gallery.