Archive: November, 2008
Catherine Lucey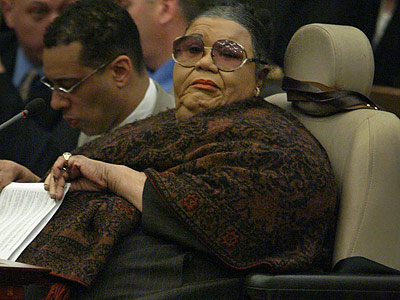 UPDATED WITH NEW INFORMATION:

Carol Ann Campbell, a legendary force in the local Democratic Party, has passed away.




Catherine Lucey
Councilman Frank Rizzo just suggested that Council hold all the legislation until they get all of the city's research. He also said he would vote against most of the bills unless he gets the data.

When Councilman Frank DiCicco mentioned that the administration briefed Council on Monday, Rizzo shot back "You go do your study."
Catherine Lucey
It's getting a little hot up in City Council chambers.

Council is currently holding a hearing on the Nutter administration's plans to cut $1 million out of the city budget in the next five years. Council is considering a package of legislation, including measures to raise city fees while slowing reductions in the wage and business-privilege tax.

Councilman Frank DiCicco just challenged his colleagues to each trim $12,000 from their office budgets to raise $204,000 for an independent study of Fire Department cuts.
Catherine Lucey
Mayor Nutter says he's continuing with his effort to seek federal aid for cities. Last week he traveled to DC to deliver a letter – co-signed by the mayors of Atlanta and Phoenix -- to the Treasury Department asking that part of the $700 billion bailout fund to be used for ailing cities.

Now more cities are looking to join the effort. Nutter said Baltimore Mayor Sheila Dixon and Trenton Mayor Doug Palmer support the plan and he is talking to others. The mayors want the federal government to provide loans to municipal governments to shore up pension programs and invest in infrastructure projects. They also are asking for a short-term loan program for cities that are having difficulty borrowing cash to pay their bills.

"We're trying to fill potholes, pick up trash, put police officers on the street, deal with our pension system and the like," Nutter said.
Catherine Lucey
We just got back from a PhillyStat data session which featured a presentation on the city's plan to shut 11 of 54 libraries as part of the extensive budget cuts. One of the maps displayed showed that seven of the 11 axed libraries are located in the nine high-crime police districts targeted for extra patrol by Police Commissioner Ramsey in his crime plan earlier this year.

If you live in the 12th Police District, which covers Southwest Philadelphia, you'll lose two of four libraries in the district. Up in the 35th District, which includes Logan, Olney and Oak Lane, two of four branches are also being cut. So in those neighborhoods, kids will have less options when school lets out.

Library Director Siobhan Reardon stressed during the meeting that the city was careful to make sure that no resident would be more than two miles from a library. She also said the city weighed the size of the library, the number of visitors and the proximity to a recreation center as they considered which ones to cut.
Catherine Lucey
Mayor Nutter's press office just put this out:

MAYOR'S OFFICE OF COMMUNICATIONS


Tuesday, November 18, 2008 FOR IMMEDIATE RELEASE
Catherine Lucey
Local website Philebrity just posted plans to hold a Christmas Pageant on Dec. 26 to benefit the Philly Libraries. As you know, 11 of the city's 54 libraries are slated for closure as part of Mayor Nutter's budget cuts.

Editor Joey Sweeney tells us that the pageant will raise funds for the Friends of the Free Library. It will likely be tied in to the $10 Challenge that the Friends group is running to raise money for the branches.