Archive: November, 2008
Catherine Lucey
This just in from Councilman Curtis Jones Jr.:

COUNCILMAN CURTIS JONES JR. TO BEGIN NEW TRADITON; ANNUAL THANKGIVING TURKEY GIVE AWAY

WHO: Councilman Curtis Jones Jr.
Members of the community
Catherine Lucey
Over on the City Paper's blog, Isaiah Thompson has started crunching the data behind the library cuts. He's put together a spreadsheet with numbers on library circulation, median neighborhood income and councilmanic district.

Check out this post for his findings so far and a link to the spreadsheet.
Catherine Lucey
Mayor Nutter met with library advocates this morning in City Hall to discuss his plans to shut down 11 of the city's 54 branches to help close a massive hole in the city budget.

According to Amy Dougherty, director of the Friends of the Free Library, Nutter did not budge from his plans to shut the libraries -- and did not grant their request for a three to six month delay of the closings. But she said they did agree to set up a working group that will collaborate on ways to provide library services in the neighborhoods.

"The change is that we are going to be coming up with solutions," Dougherty said. "It's a good start. I am thrilled that the mayor talked with us today."
Catherine Lucey
City Councilwoman Blondell Reynolds Brown went before a board of city officials this morning to explain why she sometimes uses her city vehicle to transport family members – after questions were raised about her car usage by a local television reporter.

Fox 29 reporter Jeff Cole, who made headlines recently with his investigation into Councilman W. Wilson Goode Jr.'s chief of staff, has been looking into Brown's use of her city car to drive her daughter to school. Cole's report has not yet aired.

City elected officials and employees are prohibited from using city owned cars to transport family members and non-city workers. But Brown appeared before the city Administrative Board today to say that she was given a formal exemption to the rule in 2004 by the Managing Director, due to her family circumstances.
Catherine Lucey
Check out this great in-depth report today. The Daily News visits each of the 11 libraries slated for closure, talking to the people affected by the cuts.

Chris Brennan suggests that warring City Council members hold celebrity boxing matches to raise money for city.

Clout reports that President Bush will visit town in two weeks to attend the Army-Navy football game and see his portrait unveiled at the Union League.
Chris Brennan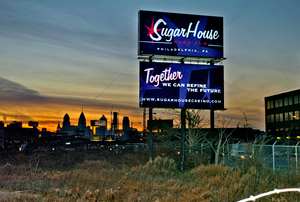 SugarHouse, a casino proposed for the Delaware riverfront in Fishtown, announced today that it has signed a community benefit agreement with two local community groups -- Fishtown Action and the New Kensington Community Development Corp. SugarHouse has agreed to pay $1 million per year to fund a special services district created by the community groups, once the casino is open. The casino's developers also promised to hire local residents and vendors, create internships and job training programs and create a program that encourages customers to patronize local businesses.
You can read the SugarHouse press release on the agreement here.
Richard Levins, Chairman of the New Kensington Community Development Corp., released a statement praising SugarHouse for promising an ongoing dialogue with the community about the impact of the casino. He added the agreement "ensures that residents in the community will have opportunities for permanent full-time jobs with health benefits; construction jobs; student and non-student casino internships and payment by SugarHouse of employment licensing fees charged by the Commonwealth of Pennsylvania. The CBA also provides neighborhood businesses with the opportunity to have direct vendor relationships with SugarHouse and the ability to participate in casino 'comp' programs."